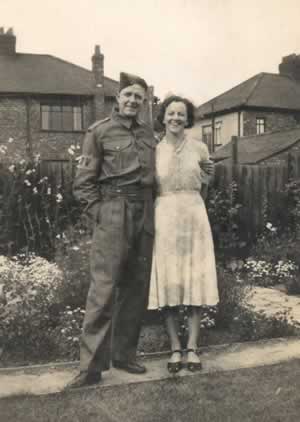 Before conscription into the army, James Taylor had joined the LDV, the Local Defence Volunteers, and his daughter Jo remembers him saying he spent time in Springfield Park behind Alder Hey Hospital guarding the railway line from the Liverpool docks.
The qualifications for the LDV included having fired a rifle which he would have done as a member of the OTC, Officer Training Corps, based at The Collegiate and also possibly when visiting his cousins in County Down.
The photograph shows Jim in uniform complete with his LDV arm band posing with Pip in their garden at Hilda Road, West Derby.
Below is an index to pages of extracts from Jim's letters home to Pip during WW2.

| | | |
| --- | --- | --- |
| | | |
| | James Taylor Letters 1: Oct '40 - Feb '41, letters sent home by James, David Dickson Taylor's son, during WW2; training at Bovington and Warminster. | |
| | James Taylor Letters 2: Feb 1941, describing wireless training at Warminster. | |
| | James Taylor Letters 3: Mar - Apr 1941, finishing training; letter written while on the way to embarkation. | |
| | James Taylor Letters 4: Apr - Jun 1941, at sea on board SS Sobieski, shore leave welcome. | |
| | James Taylor Letters 5: Jun - Aug 1941, return to Durban, live cargo, Belfast coincidence. | |
| | James Taylor Letters 6: Aug - Oct 1941, Western Desert; learning he had a son, daily life. | |
| | James Taylor Letters 7: Oct - Dec 1941, Western Desert; cooking, margarine recovery, dysentery, Christmas Airgraph, desert bivvy. | |
| | James Taylor Letters 8: Jan - Mar 1942, Western Desert; Christmas Day, large cat, dust storm. | |
| | James Taylor Letters 9: Mar 1942, Western Desert; housekeeping and transport problems, weather, censorship. | |
| | James Taylor Letters 10: Apr 1942, Western Desert; philosophy, monotony, mirage, new lorry and old car, poetry. | |
| | James Taylor Letters 11: Apr - May 1942, Western Desert; heat and water, buttermaking book, rumours, German hymns, sandstorm, straining coffee. | |
| | James Taylor Letters 12: May - June 1942, Western Desert; The Battle of Gazala. | |
| | James Taylor Letters 13: July - August 1942, Western Desert; post-battle thoughts, telegram, cricket and cinema, on leave. | |
| | James Taylor Letters 14: August - October 1942, Western Desert; state of mind, humour, religion, sports injuries, Technical Storeman, the Nile Delta, guard duty. | |
| | James Taylor Letters 15: October - December 1942, Western Desert; buckshees, El Alamein, wireless, religion, mice and trap, gun pit. | |
| | James Taylor Letters 16: December 1942 - January 1943, Western Desert; drivers on leave in Tel Aviv, thoughts about war and religion, Thermos flasks, a near miss. | |
| | James Taylor Letters 17: January 1943 - March 1943, Western Desert; wildlife, thoughts following retaking of Tripoli, debugging, food, photos from home. | |
| | James Taylor Letters 18: March 1943 - July 1943, Western Desert; Fred's Navy friend, M.O.I. films, Jock Miller's story, 50 Division, arrival in Sicily. | |
| | James Taylor Letters 19: July 1943 - October 1943, Italy; landing in Sicily, island description, food, Wellington bomber, malaria, mainland Italy and armistice signing. | |
| | James Taylor Letters 20: October 1943, Italy; state of mind, biting ants, latest lorry and contents, local conditions and locals, armistice, memories, food. | |
| | James Taylor Letters 21: October 1943 - January 1944, Italy; the country, animal life, problems with money, food and lorry, ENSA, jaundice, leaving Italy. | |
| | | |