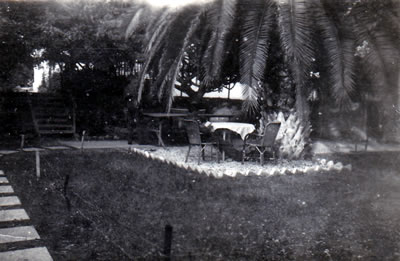 Jim and six other drivers were given their promised seven days leave and stayed at the Toc H in Tel Aviv. Jim wrote a letter there and 'introduced' Pip to his companions so she could relate them to the photographs he expected would be taken.
This photo was later sent back, passed, of course, by the censor and inscribed on the back by Jim "Garden at Toc H Tel Aviv."

Western Desert, 18 December 1942
"Firstly Fred of course but him you know well. Secondly Ron Briggs (Bed-down Briggs) the little fellow with the glasses hails from Sheffield, is a tailor by trade, a polygamist by inclination, nearly a bigamist by accident, and is completely irresponsible. He cares for very little and sees something to laugh at heartily even in Stukas which he terms Ladybirds. His reminiscences of the tailoring trade, hitherto regarded by Your Truly as a blameless occupation lends weight to his warning 'Never let your wife buy a tailor-made costume'. His favourite desert occupation is crooning into a petrol tin (for amplification). He is a fount of quaint sayings mainly dirty ones but with the saving grace of being original and very apt and humorous."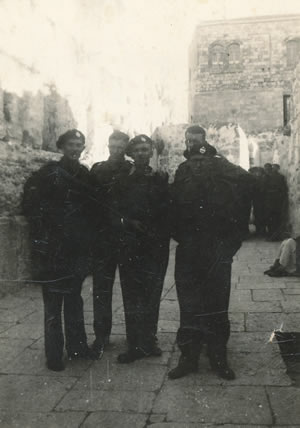 Jim apologised several times in his letters for the quality of the photographs he sent home, blaming a poor camera, old film and the standard of processing and printing available. This photo shows some of the group on a visit to the Wailing Wall. Jim has written on the back "Left to right Foad, Bull, Tiger, Bed-down, and Myself in the rear. The Wailing Wall, Jerusalem, Dec 1942."
"Thirdly Arthur Foad hails from Westgate where according to George Rand he runs a whelk stall with brass knobs and acetylene flares. Actually he is in the motor trade. He never hurries, never runs, never flaps, hence his name 'Flat-out Foad'. Bed-down is the only one who can make him laugh to order (he could make the devil himself laugh) and then he does so in a high pitched giggle which is guaranteed to start everyone off within earshot. He is a thoroughly good chap, steady and reliable and will go anywhere he has to. He ran ammo with me as Ammo 3 (I was Ammo 2). Married nine years."

"Next George Rand – tech store driver nicknamed Tiger who lives in a cage on the truck with me. Hails from a village near Bletchley (where's that?). According to B-down he was caught by a press-gang and only recently learned that the Napoleonic Wars were over. This of course is a tribute to the size of his village. He flaps furiously on the slightest provocation and as his particular friend is Arthur Foad the results are sometimes very funny in any given situation. Once when lying in his cage the lorry was squirted by a 109F and in attempting a hurried exit Tiger was left suspended from the overhead structure by his foot caught up in a piece of rope and there he hung head down flapping as only Tiger can."
I'm sure the Army hierarchy would have been very relieved to learn that Jim had no idea where Bletchley was, considering what we now know of its contribution to the War Effort.
"Next Harry Marshall (The Bull) a grocer by trade not renowned for anything in particular except his strength which is prodigious."
"Last Ernie Langford a factory worker of some sort and a Canadian by upbringing. The biggest 'winner' in the Army – he can acquire anything from a lorry load of oranges to a complete truck."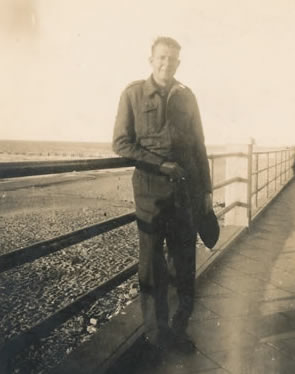 Photo of Jim in Tel Aviv on 23 December 1942.
After leave, including a visit to Jerusalem and Bethlehem on the 22nd, Jim returned to the battalion on Christmas Eve.
For Christmas he had "an almost pukka dinner complete with the old pudding, trifle etc." and reminisced about the previous Christmas Day when he "spent the day brewing tea between meals" and received "a surprise Christmas Present of a stick of toffee and 50 South African cigarettes".
He promised to write further about his leave and to send photographs both taken and bought in Jerusalem and Bethlehem, but was clearly disappointed with some aspects of the visit as reported in his next letter.

Western Desert, 27 December 1942
"I'm apt to agree with H. V. Morton by the way concerning the Holy Places – it is all very commercialised and to hear a granite-faced, loud-voiced, and obviously anything but humble, meek and pure minded guide 'selling' the Place of Crucifixion to a mixed crowd of rubbernecks as quickly as he can, emphasising, not the significance of the Place but the value of the jewels, gold etc. with which it is so plentifully besprinkled, leaves a bad taste behind even in my mouth and I do not feel very strongly about the matter. To those to whom it does matter it must be a nasty shock."
Western Desert, 1 January 1942
"Two or three of us attached ourselves to an Indian Div. once when we were lost (temporarily) in our Push last year. It was a great two days that I must tell you about it sometime. We finally finished up on the verge of being blown to blazes by some of our own armoured cars on reconnaissance, as we were (apparently) miles ahead of the whole 8th Army, cruising around all on our little ownsome and as we consisted of one Italian truck, one Jerry diesel lorry and two Canadian Chevrolets no one could tell who the hell we were! That lot of cars were the first into Benghazi a couple of days or so later but our private convoy nearly beat them to it. It is funny to look back on but it wasn't funny at the time."
"The news from Russia continues good – there is some rumour crawling round that the 22 divs at Stalingrad have been dealt with. If true, then we are getting somewhere but there is nothing very official about it yet and it isn't on the wireless."
Jim used much of one letter to indulge in a lengthy description of his feelings about war, religion and society before returning to the more mundane matters of his wireless, his tea supply and the problem of equipment not reaching those who need it.
Western Desert, 12 January 1943
"I don't think I ever mentioned Jacko to you – one of our Warminster crowd – a fine chap who had built up his business thro' hard work, built his house, married his girl and had a lovely little daughter. I remember him saying goodbye to them and now where is he? He just disappeared without trace when we took Bardia last New Year's Day, last seen riding out of action on the back of a tank under shell-fire. Bardia was the crowning triumph for the 44th, 18000 prisoners for the loss of about 12 men but if any of the others were like Jacko then it wasn't worth it. It wasn't worth it Pip, not at the cost of Jacko's life…"
"I've always believed in the Christian ethic and believe that it is the only way by which any honest progress can be made. Who or what Christ was is immaterial to me but his teaching suits me and if I could find an organisation that practised it, I would be in it. I've met all sorts of chaps since I've been in the Army and while some have been pretty rotten, not one have I met thoroughly bad. They are all capable of great things in the way of self-sacrifice, cheerfulness under really terrible conditions, and open-handedness to the less fortunate…"
"We have had several discussions in the library here on modern problems and that which crops up all the time even from the most uncouth, and I say that without any derogatory meaning to the word, is 'my missus and kiddies'. The male I find is willing to go anywhere and do anything if he knows his wife and children will get a square deal – but he knows they won't. He has taken upon himself the job of breadwinner and knows no one will do it for him if he is eliminated…"
"We've lost the wireless set to its rightful owner – Lt. Coles – at one time our squadron sgt-major commonly known as 'Granny'. He was, I mean is, a fine fellow and although now an officer never forgets that he used to be one of the lads. In all his twenty years' service he has never put a single man 'on a Charge', never throws his weight about, and yet can get more obedience than any other man in the battalion."
"I'll go up to the Naafi with two Thermos flasks – yes we have everything here – and get 'em filled with tea and then come back, get into bed, write, drink tea, smoke, lounge etc. until about ten. Swell idea!... The Thermos is perched on a chair (pinched from the Officers' Mess) by my bedside. We have six flasks by the way – made in China and very good they are. Our early morning tea comes out of them as does our shaving water. Actually they belong to a Tank – the Yanks believe in luxury warfare… Now we (Tech. Stores) have a tank 'on charge' – that means to say we are responsible for it as it has no crew at present, so naturally we also have the flasks (and the clock)."
"I've never had a single tool on Aristotle for instance, and had to makeshift with Jerry and Italian spanners which didn't really fit the nuts… On the day I was bombed I found myself with a hole in the radiator as big as a doll's house, half a tyre blown away, no spanners to do anything with and four Jerry Mark IV's on the escarpment about two miles away… No! I wasn't in her. I was in a little scratch in the ground about 10 yards away endeavouring by will-power to dig a lot deeper. If it had not been for that scratch in the sand about six inches deep, no more, I wouldn't be here, as the bomb burst about six yards from me. Being mainly below ground the shrapnel just whizzed over my back and drove the sand down my neck. I've never really solved how many bombs fell but there were nine dive-bombers who came down in three lots of three. It's rather funny – when blokes here reminisce as most do at times – that particular attack is often mentioned as a perfect attack of its type and many times I've had it said to me 'Ah! But you should have seen the attack at So & So'. Seen it! I was it!"
Previous page

Index to all letters pages


Next page