The address at the top of Jim's letters continued to be A.P.O. England although he was in France. At the end of June he changed to B.W.E.F: British Western European Forces, but by 21 July it had become B.L.A: the British Liberation Army. He seemed able to report on events much more quickly than when he was in North Africa or Italy. Possibly this was because news reached the general public across the Channel much more easily anyway, so long-term censorship was less urgent and less effective.
During June and July the regiment was involved in action around Cheux and the River Odon and also at Evrecy, before pulling back to Carpiquet. Jim referred to his movements and different locations several times, without of course naming names, but the dates of his letters can often be matched to a timeline for the Normandy campaign.
B. Sqdn. 44 R. Tanks, A.P.O. England, 14 June 1944
"Went for a walk to the local village last night. It's only about half a mile away across country although it is quite a distance by road. The usual type of small village, earth streets, hens, the village pump and the inevitable two or three youngsters playing about. They seem well-fed enough. The people as a whole don't seem to be interested in this business of liberation and many are making little attempt to hide the fact that they didn't want us. Maybe they're just scared of course until they're sure of their ground because, after all, our foothold is only a foothold so far – which reminds me that I haven't the remotest idea what is happening in this 'ere bridgehead and I couldn't tell you whether we are going forwards, backwards, down, side or up. I have not heard a scrap of news since we left Blighty."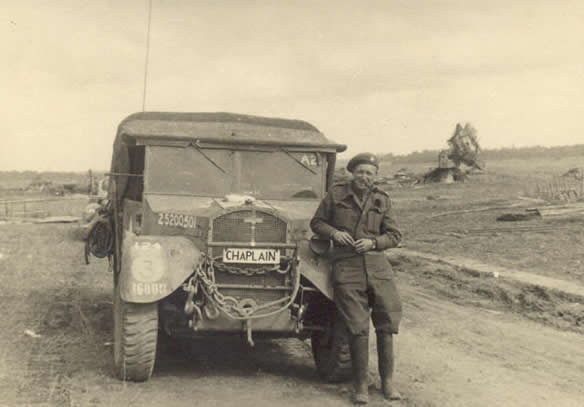 "Near Evrecy, ex-German aerodrome"
Evrecy is a village about ten miles SW of Caen.
Jim had found a fork to replace the last of three that he had lost in the past four days.
"The fork came from some extinct Jerry positions near here but they don't seem to have had much in the way of unfriendly weapons – all we could find were several mobile cookers of the usual 'Rocket' type all with breakfast in 'em still, and vast quantities of assorted literature; a packet of radish seeds which I sowed by the wayside for the future consternation, delectation and nourishment of some wandering soldier, civilian or moke; a few odd rounds of ammo; a tooth-brush; several excellent tables and filing cabinets; a heap of spuds and some straw. I fear insult was added to injury on D day as they not only got a rude awakening at matin but also had to leave before breakfast."
"In the village there stands the police force. I should say it is the whole police force and when I say 'stands' I mean only just stands. A venerable gentleman of some ninety odd summers in his vêtements de gendarmes – said clothes being within a year or two, the same age as himself. He was chatting to an ancienne, probably his mother."
"I'm glad the chocolate arrived O.K. but I suppose it has now vanished. We've stacks of it here but it's all 'Plain with Vitamins' – I don't eat it myself though I do suck an occasional barley sugar sweet."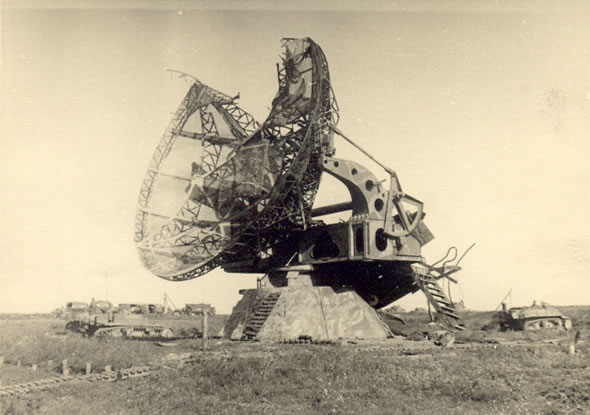 "Some type of listening apparatus (German) on airfield near Evrecy Normandy
'sorted out' by rocket from Typhoon cf Tanks below"
B. Sqdn. 44 R. Tanks, A.P.O. England, 19 June 1944
"I'm now the sole survivor on the truck as Arthur went smack with malaria last night. I've a sergeant as an accomplice and general aid plus an officer as a passenger and cook. He made my tea this morning and cooked my dinner. He's new so we bring him up right – a nice chap who takes his share and does his share. His wife has presented him with a son ten days ago – he just missed seeing him and is cheesed off as a result. He'll be a good man. I hope he doesn't read this - he censors them you know."
"Announcement on radio 'Famous Desert Rats now in Normandy' – you're telling me!"
B. Sqdn. 44 R. Tanks, A.P.O. England, 23 June 1944
"How would you like four or five pounds of fresh dairy butter? We've got rather a lot at present owing to an accidental double purchase – we pay about 40 francs for ½ kilo (4/- per lb.) Milk is 6d a quart straight from the cow or help yourself when no one is looking."
"The French say we've done more damage in fourteen days than Jerry did in four years – there may be something in it as the Italians said the same. Most of the villages in these parts are very decrepit affairs and are mainly the walled-in variety. Most of the buildings are ruins of about fifty years standing. The roads are just earth beaten hard. I like the countryside very much as it is well wooded and most of the fields have high hedges with quite large trees in them (excellent for cover and camouflage). I was in a church yesterday belonging to the nearby village. Like most of them it has been rearranged by artillery as Jerry invariably uses the steeples as observation points or for snipers. The people must have been renovating it as there are new roof trusses and the walls and columns are newly sandblasted. I fear the renovation needed is now extensive including a new steeple and roof. The Navy did a pretty job on one steeple which was held by a Jerry sniper and his French wife using, of all things, a 50 mm anti-tank gun. They were asked to sort it out and hit it first smack from about 10 miles range – exit Jerry, wife and gun."
"Some of our blokes went on a course to Bovvy where there was a sergeant-major of the old school. One morning inspection he walked behind one man and paused silent for about a whole minute. Then he spoke. 'Do you suffer from headaches?' 'No sir.' 'No tense feeling in the scalp or tightness round the eyes?' 'No sir.' 'Funny, I'm standing on your bloody hair.'"
"Whilst I wrote those last two sentences an ME109 has sorted out a Spitfire which came straight down to the deck, chased another off and nonchalantly sailed around a few times in the A/A then went home. The Spit. Pilot bailed out – I've seen more blokes floating about in parachutes this last few days than ever before. Liberator and Fortress crews, Mitchell and Marauder crews – all make for the bridgehead and out they come."
"The menu is two tins steak and kid. pudding, one tin veg. macedoine, one tin rice pudd. The rice pudd. is molto buono made with cream but one soon tires of this composite pack feeding – one can make nothing but stews. I concocted a hash of dried beef cubes ( a sort of dehydrated mutton), biscuits, Oxo and bully soaked for 24 hours and fried in butter. Quite good but very rich… I'm good on fish-cakes being able to make them hold together when frying. Sardines and soaked biscuit is the recipe – very complicated."
Pip sent a photograph of herself and Dave which Jim said he thought was "grand I do honestly and you both look fine."
B.W.E.F. France, 27 June 1944
"Doubtless by now you will have read inklings in the papers that the 'liberated' French aren't very pleased to be liberated. Many are openly (and actively) pro-German."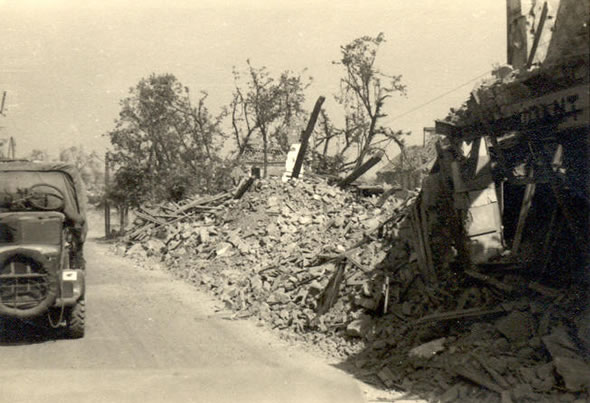 "Evrecy Normandy. A small village it was bombed by 650 Lancasters at once."
By 21 July Jim reported that the French were more friendly "perhaps because they see we're here to stay… ", but the photo above, showing the damage inflicted by fierce fighting around Evrecy at the end of June would explain why the villagers were sometimes less than enthusiastic about their 'liberation'.
On the roof of the lorry cab there appears to be a bicycle - probably one of the folding bicycles for paratroopers that Jim reported could often be found and sometimes used for bartering.
"… had my driving mirror carried away yesterday by a tank dirty tyke wanted all the road… just cooked a leg of lamb – the cheapest yet – a yearling lamb for 50 Players – how's that?"
B.W.E.F. France, 2 July 1944
"We had a little excitement a day or so ago and had to do a jildy move back about 8 miles or so with Jerry metaphorically snapping at our heels but he didn't get far fortunately. It was raining like blazes and the roads were a sea of mud in which the old bus slithered along with her rear wheels in the ditches and with J.D. blasting her to all sorts of places – she would suddenly grip and shoot out like a cork from a bottle – we do see life."
This would have been a German counter attack on 29 June around Evrecy. Jildy, meaning 'Hurry up', comes from the military in India.
"The nights are a lot quieter now – at first they came under the category of 'definitely noisy' and once perforce I leaped into a ditch full of brambles at 2 ack-emma clad only in a shirt."
"Re your enquiry about 7th Armoured Div. – they are the Desert Rats proper but this Brigade the one we are in was one of the Brigades of the Div. when it got its name and afterwards was detached as an independent brigade which it is now – it keeps a modified Rat as its sign as it cannot wear the 7th Div. Rat because it isn't 7th Div any longer – compris? In other words a lot of 7th Div. have never even seen Africa let alone the Blue but they are still D. R.s."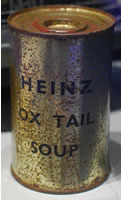 "When landing we had a couple of tins of self-heating oxtail soup each, an ingenious idea of the I.C.I. and very good. The rations do not seem as good as those for Sicily and the 24 hour pack each man gets to carry him over the first 24 hours certainly wasn't up to Sicilian standards. The only decent things in it were the oatmeal blocks to make porridge and the 20 Players in a water-tight tin. We didn't even wet our wheels when we landed by the way though we were waterproofed to about a foot over my head!"
Photo of soup tin on display at the D-Day Story museum in Portsmouth.

"We pack a powerful artillery punch and every village is powdered down, loads of dead cattle lying about. A lovely 12th century church has been absolutely sorted into its component parts in one village – the only thing standing is the War Memorial – it's not even marked. There are no civvies at all there yet but I suppose they'll drift back poor devils. It goes in strips as it were – wherever he makes a stand – that part of the country gets wrecked – otherwise it doesn't get marked at all."
B.W.E.F. France, 12 July 1944
"Have I told you I'm losing the nail of my middle finger left hand? I walloped it with a heavy axe three weeks ago and burst it a little – now it's coming off. It was awkward driving without its use. I've been driving the truck ever since Arthur went down with malaria – nobody else to do it as we're short of men – malaria mostly."
"I seized an opportunity to pay a flying visit to Bayeux yesterday but there is little in it bar butter and cheese. It is an ordinary nondescript sort of place apart from odd old buildings and a glorious Cathedral. I don't know its age but it must be fairly ancient. It's elaborately carved. If I ever get the chance I'll have a look over it."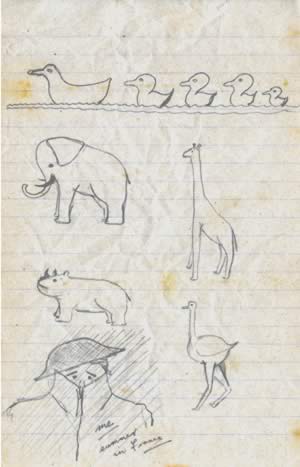 In the next two letters Jim hints that the regiment had seen action and indeed they had moved up to a position north of the River Odon and had been under heavy shelling for several days.

B.L.A. France, 21 July 1944

"I'm sorry there has been a hiatus in the mail - it must be almost a week since I last wrote to you but I've not had an opportunity up to now. It started to rain last night and has poured ever since – the field has a lakey appearance now and everything is moist. I woke up ce matin in a pool of water."

Jim enclosed an illustrated 'letter' for his young son David and pictured how he felt about the weather with the caption

"Me Summer in France"

.


The action would have been on high ground opposite Hill 112, a strong point held by German forces. The Regiment were in support of 43rd Division and Jim noted in the Regimental History that crews were confined to their tanks for 8 days while they were under "really heavy shelling". Years later Jim added a press cutting to the History, from a Cornish newspaper, headed "40 Years Ago, Sept 1, 1951". It announced the gift by Sir Richard Onslow, of Hengar, St Tudy, of Rough Tor, on the northern edge of Bodmin Moor, which is to be a war memorial to the 43rd Wessex Division and to the 5th Battalion, Duke of Cornwall's Light Infantry, who, when serving with the Wessex Division, captured and held Hill 112 in Normandy. It is a memorial very familiar to some family members.
B.L.A. France, 25 July 1944
"I'm sitting in our latest location, to wit one field of mangelwurzels having quit yesterday from a field of oats – we didn't do the oat field any good at all as 3 tonners cover a big area. What I would like to know is this – can one eat the boiled tops of young mangelwurzels? There is no taste in 'em raw so I don't suppose there'll be any in 'em boiled. Just finished the main meal of stewed steak and whole new potatoes fried (loot). About ten feet away is my funk hole about 6' x 2' x 4' which I roofed yesterday with wood from 105 mm howitzer boxes. It's a good 'ole particularly as I didn't have to dig it – being an old soldier I brought the truck to the hole instead of digging one myself. Not that I really need a hole here – not in daytime anyway though he does a little nasty nuisance raiding at night – it's A/A shrapnel which is more likely to hurt – some of it is big stuff and there is plenty of it. I've just burned some letters of yours – a thing I do periodically as you know… I liked your letters about the 20th."
July 20th was their wedding anniversary and Jim wrote again about the reason for the lack of letters from him.
"I'd have liked to have written something nice to you myself but we were a bit dodgy round that time and I wasn't strong-minded enough."
On the 22nd they moved to Carpiquet Aerodrome, just west of Caen where the enemy action wasn't so heavy.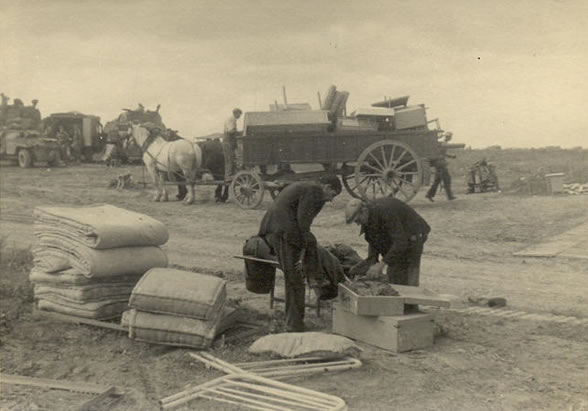 "French civilians looting Carpiquet Aerodrome, Caen."
"They said most of it was 'lent' to the Germans by them anyway."
"I went into a village last night, you'll have heard its name often on the news – I say a village – it was a village once. It was dusk and as I went past the stationmaster's house or its remains I heard an 'orrible sound coming from inside like someone moaning. Investigation – a little black and white terrier half-starved sitting on a baby's cot and howling while the rain dripped through the ceiling. I thought then that it typified War. The dog I should say was the only remnant of the previous population bar the rats. I almost shot the poor beast – it looked so miserable but maybe the boss will come back shortly if he's still extant, so I didn't."
Jim recalled some of the animals that had been adopted from time to time: a kitten, a smooth-haired terrier, Wilmot the tortoise and a hare that lived under the lorry for a few days.
"No animal has lasted as long as Donald the Duck in Italy. I often smile when I think of Donald – his adventures were as crazy as his namesake's. His life hung on a thread more times than his owner's the Sgt-Major and that's saying something. Once he was lost and traced to a church where he was tied to the altar whilst some R.E.'s outside were making the fire to boil him in. Once his box and himself fell off the back of the lorry and burst. His loss was discovered and tracks retraced. Donald bursting with indignation was waddling as hard as he could go along the road in the middle of lorries, guns and Lord knows what. I wonder if he still lives? He was left with an Itie farmer whose life is forfeit if Donald is not alive when the Sgt-Major returns in two years time."
Previous page

Index to all letters pages

Next page