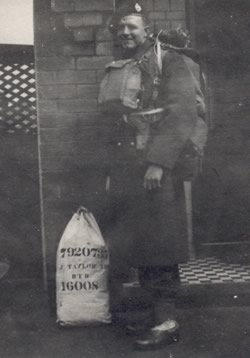 Between October 1940 and 1945 Jim Taylor wrote well over 300 letters and telegrams to his wife Pip back in Liverpool. They cover his training in Dorset and Wiltshire and his active service in North Africa, Italy, France, Belgium and Germany. As well as writing about personal and family matters, he included anecdotes from army life, comments about the war (subject to the censor's attention) and opinions on the people and politics of the countries involved.
Almost all the letters are still in their envelopes and may be dated by the postmarks, even if Jim only included the day of the week when he was writing them. In some cases he described photographs that he had sent with the letters and it has been possible to identify these. He also commented on how difficult it was to buy film abroad and arrange for processing. It seems surprising that he was allowed to use a camera in the war zone, but photographs were stamped "passed" by the censor in the same way as the envelopes.
Below are a few extracts from early letters while Jim was at training camps in Bovington, Dorset and Warminster, Wiltshire.


Jim Taylor ready to leave home
Bovington, Wednesday (31 Oct 1940)
"I am just waiting to go on the Square Weapon Training. I am the Squad Hisser – a man who hisses the time for the others so that all movements are done to time when an officer is looking on. It's an old army dodge, the officer of course cannot hear it as he is too far away so he just thinks we are very clever."
"I have had my first clash with Authority in the shape of a Drill Corporal who takes B Squad for drill and imagines he is Nero or Hitler or someone. His squad is scared to death of him. He tried to turn me off my seat in the Dining Room to make room for his pal another Corporal. I refused. Merry hell broke loose. He swore and raved and eventually threatened me with instant arrest for insubordination and insolence to a superior. I took up his challenge and invited arrest. I knew he couldn't do a damn thing about it really as he was misusing his authority and anyway he had uttered threats of violence to an inferior in rank. He reported me to Sergt. Brown my own squad sergt. and the whole thing finished with him being ticked off. He only tried it on because I was a recruit and not supposed to know nowt about nothing."
Bovington, Monday (12 Nov 1940)
"We had our first dog-fight over here yesterday – it was marvellous. About 70-80 planes at a terrific height and we could see the exhaust smokes weaving in and out like tadpoles in a pond. 3 or 4 came down but whether they were Jerry or Brit is unknown. We saw about 20 Jerries in formation suddenly pounced on out of a cloud by about 30 Spits. All our neighbouring squadron was up and we saw them coming in one by one – dozens of them. No victory rolls tho' at least I didn't see any. It lasted well over half an hour altogether."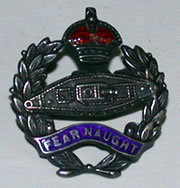 Jim managed to acquire a travel warrant for Pip to join him in Dorset and they were able to spend Christmas week together. In his next letter he wrote of one of his bunch who had just lost every relative he had in the World - 14 all told - in one Manchester raid. They all lived in the same street.
After Christmas Jim was moved to Warminster, on the western edge of Salisbury Plain, to continue his training.
Jim's Royal Tank Regiment badge
Warminster, Sunday (19 Jan 1941)
"The other night 3 or 4 of us were watching the glow over Cardiff. We saw the a.a. fire and the bomb flashes. We the Army watching women and kids getting it in the neck while we stood with our hands in our pockets and fags in our mouths. It's all upside down somehow. It's fantastic when you think of it. - the whole of the Home Forces are outside the big cities sleeping peacefully every night while non-combatants are in the firing line."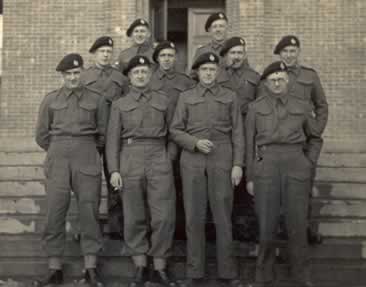 Warminster, Friday (25 Jan 1941)
"...it is strictly forbidden (a) For any member of H.M. Forces to own a camera (b) To smuggle one into a military objective (c) To snap a military objective (I am classed as one!). Punishment ranges from about 1 month to 5 years in jug according to the crime."
Jim is second from right in the front row.
It appears that Jim managed to have an unofficial leave one weekend and visited Pip in Liverpool, judging from the tone of the next letter. Pip apparently complained in her letter that he had not written midweek, not knowing that he was about to arrive in person.
Warminster, Monday (11 Feb 1941)
"Here we are again - we got safely into Warminster about 7.30 pm after an uneventful journey. Never saw an M.P. the whole way. Heard Churchill's speech in the Canteen for Troops in the Town Hall.... I am sorry I had to give you such a shock turning up like that but I know you realise it was inevitable under the circs."
"I was extremely interested in Churchill last night. I don't know whether you listened to him - he sounded very weary but the part that I was watching for was any impression he might give of the likelihood of Invasion. To me he sounded as though he considered it not so likely as before. I was rather surprised. It was only an impression I got. I do think that the tide is definitely turning in our favour. I never felt so up to now - and providing we can solve the shipping problem which is understandably serious we'll pull it off OK."
"Your last letter - accusing me of neglecting you or something like that - was here when I arrived last night. My bed was made, pyjamas laid out, boots cleaned and all nice and ship-shape. Rifle and bayonet cleaned and handed in - all very nice - they're a great bunch of lads you know."
Index to all letters pages

Next page