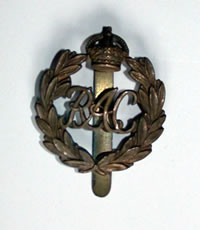 Jim's Royal Armoured Corps cap badge. The RAC was formed in April 1939 from the cavalry wing (mechanised cavalry units) and the Royal Tank Corp, which was then renamed the Royal Tank Regiment within the new corps.
Jim remained at Warminster until his training ended. From the tone of these later letters he and those who were called up with him considered themselves old army hands by this time.
Warminster, Saturday (15 Feb 1941)
"We seem to be living in an atmosphere of wangling here at the moment. We are busy covering up Johnny Gill at present who has been A.W.O.L. since Friday noon. No one has missed him yet. His method of getting past the guard was ingenious – he went in overalls and dirty boots with a ration sack on his shoulder presumably on fatigue. His proper outfit had previously been dumped by divers means in Warminster – where he changed and went to Birkenhead by train. Tomorrow he is due back on the 10.40. One of us takes out two passes (obtained by two people) and he comes in on the other one quite openly. Erny Younger stood in for him on Westbury Defence Parade this morning while the carpenter who sleeps below me took 10 minutes or so off to answer for Younger on Westbury Reserve. Simple n'est ce pas."
"He wanted to see his brother who is off to Egypt some time next week but they wouldn't let him go – so he's gone."
Warminster, Thursday (21 Feb 1941)
"I had another "do" on the Bren Carriers on Wednesday. The plains were about six inches deep in mud and after considerable juggling I managed to get her up to about 35 mph down the slope of a ravine-like feature. Half way down I picked up half a barbed-wire fence wrapped round a post and jammed the left track. The right hand track (as is the wont of these differentialled machines) promptly took up all the left's power as well as its own and went on at 70 mph. Result σσσσσσσσ down the bank - not head over heels – the other way – round and round like a top going down the bank all the time. It was really funny. They're quite safe things being so low built that it is virtually impossible to turn them over."
"Johnny by the way – after his brilliant exploit at the week-end has landed 7 days C.B. for having dirty boots. What a come down!"
At the end of the letter we learn what Pip was doing for the war effort back in Liverpool.
"What would you rather do – look after me or sell evacuees? I'll bet it's easier work selling people than keeping them happy. Would you miss your new job if I was home again?"
In the next letter Jim felt it necessary to pass on some of the training information he had received.
Warminster, Tuesday (27 Feb 1941)
"Do you know 'out about gas by the way? Si tu veux I can pass on a précis of the stuff given to us – it would be very useful if it is ever necessary to undergo treatment with this delightful weapon of goodwill.
Let me see – there's the Choking Group
Phosgene – non-persistent – invisible – smells of musty hay – lethal
Chlorine – you know him
Chloropicrin – 1/5000 part lethal – yellow liquid
Nose Gases
D.M. yellow arsenical smoke
D.A. arsenical
D.C. arsenical
Tear Gases
C.A.P. – B.B.C. (Bromo-benzyl cyanide) – smells of sour fruit
K.S.K. – smells of peardrops
Blister Gases
Mustard and Lewisite
And then there's the real nice one Arsine – never been used but Jerry has enormous stocks of it – it's what they fitted the disc on the masks for."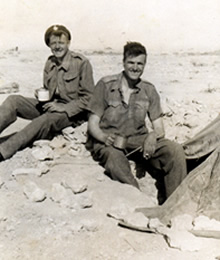 In the same letter Jim explains how wireless training may be enlivened by inventing scenarios for the mock battles that they report on. Fred Stannier is mentioned for the first time. They kept in touch over the years and visited each other until Jim died.
The photograph was taken in April 1942 and shows Jim and Fred enjoying a brew in the desert about 50 miles SW of Tobruk in a region known as Knightsbridge. The reverse of the photograph is enscribed "Pip with all my love Jim" and is stamped "Passed by censor" so it will have been sent back to Liverpool with a letter.
"I'm finding Wireless very useful for ducking fatigues… I just dodge up to the Wireless Wing and do a bit of Morse for an hour."
"We have sets in various rooms and buildings and all split up to take various positions. Each couple is supposed to be sometimes one tank sometimes a squadron of 12 or 20. One group is Control Station and sends out its tanks to work an imaginary battle. We have maps, references, codes, etc. just as in actual action. As you can imagine the things wot 'appen are rather surprising… We have many humourists in our squad particularly a certain L/C Stannier (schoolmaster). He and I are kindred souls and do our best to score off each other…"
"Last week I had a tank called "Anti" – the name was sufficient. I chased some Jerries thro' Westbury Tunnel and found some mushrooms growing in the dark and chilly dampness. Requested H.Q. for some Guinness. Stannier later on reported that he had found me "Anti" upside down in a quarry being assaulted by German infantry."
"He has a definite leaning towards beautiful spies in the shape of blondes (or brunettes) who stop his tanks and ask for lifts. Also 5th columnists in all sorts of guises – butchers, parsons, undertakers, chinamen, and once a hippopotamus of which he was very suspicious because it had a half-consumed hamburger beside it and a swastika on its behind – could it be Goering?"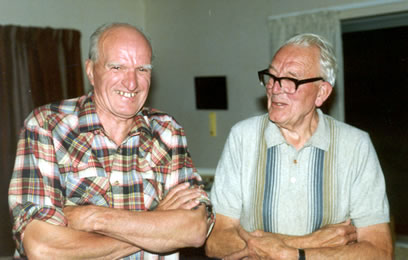 Fred Stannier and Jim in Cornwall in 1989. Fred still looked as if he enjoyed a good joke. They were like a couple of kids whenever they got together and began to reminisce.
Previous page

Index to all letters pages

Next page