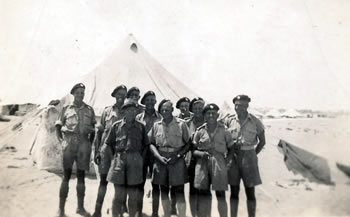 Jim finally returned to his unit somewhere in the Western Desert and at last caught up with his mail from home. He learnt that he now had a son, David James, born nearly six weeks earlier. He used PC for postcard and WD for Western Desert in the following letters. The first was only a brief Airgraph sent to acknowledge Pip's news and expected to arrive quickly. Then Jim followed this with a full letter.
'The lads' at the desert base camp.
Western Desert, 30 August 1941
"I got all your mail in one huge bunch when I arrived and had a real "Field Day" reading it all.... The first PC I read was dated July 23rd – thank you very much for all the trouble you took – I'll write more about that in a letter.... Lots of love to you both.".
Western Desert, 30 August 1941
"So you've gone and gotten me a son have you –I'm so glad that it's all over at last. That PC – the very last to arrive as yet was the one first handed to me and I read it as I stood. Time 6.30 pm on the 25th August. Imagine it Pip mine – Yours Truly – the precise colour of the landscape from head to toes after miles and miles and miles through the dust in a truck – and I find I'm a father – I had wondered for so long. Fred came tearing up just as I finished reading it – gave me a drink of water to wash out the dust and said 'What news?' I said '7lb 12 oz' but he didn't know what I meant."
"I've lived on melons in all shapes and forms, boiled, fried and 'souped', pumpkins and ONIONS, thousands of onions. Our main diet at present is sheep's tongues, tinned sausages, onions and cheese. Our bread comes over 150 miles so is stale before we get it – if. Our main source of amusement is to put a couple of scorpions in half a petrol tin and let them fight it out, or put a scorpion against a 'Clutching Cuthbert' – these are spiders rather like the soldier crab with a body as big as a beetle and hairy legs about 2½ inches long – two of them with claws. Cruel perhaps but as they put us in hospital if they get the chance they can't complain."
He continued to describe army life in the desert in the next letter and, perhaps not surprisingly, water featured several times in the account. The photograph was taken in May 1942 but would appear to be the same type of lorry as the one Jim described.
Western Desert, 5 October 1941
"Three of us have saved up about 6 quarts of water by thirsting for a week or so and are going to wash some shirts, shorts, etc. in the same. It will get the sweat out anyway and the loose grit."
"The food isn't bad at all although it's naturally always the same. Porridge and sausages or bacon (tinned of course) bread, tropical margarine and jam. (Tropical marg. has a high melting point and rather resembles yellow candle grease.) cheese, onions, marrow, cucumber occasionally and stewed meat, rice and dried fruits. At the moment I'm sucking a lime which I pinched when I was running rations to the Tanks. It might interest you to know that somewhere in the WD is a brand new 3 ton Chevrolet bearing in letters 4 inches high on the front bumper or drag-bar or whatever it is called the name PIP – that Chev. is mine and I'm sitting in her now. I brought her up over 100 miles of desert and wadis and escarpments – she's no trouble, like the one she's named after.... She's part of Canada's war effort and not the only one either. Inside the bonnet cover in chalk is written 'We promised her – here she is and damn' good luck to both of you.'"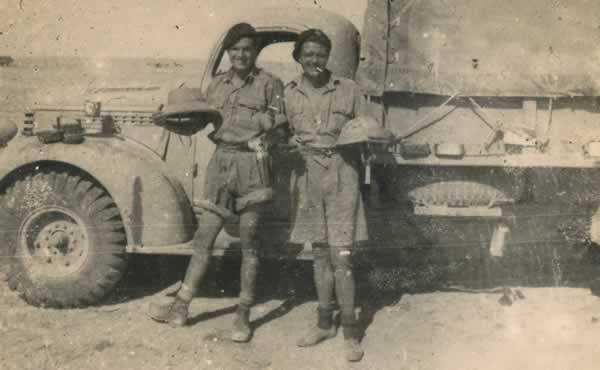 On the reverse of the postcard Jim wrote:
"The silly grins are intentional but Jerry removed them two or three days later by shoving us all over Egypt. The topee was never worn nor the tin hat.
Love Jim
May 25th '42
Jerry blew the front off 10.30 am 28th with 500lb bomb."
"… I was changing the oil in the two differentials, gear boxes and sump in the middle of a miniature sand storm. I got covered with dirty oil and then caked with sand on top. I found it necessary to bath in petrol as I only had about ½ a pint of water – it didn't half sting but it fetched the oil off. Afterwards I rubbed down with the water as I didn't want to explode when I lit a fag. Petrol is an excellent substitute for water to wash clothes but they disintegrate after about four washings."
The shortage of water was a continual concern. Jim's second driver, Geoff, another ex-schoolmaster, found about 4 gallons of water when he attempted to fill the spare petrol cans that came with the lorry.
"The golden elixir was in PIP's petrol cans just under the cab. They're officially empty and he's been filling them. I'll bet a pound to a penny that it's Canadian water – it's a dead cert. Our people know nothing about it or they would have been bagged – well they won't. Our allowance is one water bottle per day for all purposes not including cookhouse. A wash and shave uses half of that right off (1 pint)."
"I'm using a pen I bought from an Italian prisoner about three months ago for 4d or rather its equivalent in fags."
"PIP is now a regular arsenal – I've 2 rifles, a revolver and a Bren gun all for 'personal defence' and the defence of HM lorry PIP against hostile attack. I'd prefer a Tommy Gun – you know the US gangsters weapon – with which I make good play…. The Bren is really for defence against Stukas but my ideas on such matters do not include a Bren – only my feet."
"I suppose you are finding DJ a full-time job darling, he's certainly a very lucky child to have a mother like my wife. – in fact as lucky as me. If when the time comes he shows as much sense as his father when he chooses his girl and she turns out like mine he will be doubly fortunate – and that is not blarney! Honestly sweetheart mine, I'm the luckiest bloke in this Army – some of the lads here haven't heard a word from their wives since they left blighty – I'm afraid a few wives are due for black eyes or something when the boys get home.One or two are quite broken as a result… we live for mail here – it keeps us alive."
Previous page

Index to all letters pages

Next page