David James Looker was born on 3 June 1822 in Isleworth, Middlesex. His father, David Looker, had moved there from Marlborough, Wiltshire and met and married Ann Greenaway in 1821. David senior was recorded as "hostling" in the 1841 census. Hostler is an alternative to ostler (his occupation at the time of the next census in 1851) and implies that he cared for the horses at an inn. It is perhaps not surprising that David James sought a job working with horses, and by 1861, after several years as a conductor (presumably on a horse-drawn omnibus) he had become a cab driver. This would have been either a two-wheeled Hansom cab or a four-wheel Clarence.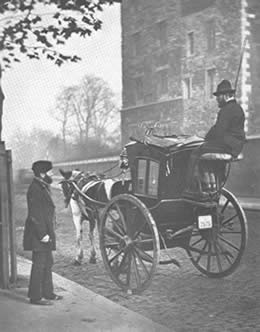 A Scottish photographer, John Thompson, published a book in 1877 entitled Street Life in London, consisting of photographs and text illustrating the lives of a number of familiar characters to be found in the highways and byways of London. On the page entitled "London Cabmen" appears the following account of the career of the cabman pictured in the accompanying photograph.

He began life in the humble capacity of pot-boy in his uncle's public house, but abandoned this opening in consequence of a dispute, and ultimately obtained an engagement as conductor from the Metropolitan Tramway Company… After some two years' careful saving he collected sufficient money to buy a horse, hire a cab, and obtain his licence.

It could almost have been David James himself, except that tramways were not introduced until after he was a cabman.

On 2 March 1845 David James married Elizabeth Spiers in the church of St Dunstan West. David was still a conductor then and his father was described as a horse keeper. Elizabeth's father, Henry Spiers, was a sawyer.

They had a son, Henry, who died young, and five daughters: Elizabeth (born in 1846), Sophia Charlotte (b. 1848), Jemima (b. 1851), Frances Amelia (1852) and Augusta (b. 1857). In 1858 their mother died and in 1861 David James and two of the older girls were living in a cottage in Hammersmith and coping with baby Augusta. Sophia was working as a house servant for the family of a boot and shoemaker, also in Hammersmith. (In 1857 she completed a sampler which is pictured on a page in the Memorabilia section.)

At that time Frances was staying with a couple named Spiers, in Woolwich, Kent and described as a relative. In fact she was their niece. Her uncle, Charles Spiers, was a saw sharpener, suggesting that working with saws was a family tradition. (Another of Henry's sons, Alfred, was also a sawyer according to the 1851 census.)

In 1866 David James married again and in 1871 he and his new wife, Sarah Plunkett, were still living in Hammersmith. The girls had all left home by this time. Elizabeth was married to George Lawrence, a waterman, and they were also living in Hammersmith with their two daughters, Mary and Elizabeth. Sophia was still in domestic service, in Kensington. Jemima was married and Augusta was a nurse and monitor at an orphanage called The Hall in Foxearth, Essex. Frances is as yet unaccounted for in 1871 but reappeared in the next census living in Worthing, Sussex and employed in domestic service. (In Memorabilia there is a page for Frances Looker with more about her life.) Sarah was eight years younger than David James but they only had eleven years together before David was widowed for the second time, in 1877. Afterwards, according to the 1881 census, he seems to have moved in with his daughter, Jemima, her husband John Newbury and their children.

Before the next census, David James became ill and was admitted, first, to the Fulham Palace Road Workhouse and then to the Infirmary on 23 February 1891. He was classified for Diet as Class 2: "Old and infirm men". He died later that year, in Fulham, aged 69.