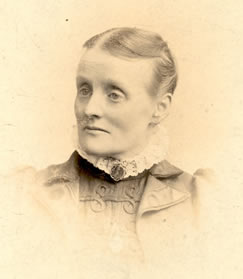 Frances Amelia Looker was "Aunt Fan" or "Aunt Fran"; sister to Jemima Looker on the Newbury family tree. Born in Chertsey, Surrey in 1852, her mother died soon after, and in 1861 she was living in Woolwich, Kent, with Charles Spiers, a saw sharpener, and his wife Barbara. They were her uncle and aunt; Charles being one of the brothers of her mother, Elizabeth Spiers (daughter of a sawyer). In 1881 she was in service in Worthing, Sussex and she seems to have remained with the same family until at least 1911. They even gave her a watch on the occasion of her marriage in 1883 to Walter Miles, who according to family legend was an official of the Jamaican Prison Service, possibly the Governor! The marriage certificate confirms that he was a prison warder but doesn't give the location. Walter didn't feature on the census return for 1891 which might suggest he worked abroad. By 1901 Aunt Fan was a widow but I have not found Walter's death certificate.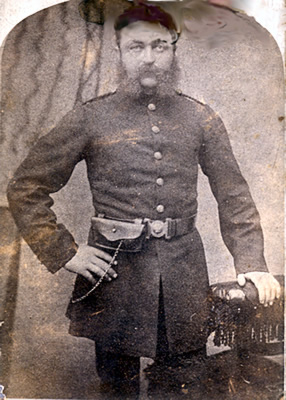 This rather worn photograph of an impressively bearded Walter Miles shows him wearing his prison warder uniform. I suppose his keys are in the pouch on the end of the chain. Is this the standard uniform of English warders in the late 19th century? More research needed.

Frances was working as an under nurse for Arthur Burnand and family at the time of the census in 1881. They lived at 14 Park Crescent, Broadwater, Worthing and in the occupation column Arthur has written Captain, followed by retd. crossed out, then Army. There were five servants to look after Arthur, his wife and five children. The cook, Ellen Houghton, was one of the witnesses for Aunt Fan's wedding.
By 1891 Aunt Fan had married Walter and "Frances M Miles" was listed as a housemaid to Lewes W Burnand, stockbroker, and family at the same address, 14 Park Crescent. I am assuming there is a connection between these two Burnand families living in the same house at different times but it could be a coincidence.
In 1901, when she was a widow, Frances was still a housemaid with the same family, at the same address. Finally the 1911 census shows her still working for Lewes Whitmore Burnand (MA Cantab, Independent means), but this time as cook in a much reduced household of four: two servants and two family members.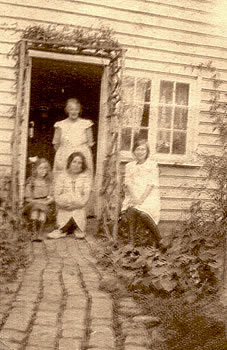 Another poor photograph, this one showing Aunt Fan outside her small cottage after she had retired to Kent. Sitting in front are, from the left, Daisy, Rose and Winnie, her great nieces. Daisy has explained how, as a very young child, she was ill with scarlet fever and after a period in isolation in a Fever Hospital she was sent to stay with relations outside London for six months for her health. It is thought that this was Aunt Fan. Daisy used to collect water from the stream in a bucket which was then stored in the larder so that when you drank it the water was icy cold.
In a letter to Rose from Aunt Fan dated simply "De 17" she wrote "I am very pleased to hear Daisy is so much better." and in another "I am very pleased to hear that Daisy is so well it must be a great comfort to your mother." The address each time is Gun Green, Hawkhurst, Kent.
The photograph would have been taken about 1920.
The cottage at Gun Green with Daisy and Winnie standing by Aunt Fan's gate.
Frances died on 12 June 1928 and probate was granted to Ivor Brassey Burnand solicitor. Another member of the family she had worked for perhaps?
The Kent and Sussex Courier published an obituary on 22 June that included the following information:
"The funeral took place in the Parish Churchyard last Monday of Mrs. Frances Amelia Miles, aged 74 years, who died last week. Mrs. Miles, who came to live in Gun Green, Hawkhurst in 1918, was the widow of Mr. Walter Miles, whose death took place about 28 years ago in Jamaica, where he held a post as prison warder."
Not the prison governor then, but it does give a place and time frame for Walter's death.
As well as floral tributes from great nieces "Winnie and Rose" and their parents "Jane and Mark" there was one from "her little Daisy". A separate tribute from 13 year old Daisy would seem to support the convalescence story.
On Saturday 13 October 1883 the following headline appeared above an article in the Illustrated Police News.

Could there be two prison warders named Walter Miles? Follow the link to read the article.