If this is the same Walter Miles who married Frances Amelia Looker on 3 July 1883, perhaps the attack described in the article prompted him to try working in Jamaica.

Article from The Illustrated Police News, Saturday, October 13, 1883, a weekly publication that thrived on sensational stories and was apparently voted the worst newspaper in England in a newspaper poll of 1886. Coldbath-fields Prison in Clerkenwell was closed around 1885-6 and the site is now covered by the Post Office's Mount Pleasant Sorting Office. Was it the closure of the prison that led to Walter moving to Jamaica?

The trial was reported in The Morning Post of Wednesday 17 October 1883 under the heading "Central Criminal Court - Tuesday" as follows: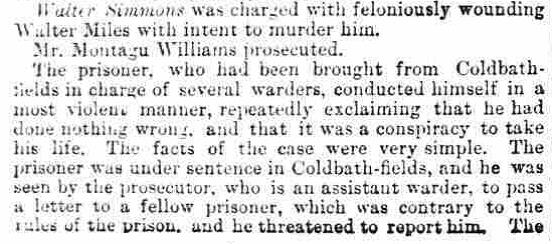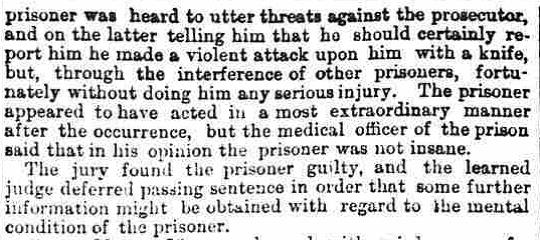 Later, the prisoner was "Removed to Colney Hatch Asylum, under Secretary of State's Order", although his name was reported as Walter Simmons and his victim as Walter Mills.
Under the headline for the first article is written "subject of illustration" and sure enough the incident had been depicted on the front page of the Illustrated Police News.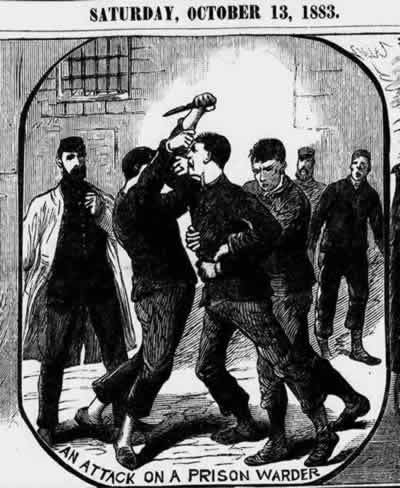 The whole front page is designed to catch the eye in best tabloid tradition.