Sophia Charlotte Looker was another of Jemima Looker's sisters from the Newbury family tree. She was born in 1848 and, as was common for young girls at that time, she was taught needlework skills at an early age. The sampler shown below was embroidered "in her 8th year", in 1857. It is in reasonable condition considering its age, with one or two small holes in the fabric and faded colours.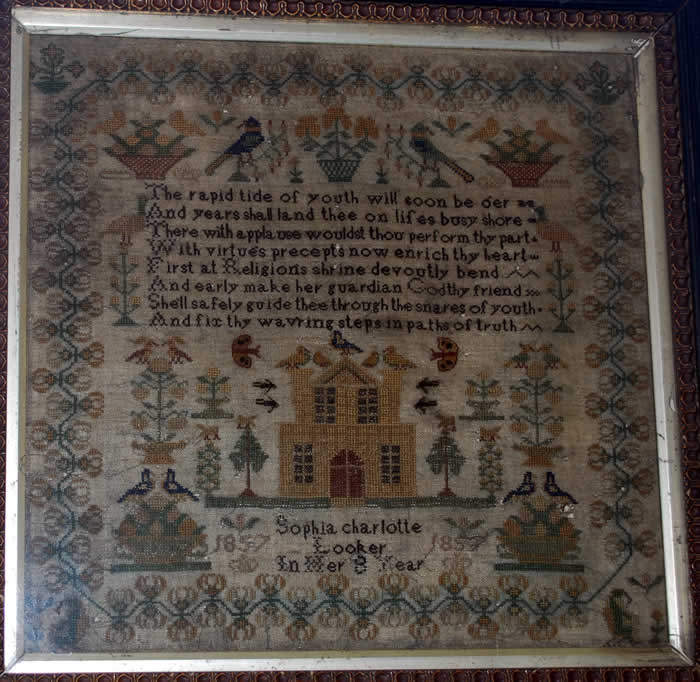 The text has been taken from a book by Mrs Alice Flowerdew, "Poems, on moral and religious subjects", which was published in 1803. These lines appear in the second verse of a poem entitled "Address to my daughter, on entering her seventeenth year". The full text is available on-line.
In 1861, aged 13, and again in 1871, Sophia was working as a servant in Kensington, first for the family of a boot and shoe maker and then for a fruiterer. But in 1873, on 19 August, she was discharged from Fulham Palace Road Workhouse at her "Own Request". She was readmitted on 1 May 1874; the record states she was a servant and ill. Then on 26 October 1874 she was discharged "To Bath Infirmary, by Matron". Does this mean she was to be bathed before entering the Infirmary? There was certainly no family connection to the city of Bath and by the 1881 census Sophia was once again listed as an inmate of the Fulham Union Workhouse. She was still there in 1891. There is no sign of her in 1901 but in 1911 Sophia was a patient in the Hammersmith Infirmary, still listed as a domestic servant, though how often she had been in work over the years is another question.
Return to Memorabilia page