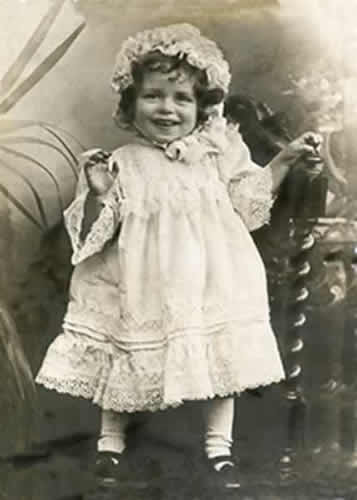 Rose Winifred Burgess was the eldest daughter of Mark Burgess and Jane Newbury. She was born in April 1905 in St Pancras, London. In this picture of her as a baby she appears to be a little unsteady on her feet, which gives an idea of her age at the time. She looks pretty cheerful about being photographed however.
The 1911 census shows Rose and her parents living in Haringay, in North London. Confusingly, the area is now known as Harringay and is within the London Borough of Haringey. (As one web site introduces it "Harringay, Haringey - So Good They Named It Twice?") Some surprising coincidences are described on a page entitled Census 1911. To return to this page use the link at the foot of the census page.
We know that in 1913 Rose was attending the Allison Road School in Harringay because the Grade 1 children had a class photograph taken on Sept 9th that year. See below.
The indoor setting gives an interesting insight into classrooms at that time, with iron-framed desks and fixed seats arranged in formal rows. The display of model buildings wouldn't look out of place in a modern classroom though. Rose is the girl sitting at the desk beside the notice on the floor which conveniently tells us the name of the school and the date.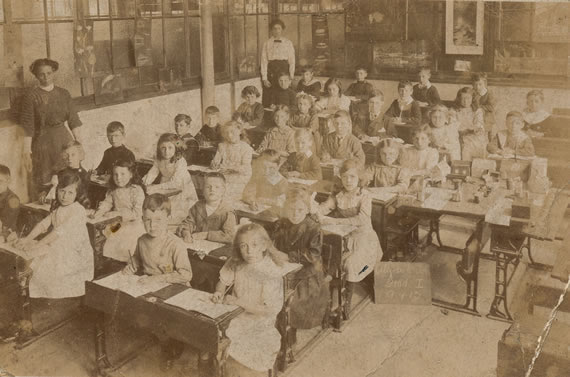 Rose Burgess at Allison Road School
In July 1919, when Rose was fourteen, her mother negotiated her first job, as under nurse at £16 per year with Mrs Winifred Wright of 51 St George's Road, Warwick Square. The property, later named 51 St George's Drive, housed an optician's consulting room as well as being the family home. When Rose started work on August 6th, Winifred and her husband William Wright had a daughter, 2-year-old Winifred Iris, and four sons: William and Edward aged 5 and 4 respectively, and newly born twins Reginald and Anthony. No wonder extra help was needed. Very sadly the next few months could hardly have been worse for Winifred and the family. Reginald died in August 1919, Winifred's mother in October 1919, then Anthony in February 1920 and the twins' father, William, a month later.
By 1921 the census shows quite a full household living there with the Wrights joined by Winifred's father, sister and young brother.

1921 Census for the household at 51 St George's Road S.W.1
The census goes a long way towards explaining the letters and photographs kept by Rose over the years. Winifred Wright wrote to Rose's mother confirming her appointment and again to rearrange the start date, explaining that she had "forgotten when writing you last that Aug 4th was Bank Holiday." There were letters from Eddie and Ray, both at Ardingly College in Sussex, sent in the summer of 1930 and mentioning Billy. They would have been well into their teens by then and doing exams apparently. Eddie reported that he had been teased for receiving a letter from Rose. It must have been a little strange for two nephews and their uncle to be at school together. Perhaps this exchange of letters between ex-nurse and her erstwhile charges marks the point when Rose left the household with none of the children needing such care any longer. Certainly, Rose began a new job in October that year.
It appears there had been an earlier break in Rose's employment because in July 1923 Mrs Wright sent a letter asking her to come back "if her mother could spare her". The suggested rate for a fortnight, "while Nannie is away", was 15 shillings a week. Then with another letter from December 1924 Mrs Wright sent her ten shillings "for the help you gave me for the Wedding." This appears to have been the wedding of Winifred's widowed father Charles Ashton, who married Adelena Reynolds in November 1924. Winifred also offered Rose a job looking after the Consulting and Waiting rooms and doing mending jobs for Iris between patients. Iris (Winifred Iris Ashton Wright in the census) was seven years old by this time.
Rose was asked to start immediately after Christmas and fortunately it became a long-term appointment because it was there that she met her future husband, Harold Burgess, when he began to work for the optician. The first letter from Harold to Rose is dated 27 January 1925 so they must have hit it off pretty quickly after meeting for the first time. It is only a brief note but it does display the crest of the Worshipful Company of Spectacle Makers, thus confirming the nature of the family business.
Winifred was married again, to Harold Chick in February 1928, which would perhaps explain a line in Eddie Wright's letter from school in 1930: "... it was from (my) Harold..." After the wedding the couple went to stay at a "little dream cottage" called Windyrigs at Farnham Common. Winifred wrote asking Rose to find several things she needed including tea spoons as there were none in the cottage. Iris was to bring them with her when she visited. There were more requests from Windyrigs in July, after daughter Pamela Chick had been born.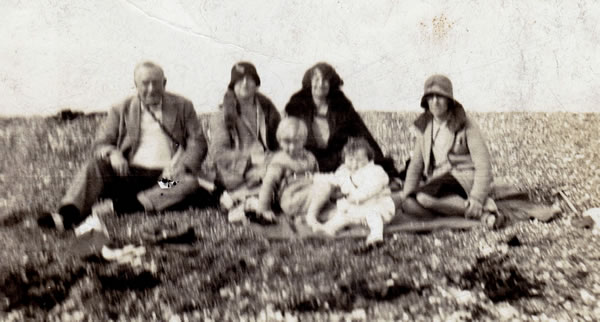 Rose has written on the back "Mr and Mrs Ashton, Mrs Chick, Ray, Pam and me."
(That is Charles and Adelena Ashton, née Reynolds; Winifred Alice Georgina Chick, formerly Wright, née Ashton; Raymond Clerc Wright Ashton; Pamela June Ashton Chick and Rose Winifred Burgess)
The photograph below shows a twenty-first birthday party on or near 15 April 1926 which brings together members of both Burgess families: Rose with her parents and two sisters, Daisy and Winnie; and her future husband Harold with his brother Cyril and mother and sister both named Elizabeth.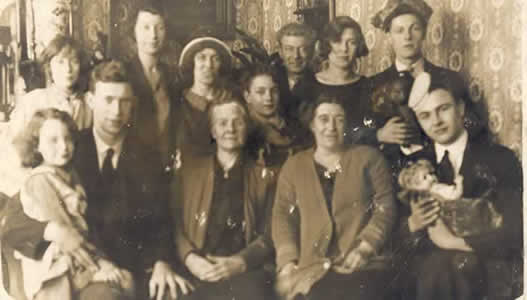 Back row: Daisy Burgess, Lucy Elizabeth Burgess, Rose Burgess, ?, Mark Burgess, Winnie Burgess, Harry Loveday (later to marry Winnie)
Front row: ?, Harold Burgess, Elizabeth Burgess (née Hely), Jane Burgess (née Newbury), Cyril Burgess
In October 1930 Rose was recommended for the post of Nurse or Mother's Help to Ethel Whitby. She and her husband were both doctors and during WWII they worked together for the British Army as Captain and Brigadier respectively, advising on blood transfusion. Sir Lionel Whitby, as he was later to become, was closely involved in the development of M & B as a treatment for pneumonia. Judging by Rose's letter to Harold soon after her appointment she was not at all sure she would stay: the house was small; she would be expected to accompany the family for their fishing weekends; and worst of all, she would have to spend three weeks in Cornwall the following July. However she was impressed that Mrs. Whitby told her she could "have my boy in at any time if I had a regular one." She also lent Rose her gaiters to wear when she met the children from school and added extra furniture for her room.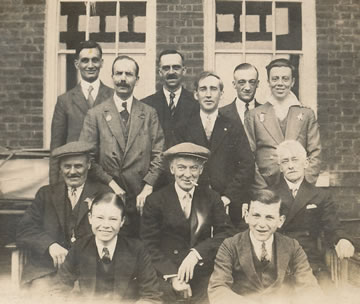 Then, within days, Rose was won over completely. Her father, Mark Burgess, was taken ill and Dr Whitby not only took Rose home but saw that Mark was taken to the Middlesex Hospital where he worked. Pneumonia was diagnosed and Rose wrote that he had it "as bad as possible". This at a time when Harold was in hospital with TB: the disease that had killed his sister three years before. Mark recovered after convalescence and Rose was still with the family the following summer when they stayed at the bungalow marked with a cross on the postcard of Daymer Bay shown below.
Mark, pictured while convalescing, is in the centre
of this group, smoking his inevitable cigarette.
The cross is just below the horizon and a quarter of the way across the photograph from the left hand edge.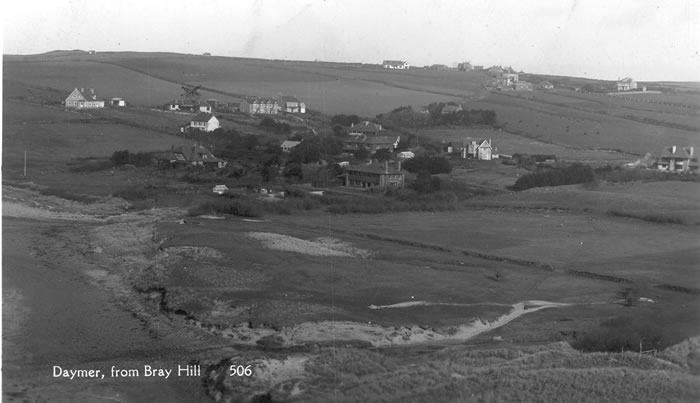 Daymer Bay, Cornwall
Rose married Harold in 1933 but kept in touch with several of "her" families long afterwards; they were invited to the wedding of Pamela Chick in 1949, 19 years after Rose left her first job with Winifred Wright/Chick. She also kept some toy books which may be seen by following the link.
Return to Cambridgeshire Burgesses page