According to the 1911 census, Elizabeth Lawrence was living at 10 Gordon Road, Hornsey. Unfortunately this road has since disappeared but it can still be located quite accurately on a modern map. The extract below shows the area where Elizabeth was living in April 1911. The grid lines are 500 metres apart. Gordon Road would have run along the narrow light green patch in the grounds of the secondary school in the top left corner of the map.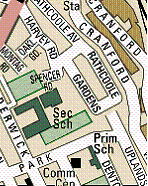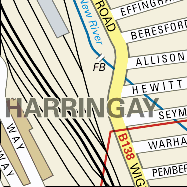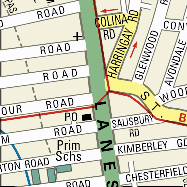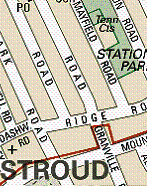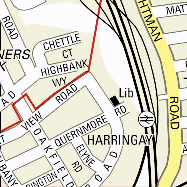 Hornsey and Harringay

www.streetmap.co.uk
Elizabeth's future husband, Thomas Percy Hilditch, was a boarder at 48 Pemberton Road, Harringay, just over a quarter of a mile away across the railway tracks. He was a final year post graduate student at London University, and presumably completing his thesis. Elizabeth was a typist on "own account", as the census puts it. Could she have been a freelance typist with an agency, perhaps engaged to type up a post graduate's thesis? Speculation of course, but it would have been a feasible way for them to have met.
There is more to this map however, than a snapshot of Taylor family history.
In the south-east corner of the map, at 335 Green Lanes, Harringay, across the road from the blue "Arena" lived Mark and Jane Burgess and their daughter Rose; my mother. She was five years old at the time of the census, but only thirteen days short of her sixth birthday. Had she started attending school yet? A school photograph from 1913 shows Rose attending Allison Road School in Harringay. Allison Road is shown at the top of the map and a church still stands at the junction with Green Lanes where perhaps a Church School was sited.
335 Green Lanes was and is a shop; now a beauty salon called "Joanna", but in 1911 Jane described herself as a wardrobe dealer, meaning a dealer in second-hand clothes rather than furniture. Mark also worked in the vicinity making pianos. Later on, in the 1920's, his workshop was at 3 Chesterfield Mews, and his business address was 463 Green Lanes, Harringay. Quite close to Allison Road.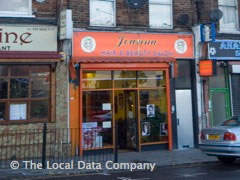 The Hair and Beauty Salon, Joanna, at 335 Green Lanes.
(A family story about Rose tells how she told her two younger sisters, Winnie and Daisy, to watch a window and they would have a surprise. She then went into another room, climbed out onto the window sill and crawled along until she could look at them from outside their window. Was it these windows or at the back of the shop? Hopefully not on the top floor; it has three storeys.)
The intriguing possibility is raised that members of the Burgess and Taylor families met in this small area of London. Did Thomas Hilditch, on his way to University College in the morning, trip over little Rose Burgess running to school in the other direction? A nice image!
At the very least the census has provided a plausible time scale for Thomas and Elizabeth to have met and arranged to marry. Elizabeth was only 16 when Thomas was working as a demonstrator at University College in 1908. The following two years he spent studying at the Universities of Jena and Geneva and it wasn't until 1911 that he was living in England again. It is quite likely that they didn't meet before then. They were married a year and two days after the census.
There is one final coincidence to mention. Just beyond Allison Road on the map is Beresford Road; the same name as the address of Thomas Hilditch when he lived in Birkenhead many years later.
Return to Lawrence page

Return to Rose Burgess page