St Ninians is a parish to the south of the River Forth and almost surrounding the city of Stirling. Apart from the area around the city it is largely rural and towards the west is still recognisable from the description by Daniel Defoe in his book "A Tour Through The Whole Island of Great Britain", written when visiting the area on his way from Glasgow to Stirling in the 1720's. He wrote:

"From Kilsyth we mounted the hills black and frightful as they were, to find the road over the moors and mountains to Sterling, and being directed by our guides, came to the river Carron: the channel of a river appeared, indeed, and running between horrid precipices of rocks, as if cut by hand, on purpose for the river to make its way; but not a drop of water was to be seen. Great stones, square and formed, as if cut out by hand, of a prodigious size, some of them at least a ton, or ton and a half, in weight, lay scattered, and confusedly, as it were, jumbled together in the very course of the river, which the fury of the water, at other times, I doubt not, had hurried down from the mountains, and tumbled them thus over one another."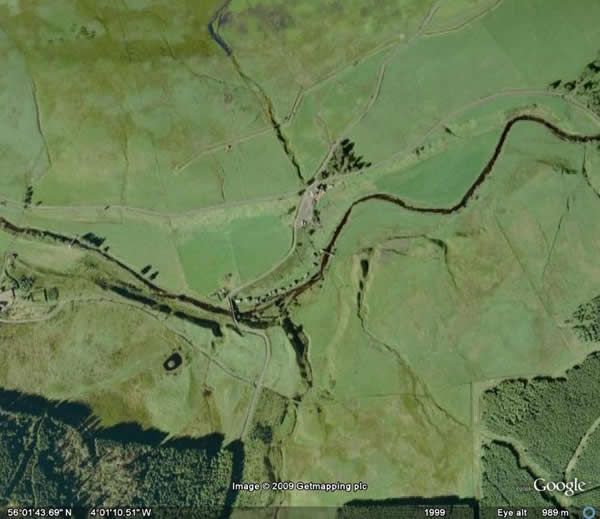 Carronbridge at the heart of the area farmed by many of the Adam family members
The upper Carron runs through one of the remote, largely unpopulated regions of Stirlingshire. Several of the original farms are no longer inhabited or have disappeared under reservoirs, and the development of forestry in the region has hardly made the hills any less "black and frightful" to the traveller.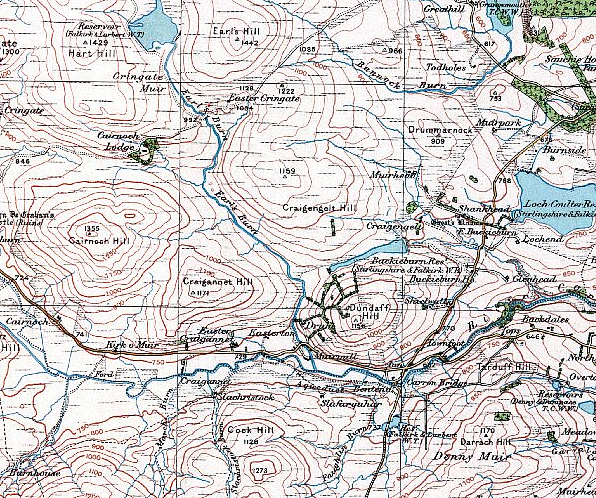 A wider view of the Carron valley
When I began to research the Adam family in the farms of St Ninians, Stirlingshire, it soon became clear that it would be a major undertaking. My first step was to list all the families of that name to be found in the censuses from 1841 to 1901 and try to trace the progress of individuals from one census to the next. It became apparent that there were three major family groups named Adam in the area, with some inevitable marriage links. Over the years, children would help relatives in neighbouring farms before marrying and farming on their own account.
The first family group to consider is that of James Adam and Isabella Muirhead. There is a chart of their descendants available from the Family Tree option on the navigation menu. James Adam married Isabella on 27 Jan 1799, as recorded at Kilsyth. It was an irregular marriage which the ScotlandsPeople website explains thus:
"Until the mid-twentieth century most people in Scotland were married by a minister, in a 'regular' marriage. This involved banns being read on three consecutive Sundays at the parish church. However, a minority were wed by 'irregular' marriage, in which a man and a woman made a declaration in front of two witnesses, hence the other name 'marriage by declaration'. By showing proofs of their marriage the parties could obtain a warrant of a sheriff or sheriff substitute to have the marriage registered by the local registrar. Churches disagreed with these marriages in principle but accepted them for fear that couples would otherwise 'live in sin'."
I have yet to find further details of their lives before their marriage and neither have I located a burial for James but, by the time of the 1841 census, his widow Isabella had reverted to her maiden name and was living with her daughter Mary Taylor and family in Lower Craigs, Stirling. Mary Adam had married James Taylor, yarn manufacturer on 1 February 1835, and her progress through the censuses is described on a separate page entitled James Taylor and Mary Adam, which includes her move to Glasgow after her husband died.
A snapshot of the rest of Isabella's children in 1841 and 1851 is a good starting point for the Adam Chronicles. To find where they farmed use this link to open a new window showing five maps, A to E, together with explanatory notes.
In 1841 John Adam was living at Glendales (Map B) with his wife Mary Oswald whom he had married in 1830. They had five children with them: Jean (10), Isabella (8), James (6), Mary (4) and William (1). The names are consistent with a Scottish naming tradition, at least as far as the paternal side is concerned. The eldest son James has his paternal grandfather's name, and the second eldest daughter, Isabella, her paternal grandmother's. The third daughter, Mary, was named after her mother, so continuing to follow the same tradition. Could there also be a clue to Mary Oswald's parents' names: William and Jean/Jane perhaps? And will the next son be named John after his father?
By 1851 John and Mary Adam had moved into Buckieburn, near Loch Coulter, (Map B) and had three more sons: John, Alexander and David (yes, the third son was John). They stayed there until they died: John in 1896 and Mary in 1884 (and surprise, surprise, Mary's death registration lists her parents as William and Jane Oswald). The farm was sometimes specified as Easter Buckieburn (Map E), to distinguish it from Wester Buckieburn (Map E) across the Buckie Burn.
Alex was another of James and Isabella Adam's children who in 1851 was farming at Harden. His sister Elizabeth (23) was also there, along with his nephew James Taylor (5), confirming the relationship with the Taylor family. Harden does not seem to be mentioned on any maps of the area but the census record has it on the same page as Bridgend (Map D) which is clearly marked beside the Carron river, so we have some idea of its location.
For the 1841 census the most likely candidate for Alex is to be found heading a household of five who might well be Adam siblings: Alexander (35), James (25), David (15), Jean (25) and Elizabeth (20). I am fairly certain that the name of the farm is Bridgeland States, although it appears as Stalls and Stables in transcriptions. Once again there is no sign of the name on historic maps and once again the original census record proves invaluable in placing it, appearing as it does between Bridgend and Earl's Burn Cottage on one side, and Carron-ford on the other (Map D). Not far from Harden then.
To complete Alexander's story, by 1861 he had moved to Greathill (Map C) several miles north of the Carron river and was farming 400 acres with his nephew James Taylor. His niece Agnes Adam (21) was housekeeping for them. When Alexander died in 1863 his brother John inherited Greathill and also the nearby Todholes farm (Map C).
Another son, James, first appears for certain in the 1851 census at Muirpark farm (Map C), aged 40, with his wife Elizabeth (32). Her parents were David and Elizabeth Adam, who headed the second of the extensive Adam families in St Ninians. Given the unreliability of ages in census records, could this James be the same as the 25-year-old farming with Alexander in 1841? If he had been 29 rather than 30 in 1841 it would have been rounded down to 25. It is interesting that much later, in 1891, James gave his age as 79 rather than the 80 one might have expected from earlier censuses.
Apart from Mary Taylor, née Adam, James and Isabella had three other daughters and two have proved somewhat elusive. Janet was born in 1806 and, so far, her birth in the St Ninians parish register is the only fact I have for her. With Elizabeth there isn't even that much hard evidence, only the two above mentioned references in the early censuses, one of which is speculative. Either of the girls might have died young or married and changed her name, which was the case with the third daughter, Margaret.
Margaret Adam was born in about 1809 according to censuses but her parentage doesn't become apparent until her death in 1887 when James and Isabella were named on the registration document. She married James Eadie on 19 November 1826 at St Ninians and in both 1841 and 1851 they were farming in Dunblane, Perthshire. After James died Margaret returned to St Ninians and in 1871 was living with her son James who was farming at North Kersbonney/Kersebonny (Map C).
That accounts for all the known children of James and Isabella.
After 1851 the next generation, the grandchildren of James and Isabella Adam, became increasingly involved in the running of family farms, either with their parents and other relatives, or starting their own family concerns elsewhere. The link below opens a page showing who was living at each Adam farm, including servants and visitors, who sometimes married into the family.
Census records for farms in and around St Ninians from 1841 to 1901.
Returning to the eldest son, John Adam; he and his wife Mary remained at Buckieburn for the rest of their lives. John was a prominent local character and earned a mention in newspapers from time to time, not always for the best of reasons as this report in the Glasgow Herald of Tuesday 27 February, 1866 shows.
"Justice of Peace Court - Cattle Plague Prosecutions... John Adam, farmer at Buckieburn, was charged with a contravention of Orders in Council for the prevention of cattle diseases, so far as having, on or about the 16th day of January last, allowed a portion of a bull which had died of rinderpest to remain unburied, and to be dragged by dogs from place to place over the farm, and thereby encouraging the spreading of the disease. A plea of guilty was given in, and Mr Monteath pled several extenuating circumstances, and craved a modification of fine and expenses. The Justices accordingly fined the pannel in the nominal sum of 2s. 6d., and £1 of expenses."
The "Pannel", or more usually "panel", is the accused person under Scottish law.
However his obituary in the Aberdeen Weekly Journal on Friday 28 August was perhaps more in keeping with his standing in the community:
"The death has just taken place of possibly the oldest farmer in Stirlingshire in the person of Mr John Adam of Buckieburn and Easterton, Carronbridge, Denny. He had entered his 97th year. Up till within the past four years Mr Adam was able to attend the public markets, where "Buckieburn" was familiarly known, and as an agriculturalist was held in respect. For over 50 years he had occupied Easterton, attaining to a position of affluence by his wonderful energy and ability."
From the censuses it appears that it was John's son William who actually lived at Easterton (see notes below Map B) for many of these 50 years.
In 1863, when John Adam inherited Todholes and Greathill from his brother Alexander he put his son John into Greathill and he ran the farm until 1897 when he inherited Buckieburn from his father and moved back into the family home, married, and started a family at the age of 56. Or so I thought. However the records tell a slightly different and intriguing story. In 1891 the residents of Greathill consisted of John Adam, head of household, together with Catherine Findlay (29) domestic servant. Alexander Findlay (20) farm servant, and Janet Findlay (55) visitor. In 1901, at Buckieburn, John and Catherine Adam were husband and wife and had a daughter Elizabeth aged 3. When I searched for their marriage, however, it proved elusive. I finally found it dated 11 November 1889. They married by Proclamation at 52 West Nile Street, Glasgow and both gave their address as Greathill, St Ninians. Both signed the declaration with John giving his name as John Adam Junior. Catherine's father, Robert Findlay, canal bank labourer, was one of the witnesses and William Findlay the other. So back in 1891 they had already been married for well over a year but didn't declare the fact on the census.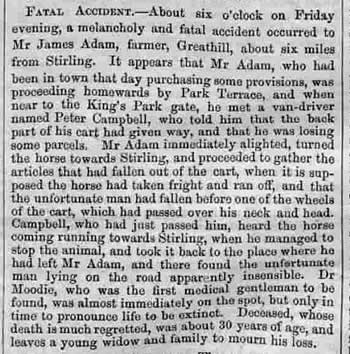 Another of John and Mary's sons, James, married Christina Shaw in January 1863 at her father John Shaw's farm, Northird, St Ninians (shown as North Third on Map C).
They had a daughter Marion named after Christina's mother but then James was killed in an accident in 1866. It is described as instant death after a fall from a cart on the Register of Deaths but the newspaper account is more forthcoming:
The Stirling Observer, and Midland Counties Advertiser, September 27, 1866
The entry in the register doesn't include his residence but this account suggests the family were living at Greathill.

In his will, John Adam senior stated that he intended to leave to his son William the farm at Easter Craigannet (Map B), below Craigannet Hill and close to the River Carron. Easter Craigannet is described in the will as "lying within the Parish of St Ninians Barony of Dundaff late Regality of Montrose and Sheriffdom of Stirling". In the event William predeceased his father in 1890 and in a codicil John left the farm to his third son David and stated that he would make provision for William's widow and children during his lifetime. In 1891 they were living at the nearby farm called Easterton (see notes below Map B). John's will also refers to stock at Townfoot (Map B), by the River Carron east of Dundaff Hill. Possibly he was renting land there as the property was not part of his legacy.
John and Mary Adam's daughter Isabella married James Adam, farm servant, of Muirpark (Map C) on 9 December 1859 at Easter Buckieburn, after Banns. James was the son of David Adam and Elizabeth Adam, née Adam, so perhaps it is unsurprising that Robert Paisley, the Minister of St Ninians, specified that James was "Bachelor not related"; particularly as Isabella's uncle, James Adam, farmer and head of the household at Muirpark, was married to Elizabeth Adam, Isabella's new sister-in-law.
James and Isabella were farming at Kirkburn in 1861 and had a one-year-old son, David (see notes below Map B). Ten years later they were still farming and their family had grown to four children, but in 1874 Isabella died. James was married again in 1879 to another Isabella; this time Isabella Laing, which explains the name of their son: Alexander Laing Adam. After his second marriage James and the family moved into Muirmill Farm (Map B).
_______________________
Adding to the history of Adam farms it is worth noting where some of the "other" family of Adams were living; the children of David and Elizabeth Adam. The couple were married on 9 January 1819 at Denny. Elizabeth's father was James Adam of Nicolswalls (Map E). However David died sometime after 1827 and Elizabeth married David Ewing on 4 April 1841 at St Ninians. In the 1841 census, in June, they and Elizabeth's children were living at Cairnock/Karnock (Map B). Later they moved to Craigend Farm in Balfron (about five miles west of Fintry on Map A).
Of Elizabeth's children I have already recorded James at Muirpark Farm and his sister Elizabeth who both married into the main Adam family. They had a brother Robert who remained with his mother until she died in April 1871 before marrying Mary Bennie and farming at Craigengelt (Map B).
Another brother, George Adam, married Isabella Bennie and they can be traced through the censuses from 1851 to 1901. Their first address was Easter Craigannet, then it varied between Wester Craigannet and plain Craigannet. I suspect the latter two were the same farm (Map B).
Finally, brother John married Margaret Gray in 1849 and farmed at Easterton, Easter Craigannet and Greenyards Farm, Bannockburn (Map A) before he died, a widower, in 1873.
_______________________
There is another family named Adam who were living at Carronbridge and Bridgend, St Ninians during the census years; sometimes farming, sometimes running the Post Office. So far I have not found any connections with the other two families, either direct or by marriage.