James Taylor and Mary Adam were married on 1 Feb 1835 at St Ninians, Stirlingshire and in the 1841 census for Scotland their address was Lower Craigs, a road in Stirling. James was a manufacturer, but it does not say what he manufactured - later, on his children's certificates, it is clear he was a woollen manufacturer. They had a daughter Jean (aged 4) and a son 2 weeks old (on the census night of 6 June) whose name was "not known", presumably not yet chosen. However, John Taylor was christened on 27 June 1841, so the decision didn't take too long. Also in the house were Agnes Adam, aged 2, and Isabella Muirhead, aged 60, a nurse. From other records it appears that Agnes was a niece and Isabella was Mary Adam's mother. I have come across other examples of a married woman reverting to her maiden name when she is widowed. It makes searching through records all the more interesting.
They had three further children over the next few years: Isabella (christened in 1842), James (1846) and Alexander (1848). However, before the next census in 1851, Mary had been widowed and was taking in lodgers at her house in Craigs. Only Isabella and Alexander were with her, together with three visitors and three lodgers. Perhaps taxes or regulations were tougher if you had six lodgers. They all seemed to be working men (a plumber, a saddler, two masons and two plasterers). Possibly the older children were with relations, as was young James. In the census he is shown to be living with his uncle Alex Adam (aged 44), a farmer living at Harden, St Ninians, Stirlingshire. His aunt, and sister to Alex, Elizabeth Adam (aged 23) also lived there. They were presumably brother and sister to Mary Taylor, née Adam.
James was still staying with his Uncle Alexander in 1861, working at Greathill Farm, and Agnes Adam, now 21 and listed as niece to Alex, was housekeeping for them. Alexander was a "farmer of 400 acres".
You can see where he lived on the Google Earth aerial view below. It is centred on Greathill Farm lying just west of North Third Reservoir.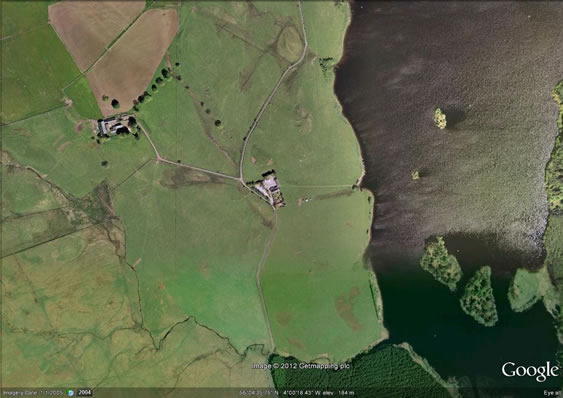 I
By 1857 Mary had moved to 22 Bishop Street, Anderston, Glasgow and was at the same address for the 1861 census with her 12-year-old son Alexander and her daughter Isabella who was working as a cotton weaver. Also there was 4-year-old Jeany Wallace, described as a visitor, but probably her granddaughter. Mary's daughter Jane/Jean had married George Wallace, a plumber, on 14 July 1857 at Tradeston and in 1861 they were living at 2 Wellcroft Place, Tradeston with two young children, Annie (2) and David (under 1 month). I have yet to find Mary's eldest son John after 1841 and suspect he might have died.
In February 1871, James married Sarah Dickson in South Leith, Midlothian and they moved to Liverpool where James had already started his new job as an agent for a brewery, arriving just in time for the 1871 census in England. Their address was 13 Twiss Street, Toxteth Park and they were both aged 25. There is a separate web page for James and Sarah in Liverpool entitled James Taylor brewers agent.
By the 1871 census, George and Jane Wallace had moved to 34 Portland Street, Tradeston and had eight children living with them, including the eldest daughter Jean, now aged 14, and four girls under five. However, in 1872 one of these daughters, Georgina, fractured her skull falling from a third storey window. She was taken to the Southern Police Office where she died. She was four years old.
Mary Taylor, a grocer, her son Alexander, a plumber, and daughter Isabella, cotton weaver, were still together and living at 64 Mcalpine Street in 1871. Later that year, on 15 September, Alexander married Agnes Chalmers and by 1881 they were living in Rosebank Street, Cambuslang, Glasgow and Alexander was a master plumber employing three men and four boys. They were still there in 1891 but moved to 2 Bridge Street, Cambuslang before the census in 1901 and 7 Bridge Street for 1911. Agnes died in 1924 and Alex in 1930.
Meanwhile George Wallace died and Jane, together with a dwindling number of her family, moved to 166 Hospital Street and were there through 1881 and 1891. Then Jane Wallace and her youngest two children, Bessie and William, moved again to 68 Abbotsford Place (George and Jane had married at 56 Abbotsford Place back in 1857).
One of the Wallace sons, James, born 15 March 1863, married Margaret Stewart Dowling in 1886 and settled in the Govan district of Glasgow. After bringing up a family at 16 Preston Street and 359 Thistle Street, Margaret died in 1921 at 22 Overdale Gardens, Glasgow. Three years later, on 19 July 1924, James remarried at St Chad, Everton. His bride was his cousin Isabella Dickson Taylor, daughter of James and Sarah Taylor of 20 Anfield Road. They appear to have adjusted their ages somewhat for the marriage certificate. Isabella claimed to be 39 when in truth she was over 42. James admitted to 50 but, as revealed by his birth certificate, should have been 61 years old. By the time of the 1939 register they were both content to give their true dates of birth. The register also shows that they had a son James Taylor Wallace, born in 1926.
In 1881 Mary and Isabella Taylor were living at 13 Douglas Street in Glasgow and Mary was still working as a grocer, but she died there on 24 December 1888 and in the next census Isabella, a dairy keeper, was sharing the house with her niece Annie Wallace. She was the second daughter of that name after an earlier Annie died aged 10 in 1868 of "Pain in the head" and "Paralysis of the right side". By 1901 Isabella and Annie had moved in with Isabella's sister Jane Wallace at 68 Abbotsford Place and Isabella was working as a stationer shop keeper.
Click here to open a new window with a table showing the full lists of residents at each Glasgow address.
(Note that the information is taken from transcriptions rather than original images.)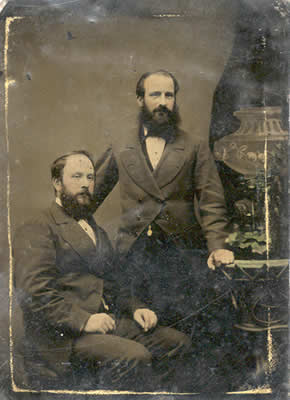 This picture is a ferrotype, produced on a thin sheet of iron coated with black enamel. It was a method that became popular in the 1870's in Britain. The picture comes from the Taylor family and appears to show two brothers. Likely candidates could well be two of James and Mary's sons. The younger James would have been 24 in 1870. Perhaps it was taken at the time of his marriage to Sarah in 1871. If this is the case then James would be seated and the subordinate, standing figure might be the best man, either Alexander (born in 1848) or, much less likely, John (born in 1841). Alexander was a witness for the wedding.
The two images below come from a small pendant and are thought to be James Taylor and Sarah Dickson. If so, then that would seem to provide support for the suggestion that James is one of the two gentlemen in the large picture.