James and Mary were married on 1 Feb 1835 at St Ninians, Stirlingshire and in the 1841 census for Scotland their address was Lower Craigs, a road in Stirling. James was a manufacturer, but it does not say what he manufactured. They had a daughter Jean (aged 4) and a son 2 weeks old on the census night of 6 June whose name was "not known", presumably not yet chosen. However, John Taylor was christened on 27 June 1841, so the decision didn't take too long. Also in the house were Agnes Adam, aged 2, and Isabella Muirhead, aged 60, a nurse. From other records it appears that Agnes was a niece and Isabella was Mary Adam's mother. I have come across other examples of a married woman reverting to her maiden name when she is widowed. It makes searching through records all the more interesting.
They had three further children over the next few years: Isabella (christened in 1842), James (1846) and Alexander (1848). However, before the next census in 1851, Mary had been widowed and was taking in lodgers at her house in Craigs. Only Isabella and Alexander were with her, together with three visitors and three lodgers. Perhaps taxes or regulations were tougher if you had six lodgers. They all seemed to be working men (a plumber, a saddler, two masons and two plasterers).
The older children were probably with relations, as was young James. In the census he is shown to be living with his uncle Alex Adam (aged 44), a farmer living at Harden, St Ninians, Stirlingshire. His aunt, and sister to Alex, Elizabeth Adam (aged 23) also lived there. They were presumably brother and sister to Mary Taylor, née Adam.
James was still staying with his Uncle Alexander in 1861, working at Greathill Farm, and Agnes Adam, now 21 and listed as niece to Alex, was housekeeping for them. Alexander was a "farmer of 400 acres".
You can see where he lived on the Google earth aerial view below. It is centred on Greathill Farm lying just west of North Third Reservoir.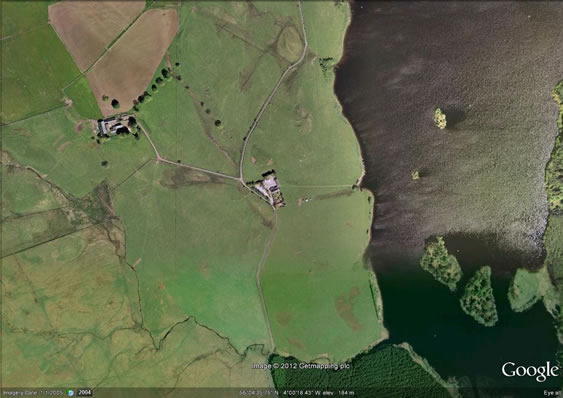 In February 1871, James married Sarah Dickson in South Leith and they moved to Liverpool where James had already started his new job as an agent for a brewery, arriving just in time for the 1871 census in England. Their address was 13 Twiss Street, Toxteth Park and they were both aged 25.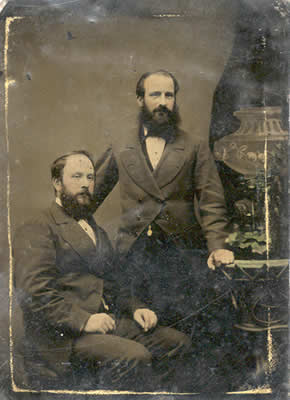 This picture is a ferrotype, produced on a thin sheet of iron coated with black enamel. It was a method that became popular in the 1870's in Britain. The picture comes from the Taylor family and appears to show two brothers. Likely candidates could well be two of James and Mary's sons. The younger James would have been 24 in 1870. Perhaps it was taken at the time of his marriage to Sarah in 1871. If this is the case then James would be seated and the subordinate, standing figure might be the best man, either Alexander (born in 1848) or John (born in 1841). Alexander was a witness for the wedding.