James and his wife Sarah were married in Scotland in 1871 and moved to Liverpool. They had eleven children before 1891, but only seven reached adulthood. Then in December 1893 Sarah died from influenza pneumonia at 121 Walton Breck Road, Everton. The family had moved several times since arriving in Liverpool but this address was not their home. Succesive censuses tell the story. They started married life at 13 Twiss St. in 1871, had moved to 18 Jolliffe St. by 1881, then 90 Berkley St. in 1891, before settling at 20 Anfield Road for the censuses of 1901 and 1911. There is an added twist because 20 Anfield Road is on a corner and the house has a second address, 56 Sleepers Hill, that James used on the 1911 census return. The premises contained the house with a front door onto Anfield Road and at the side a dairy with access from Sleepers Hill. Does this explain the two addresses?
A statement in the London Gazette of 11 March 1898 giving details of bankruptcy hearings lists James Webster, a dairyman living and working at 56 Sleeper's Hill and 20 Anfield Road, so the property was purchased by James Taylor after that date, possibly as a result of the bankruptcy. Initially James Taylor continued to run the dairy and it is thought that the milk was supplied by a farm at Fazackerley owned by a family member.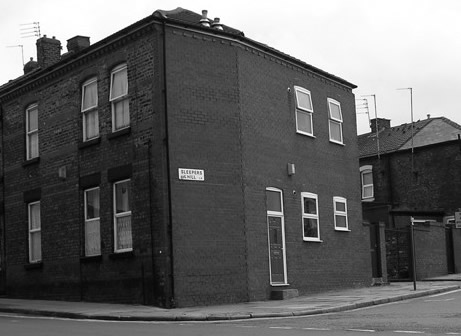 20 Anfield Road with the dairy entrance from 56 Sleeper's Hill to the right.
According to Kelly's Directory for 1894 it appears that 121 Walton Breck Road was the address of the Salisbury Hotel and the proprietor was a James Taylor. Was James running the hotel for his employers, Bernards Brewery, or could his eldest son have been in charge? James Alexander Taylor married the exotically named Elizabeth Wilhelmina Wimbledon Jennings in 1900 and by the time of the 1901 census they were running a pub at 121 Walton Breck Road. Had the son been in residence since 1893?
When Sarah died James was left with five young children to look after, aged between 12 and 3. The eldest two boys, James Alexander (aged 21) and David Dickson (20), were working and James would have needed additional help. This was provided by Margaret Dickson. She was born in Scotland about 1843, according to the 1901 census, and she married James Taylor in September 1895.
Further information about Margaret is provided by their marriage certificate, the next census, and her death certificate. From her marriage we learn that her father was John Johnson Dickson, a dyer, and that she was born in 1840. The 1911 census states that she was born in Leith in 1841. Her death certificate informs us that she was born in 1838 and died of senile decay on 2 October 1926. Finally, according to the inscription on the family headstone in Toxteth Cemetery she died on 3 October 1926. So, who was she?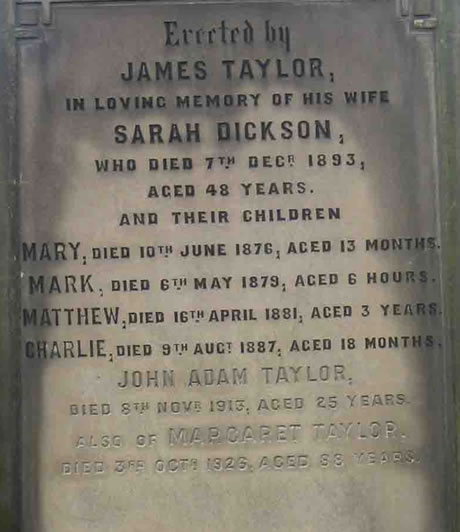 The inscription records the deaths of Sarah, James's first wife; the four children who died in infancy; John Adam Taylor, the son who lived to 25, and Margaret, James's second wife, although that is not stated.

When Sarah Dickson married James Taylor in Leith in 1871 her father was named as David Dickson, spirits merchant (deceased). In 1841 he had been a dyer, as was his father, Matthew, before him. Sarah's mother was Isabella Johnston, the daughter of John Johnston, a shipmaster. Sarah had an elder sister called Margaret who was born in 1839 according to all the census returns from 1841 to 1891. Margaret and her mother lived together in Leith until 1892 when Isabella died. There is no sign of Margaret after that date.
It is entirely possible that, when Sarah died in 1893, James asked her sister Margaret to move to Liverpool to look after the children and run the household, and later asked her to marry him. Because she was older than him she could well have wanted to lose a few years on census forms although, for certificates, her true age was always given.
It must be remembered that from 1835 to 1907 it was illegal to marry your deceased wife's sister. This had its origins in Canon Law and even after the Deceased Wife's Sister's Marriage Act of 1907 individual clergy could still refuse to conduct services for such couples although they were then allowed to marry. It would be understandable if Margaret decided to adjust a few details for the marriage certificate, without completely obscuring the facts, if she was indeed Sarah's sister. Some couples apparently travelled abroad so they could marry in a country where the law was more favourable. Or were the similarities between the origins of the two Margaret Dicksons merely a strange coincidence?