The Kirk O'Muir cemetery lies on the northern slopes of the upper Carron Valley just over one mile west of Easter Craigannet, one of the many farms worked by members of the Adam family.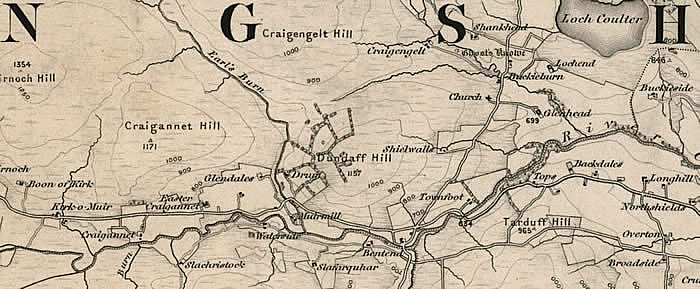 Kirk O'Muir is near the bottom left corner of the map
At one time there was a chapel and later a school at the site, but these have long since disappeared. All that is left now is a stone wall enclosure and gravestones with sadly weathered inscriptions overlooking the Carron Valley Reservoir. In 2017 Hanneke Booij initiated a survey of the graveyard and this was published under the title "Kirk O'Muir. Graveyard and Gravestone Recording Report 2017-2019". I am grateful to Hanneke for allowing me to include the two colour photographs and information from the report on this page, to supplement my research into the Adam family members who were buried at Kirk O'Muir.
The report and several appendices may be read by following the link Kirk O'Muir Report to a page on the website for the Valley Renewables Group - The Development Trust For The Carron Valley.
The clearest reference to the name Adam would appear to be for Alexander who is mentioned on the page entitled St Ninians and the Adam Family. I have attempted to identify other family members from traces of inscriptions on gravestones that have survived the climate and invasive vegetation, together with records held centrally. The numbers are those assigned to each grave by Booij & Greenshields for their survey.
Alexander Adam (Booij & Greenshields stone 120). The inscription reads: "Raised in memory of Alexander Adam who died XXV August 186(?) Aged LVIII years". The unclear date is 1863, as confirmed by his death certificate. A farmer, he died of pneumonia at Greathill, Sauchie. The informant was his brother James Adam of Muirpark.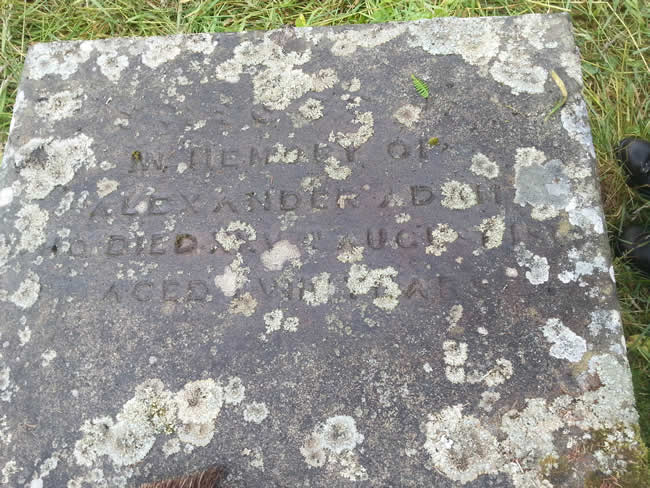 Alexander Adam's gravestone (1863)
Alexander's parents were James Adam and Isabella Adam, née Muirhead, direct ancestors of the Taylor family. However, there was another extensive family group of the same name farming in the area and at least two cases of intermarriage between the two. The parents of this second family were David Adam and Elizabeth Adam, née Adam, and amongst their children were John, George, Thomas, Elizabeth and James. James married Isabella, one of Alexander's nieces, on 9 December 1859 at Easter Buchieburn. Years earlier, Elizabeth had married Alexander's brother James (the informant named on Alexander's death certificate) on 25 June 1843. So a brother and sister of one family married a niece and uncle from the other Adam family. Elizabeth's other three brothers, John, George and Thomas, all have connections to the Kirk O'Muir cemetery.
John Adam (Booij & Greenshields stone 160). The inscription reads: "In memory of John Adam who died Greenyard Bannockburn 9th August Aged 49 and Margaret Grey his wife who died 15th ...1870.. Aged... also their children". John Adam, a farmer, and Margaret Grey/Gray were married at St Ninians on 7 January 1849. Margaret died 15 January 1870 in childbirth. John, the son of David and Elizabeth Adam, died in 1873 of chronic gastritis. His death was registered by his son David, their eldest child. Others were Elizabeth, Margaret, James, Helen and Mary, according to the census of 1861 when the family were living at Easter Craigannet.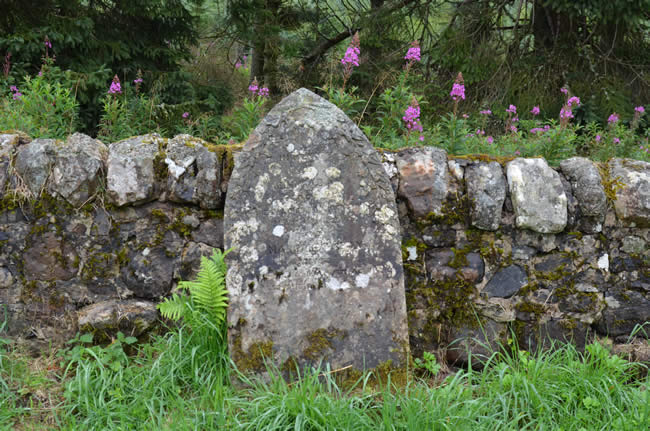 The gravestone for John Adam (1873) and his wife Margaret Gray (1870)
Jane Adam (164). The inscription reads: "George Adam in memory of his daughter Jane…" An earlier survey of the graveyard by Mitchell & Mitchell in 1969 included a further inscription: "Geo Adam, da Jane 20.8.1854 4, da Jane 19.12.1876 18". I cannot find parish evidence for the first daughter called Jane but the second daughter died, aged 18, at Craigannet Farm on 19 December 1876 of scarlet fever. Her mother was Isabella Adam née Benny. George and Isabella were married 3 March 1850 at St Ninians. Census results give a little more information where parish records are missing. In 1851 George and Isabella were living at Easter Craigannet with their daughter Jane aged zero. In 1861 they were living at Wester Craigannet with a daughter named Jean aged 2, but no sign of Jane. It appears from their ages that this would account for the two Janes remembered on the gravestone. The other children listed in 1861 were David (9), Elvia (7), Isabella (5) and Margaret (0). Also living at the farm was George's brother Thomas. George died 16 April 1898 at Craigannet Farm. His parents were David and Elizabeth Adam.
William Adam (108). The inscription reads: "MDCCCLV Erected by Christina Moir in the memory of William Adam her husband who died the 18th July ...", (possibly 1852). William married Christina Moir/More on 5 July 1839 at Kilsyth after proclamation of Banns. They were both residing in the Parish of Balfron. Christina, the daughter of James Moir and Mary Moir, née Benny, died 2 September 1894 at Overton, Denny. William and Christina had a daughter Mary born about 1845/6 who married Thomas Adam at Todholes on 27 July 1870. Thomas was George's brother mentioned above and so another son of David and Elizabeth Adam.
There is one other Adam gravestone listed in the survey:
Andrew Adam (142). The inscription reads: "ERECTED IN MEMORY OF ANDREW ADAM WHO DIED ON THE ..." (the remainder is illegible) Andrew is not a common name amongst the various Adam family groups but without further clues it is not possible at present to identify him.
While researching the family I came across a death certificate for John Adam, aged 31, who drowned on 9 January 1856 and was buried in "Churchyard Kirk O'Muir St Ninians". His parents were John Adam, farmer, and Elizabeth Adam, née Smith, both deceased. I wonder if his gravestone could be identified from traces of initials or dates?
Return to Taylor page