All too often the ladies in our family histories are underrepresented, apart from their names and a few key dates. This page attempts to show that our female ancestors often contributed far more to society than the 1939 Register's "unpaid domestic duties" catch-all might imply. Two generations of Hilditches and Halls include two sisters and eight aunts of Professor Hilditch who, between them, provide a wide variety of life experiences from full-time carers (in today's terminology) through to life-long career girls.
Thomas Percy Hilditch already has a page to himself with an account of his professional life but what of his two sisters? To avoid confusion when looking at some records it is necessary to point out that the three Hilditch children were all known by their middle names within the family. So, Florence Jessie Hilditch was Jessie, Gladys Mary was Mary and Thomas Percy was always Percy to those who didn't call him "Sir". However I will refer to him as Thomas Percy on this page to avoid confusion with his father Thomas and another Percy who will appear later.
In the chart below I have only shown the sisters, aunts and their husbands. Thomas Percy also had six uncles and of course several cousins but including them would have made for a much larger tree.

Chart to show the relationships described below
Jessie Hilditch was the older of the two sisters, born in 1891. In the 1901 census she appeared as a 9-year-old and not even a student, however ten years later we learn that she was attending college training (for teaching). When she married Cyril Pentreath Andrew in 1920 she was still teaching, and also in 1921 when the census gave more detail: "Assistant Mistress at the Council School, Stanley Road, Teddington". Fortunately, a Teachers' Registration entry dated three days after her wedding fills in a few details: that teacher training was at Goldsmiths' Training College, New Cross and she had started teaching in 1912. It is worth pointing out that at this time women teachers had to leave the profession when they married, yet the registration document is in Jessie's married name and states that she was employed until 1922. Their elder son John was born early in 1923 followed by Dennis in 1929 and in the 1939 Register Jessie was listed as performing the inevitable "Unpaid Domestic Duties". Interestingly, the Andrew family is the only one on the page where the wife is named above the husband.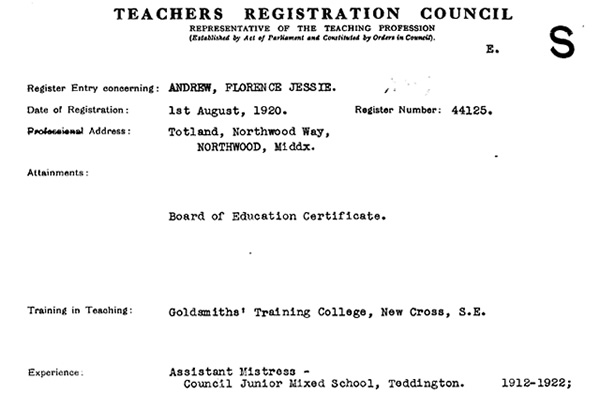 Teacher Registration form for Jessie completed after her marriage to Cyril Andrew
Her husband's time in the army is described on the page for First World War veterans
The younger of the sisters, Mary Hilditch, was born in 1897 and according to the 1911 census she was attending school while living with her grandfather Frederick Hall and three aunts. Or was she just visiting? Probably not. Her mother had died in 1908 and her father and elder sister were both fully occupied with work and teacher training. It made sense for Mary to stay in a large house with her aunts to look after her but it seems she had to change schools. Previously they had been living in the Islington area of North London and in 1908, just before her mother died, she received a prize for Industry and Progress at Squires Lane School, Finchley. However, in May 1912 Mary was among the cast for a performance of Sherridan's "The Critic" at Sydenham Secondary School in South London. Furthermore in 1913 she was awarded a London County Council scholarship which enabled her to stay on for two years at the same school. This was followed by three years at University College, London.

Record of graduates from the University of London showing Gladys M and also her brother Thomas P Hilditch.
As is shown, she completed a further year of teacher training before embarking on her professional career at Northampton High School for Girls.
The 1921 census records Mary and a colleague sharing accommodation at 34 Edinburgh Road, Northampton and described as "Co-Heads" of the household. Each was determined not to assume seniority over the other.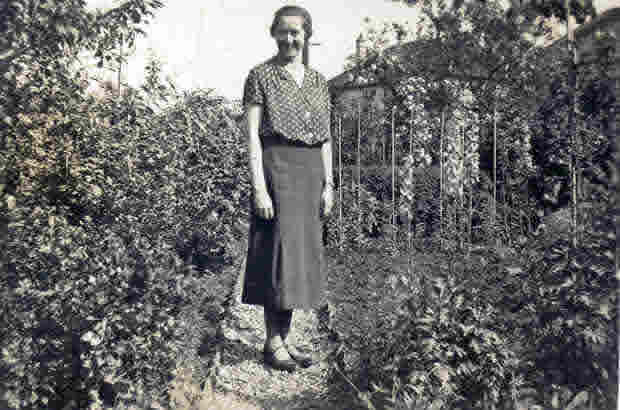 Mary Hilditch in her garden at Kings Lynn 1937
When Mary died in 1967 the local "Lynn News & Advertiser" printed an obituary which detailed her subsequent career and busy life, including being appointed president of a nation-wide teachers association in 1948. One further point of interest should be added however: in the 1939 Register Mary has a note against her name stating that she was available as an ARP Part Time Ambulance Driver. (Air Raid Precautions ready for the oncoming war)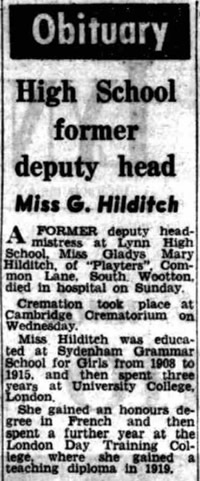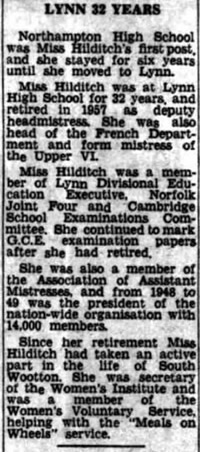 Obituary from the Lynn News & Advertiser, 6 October 1967
"Playters", the bungalow where Mary lived, was named after Playters Hall in Finsham, Norfolk. For a time, this had been the family home of Marjorie Aylmer, a Home Economics teacher who joined Mary at Kings Lynn High School for Girls. They shared this home for many years and were later joined by one of Mary's aunts, Gertrude Hall.
Now for the previous generation, beginning with the three Hall aunts who cared for Mary when her mother, Priscilla, died. All four daughters of Frederick Hall had been born in Staffordshire. Charlotte was the eldest, born in 1864 and known as Lottie within the family. By the 1881 census she was resident in Market Drayton and listed as a scholar in a household comprising two other teenage students, born in Aberdeen and Leicester, and two sisters, Jane and Eliza Oakley, who were described as teachers. Perhaps the three girls were boarding with two teachers from a larger establishment such as Market Drayton Grammar School, if girls were admitted. More likely it was a tiny private arrangement for a select few young ladies (the three in 1881 were 15 and 16 years old) to continue their education.
In 1891 Lottie has proved difficult to trace but her later career as a nurse suggests that an entry for the London Hospital in Whitechapel Road might provide the answer. Charlotte Hall, aged 27 and born in Paddington, Middlesex, was a probationer nurse; one of many other health workers listed over thirteen pages. This may explain the incorrect place of birth, if the returns were filled in by an administrator relying on whatever records they had at the hospital. Also, her parents, two sisters and a brother had all moved into 45 Marriot Road, Islington, along with her married sister, Priscilla, and her growing Hilditch family. Inexplicably, all three Hall "children" were recorded as born in Walthamstow, Essex, despite still living with their parents who undoubtedly would have known where they were all born. (They had certainly known their birthplaces at the time of the 1881 census!)
Ten years later Lottie was working as a sick nurse in Leek, Staffordshire; presumably at the Leek Memorial Cottage Hospital next door to her address in Stockwell Street. We know that in 1911 Lottie was back with her family in London, still working as a sick nurse, and keeping an eye on her niece Mary Hilditch, but 1921 is less clear. An unmarried Charlotte Hall was living in Worthing and employed privately as a sick nurse with "no fixed place" of work, but her birthplace was London Paddington (not a huge problem in view of the family's past record!) and her age was 56 years 5 months. This is more troubling as it ought to be 57 exactly, however she was staying in a house with Mr and Mrs Tee who were long standing residents at the address and quite possibly they completed the forms as best they could. Indeed, Lottie's form originally suggested she was a lodger and this has had to be corrected to head of household, indicating she was living independently of the Tees.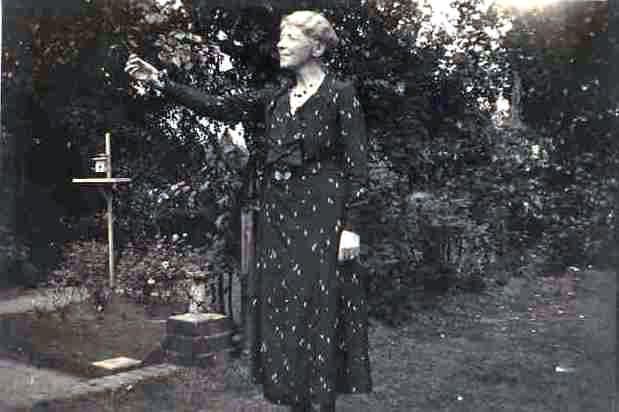 Lottie Hall 1936
I will leave the 1939 Register for later, as several of the family were back together by then, but Lottie died in 1948 at Pennington Road, Southborough in Kent at the age of 84.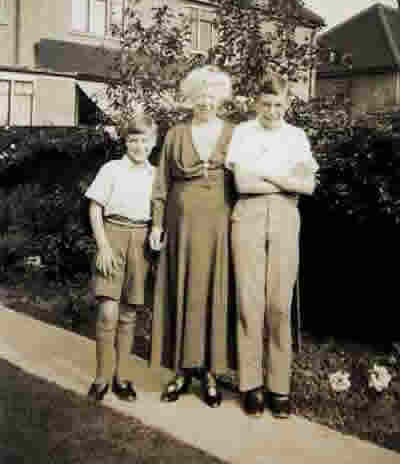 Florence, or Flo, was born in 1867 and remained with her parents through all the censuses up to and including 1911, when her widowed father, as we have seen, had a house full of daughters, granddaughter Mary Hilditch and a live-in general servant.
Flo doesn't appear to have had paid employment throughout this period but in 1921, seven years after the death of her father, she was listed as a housekeeper living and working at the Red House, Ravensbourne Park, Catford. She certainly had abundant experience to call on for managing a household by this time. Flo died in 1954, aged 87, at Oakdale Nursing Home, Southborough.
Florence Hall in 1936 with her two nephews: Dennis on the left and John on the right, the sons of Jessie and Cyril Andrew.

Gertrude Hall, Gertie, was born in 1872 and in 1891 she was living at home and working as a postal telegraph clerk. She was still a telegraphist in 1901 and 1911 but on the way up in the hierarchy because by 1921 she was described in the census as a telegraph supervisor at the Central Telegraph Office employed by the Postmaster General.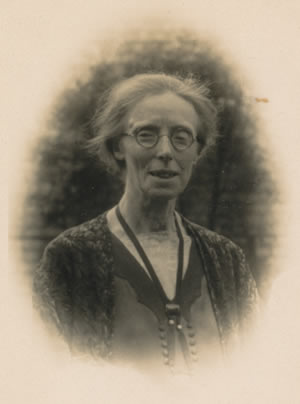 Then in the "Telegraph and Telephone Journal" of Dec 1931 she was revealed to be the Chief Supervisor for the London region.
"ANNUAL REUNION OF C.T.O. SUPERVISORS."
"The Supervisors of the C.T.O. held their annual reunion in the Sunday School Union Hall, Old Bailey, at which they greeted a large number of their predecessors, on Tuesday, Nov. 17. Miss Gertrude Hall, the Chief Supervisor, was the hostess, and had the pleasure of receiving the older folk, many of whom she had herself served under in former days. J.J.T."
Gertie died in December 1967 aged 95.

Returning to the 1939 Register when all three Hall family aunts together with Alice Hall, née Hilditch, their widowed sister-in-law were living in Yew Tree Road, Southborough. Gertie and Lottie were both retired; Civil Servant and Health Visitor respectively. Flo described herself as Companion Housekeeper and Alice was "In receipt of State Pension". Which brings us neatly to the other collection of aunts: the Hilditch sisters of Priscilla Hall's husband Thomas Hilditch. There was in fact a double relationship between the two family names: Priscilla Hall married Thomas Hilditch and Priscilla's brother Frederick Harrington Hall married Thomas's sister Alice Hilditch.
Alice Hilditch was born in 1866 in Audley, Staffordshire and first appears with an occupation in the census of 1891 described as a trained nurse and residing in Wales at the Deganway Castle Hotel, Conway. How she came to this profession is unknown but it was short lived for she married Frederick Hall in 1893 in Audley, Staffordshire and the couple had four children before the 1911 census. They had moved to Islington before 1901 and were living not far from Thomas and Priscilla. Then in 1916 the family suffered a double loss: Frederick Harrington Hall died on 14th February and their elder son Frederick John "Jack" Hall was killed on 8th July in the battle of the Somme. There is a photograph of Jack on the page remembering WW1 veterans.
By 1921 the family had moved again to South London and Alice and the two younger children were sharing a house with Alice's sister-in-law Gertie. As mentioned above, by 1939 Alice had joined forces with her three sisters-in-law. She died in 1951. Alice was the only one of the five Hilditch sisters to move to London; the others all married and remained in or near to their roots in Audley.
Harriet Hilditch was the eldest, born in 1855. According to the censuses she lived at home at No. 1 Church Street until 1891 when she was finally awarded an occupation: House Keeper. The adjacent entry in the census that year and in 1881 concerned George Booth and family who farmed Castle Hill Farm opposite the entrance to Church Street so it is easy to see how Harriet came to know and marry George's son Wilmot in 1898. Wilmot was working on the family farm in 1901 but had "Private Means" by 1911. Harriet died in 1918 and Wilmot in 1920.
Hannah Hilditch was born in 1858 and, after she left home, she worked as a servant (domestic) with the family of the Wesleyan Minister of Littleborough, near Rochdale in Lancashire (1881) and as a sick nurse in a large household at the impressive Sandybrook Hall, in the parish of Offcote and Underwood, in Derbyshire (1901). In between these two, the best guess for 1891 is "Hannah Hildich domestic servant at 36 Balmoral Road, West Derby, Liverpool". Unfortunately, although her age is correct, her place of birth is given as Cheshire, Rock Ferry. Maybe it was the address of her previous employment and the head of the household knew no more.
In 1904 Hannah married John Samuel Eccles at Basford, a northern suburb of Nottingham. John was a widower whose first wife's family came from Staffordshire so perhaps, to spare their feelings, he suggested they marry far from Audley. The choice of Basford may well have arisen because Hannah's younger sister, Ann Elizabeth (Annie), was living in Hucknall Torkard only five miles away. John and Hannah don't seem to have had any other connection to the area and for both the next two censuses they were back in Staffordshire where John worked as clerk to a chartered accountant. Then by 1939 they had retired to 28 Emery Avenue, Newcastle-under-Lyme and Hannah's widowed sister Annie was living with them. Hannah, still at the same address, died in 1946.
Annie herself was born in 1868 and was teaching in 1891 when she first appeared in the census away from her home and family in Audley. She married another teacher, James Harvey Halfpenny, in 1900 at the above mentioned Hucknall Torkard, where both were living. Of course, as a married woman, she then had to give up teaching, but unfortunately not for very long. In 1908 James died and Annie resumed her teaching career while caring for two young boys who in 1911 were still only aged 4 and 7. When Annie died in 1961 she was still living at 28 Emery Avenue and she named Hannah's step-son Herbert Eccles as her executor.
The sisters were clearly close and the youngest of them, Helen, born in 1873, provides another example of this for in 1921 she was visiting Hannah and husband in Wolstanton, Staffordshire. Meanwhile Helen's husband Percy Warburton and their three sons were living with Helen's mother Eliza Hilditch at No. 1 Church Street, Audley where Eliza had a shop.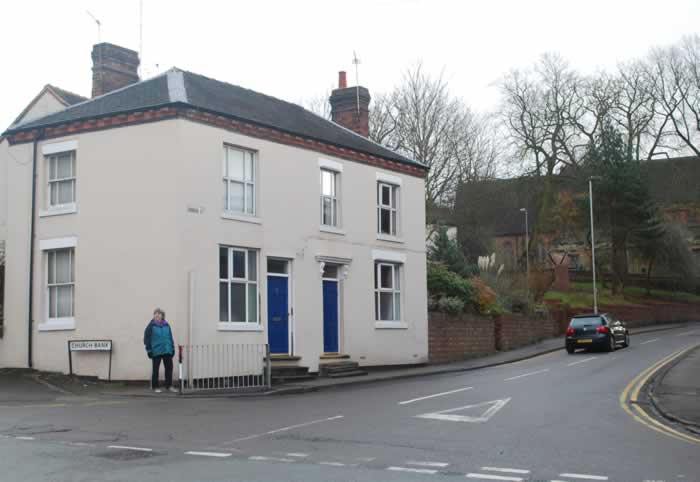 No. 1 Church Street, Audley; now no longer a shop
As a seventeen-year-old in 1891, Helen had been a pupil teacher but if she had plans to take this up as a career they would have stopped in 1900 when she and Percy were married at Audley. Percy's father farmed at Winn Bank Farm and Percy consistently described himself as farmer's son, ploughman, or similar in censuses even when he and Helen were living at 1 Church Street with Eliza and it seemed likely that Percy might have been helping in the shop. What is certain is that at some time after Eliza died in 1927 Percy started running the shop because in 1939 he stated he was a "tobacco shopkeeper, own account".
Of the ten sisters and aunts of Thomas Percy Hilditch four took up teaching, three went into domestic service - eventually as housekeepers, two became nurses and one a telegraphist. Their careers were sometimes long and sometimes curtailed by the rules for married women. When no occupations were recorded on the census some might well have been helping to run the family business, such as Harriet and Alice before they left home, or Helen supporting her mother Eliza after the girls' father died. Later on, Helen may have assisted her husband Percy Warburton when he took over the shop. Hannah, Alice and Annie all had young children to raise in difficult circumstances, as step-mother or widow, and sometimes had to manage child-rearing as well as a job. It appears that over the years the aunts were very supportive of each other; sharing accommodation and household responsibilities in some cases throughout their retirement. Whether this was by choice or circumstances we cannot know.