Like most other families in the UK, we have relatives who served in the forces during the Great War. For a few I have pictures of family members in uniform, identified by their name written on the back of the photo by Rose Burgess. Now that service records and medal cards are available on-line I have been able to find out a little about their time in the war. If there are any more First World War family portraits out there I would be pleased to add them to the page, along with any relevant records of their service.
To begin with, here is a picture with no known family connections beyond the fact that it was found in the Taylor collection of photographs. However it does set the scene.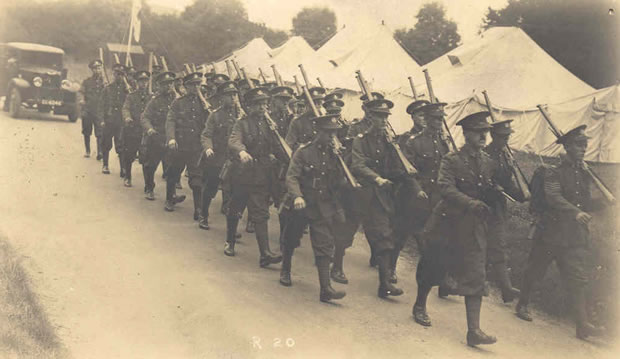 __________________________
Cyril Pentreath Andrew 1892 - 1975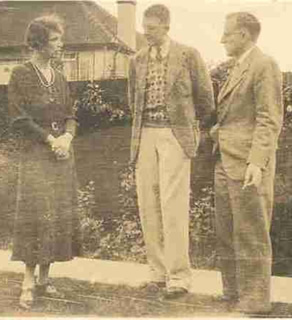 Cyril was the husband of Florence Jessie Hilditch, sister of Prof Thomas Percy Hilditch. His Attestation form was dated 18 November 1915, when he was assigned to Army Reserve. He was mobilised in January 1916, but immediately returned to Reserve, and finally mobilised and posted in February of that year. He joined the 1st Battalion, Middlesex Regiment, number 12295 and arrived in France on 1 June, serving there until 22 May 1917 with another period in France from 30 September to 5 December 1917.
Cyril pictured in 1937 opposite his wife Jessie in their garden at Northwood, with Jim Taylor between them.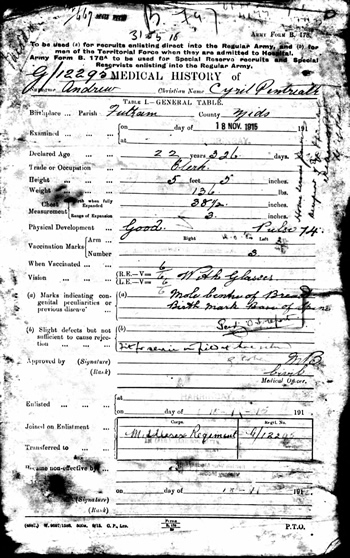 Cyril's medical condition when he was examined on enlistment, 18 November 1915. I notice that his vision was perfect - with glasses.
Amongst Cyril's service record documents is an undated medical record headed "Sick List in case of Warrant Officers treated in quarters" which is difficult to read but certainly includes "Bullet entered … back of mid Phalanx of 1st R Finger & came out at back of hand … metatarsal." Fortunately, Cyril's Military History Sheet includes the following dates for three occasions when he was injured: "Wounded 19/8/16"; "G.S.Wd. r. arm 16/5/17"; and "G. S. W. R. Hand 2/12/17". He certainly earned the British War Medal and Victory Medal listed on the same sheet.
There is one more record in 1916 for treatment Cyril received while on active service. The Admission and Discharge Book for the 39th Casualty Clearing Station states that Pte Andrew, 12295, of the 1st Middlesex Regiment, was treated for suspected dysentery, along with 24 others on the same page, which says a lot about conditions in the trenches. On 9 November Cyril left on the No. 17 Ambulance Train and arrived back in England on 5 December. At this time the 39th Clearing Station was based at Allonville near Amiens.

After Cyril recovered from his final wound in December 1917 the Army seems to have decided he would be best employed in England. Perhaps they noticed he had been an insurance clerk in civilian life and used him in an administrative role from then on. As well as the 1st Battalion, at various times he had been attached to the 5th and 17th Middlesex Battalions where he was described as a Lewis Gunner. Then on 30 September 1918 he was promoted to lance corporal and soon after the Armistice, on 20 November, he was "compulsorily and permanently transferred" to the 1st Battalion Suffolk Regiment as L/Cpl, 67083. He was finally transferred to "Army Reserve on Demobilization" at Warley on 28 March 1819.
__________________________
Frederick John Hall 1897 – 1916
Frederick John Hall was the elder son of Frederick Harrington Hall and Alice Hall, née Hilditch, aunt and uncle to Thomas Percy Hilditch; in fact they were the brother and sister of Thomas's mother and father respectively. Frederick was born in 1897 and joined the 6th Battalion, the "Queen's" Royal West Surrey Regiment as soon as he was eighteen. They embarked in June 1915 as reported in the War Diary.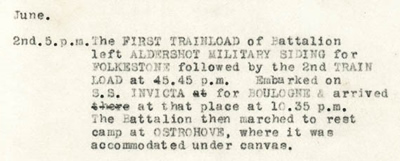 In July 1916 the battalion was based in trenches opposite Ovillers, near Albert, in the Somme department of the Hauts-de-France. The War Diary picks up the story.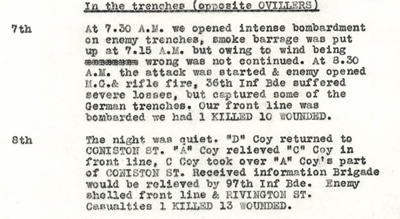 Unfortunately Frederick was the one casualty to be killed on the "quiet" night of 8 July. His mother Alice had buried her husband five months earlier, in February, aged 46, and had now lost her son aged 19. She was left with two daughters aged 6 and 21, and a son aged 8. Pte. Frederick John Hall, G/583 6th Bn. The Queen's, is remembered on the Thiepval Memorial.

Link to CWGC commemorative certificate for Frederick John Hall
__________________________
George Robert Newbury 1886 - 1942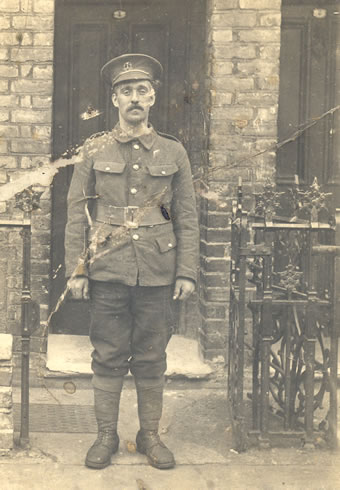 Private George Robert Newbury, G/10726, was one of Jane Newbury's brothers. He volunteered in May 1915 and joined the Middlesex Regiment, serving in France from 14 December 1915 until February 1918. After leave, he returned to France, serving until 19 March 1919. He received a pension, having suffered a gunshot wound to the right foot. He was also hospitalised for a gunshot wound to the scalp in April 1916. He has an entry in the National Roll of the Great War: an attempt to compile short biographical descriptions for as many as possible of those who served in the War. George's entry states that he took part in many engagements including those on the Somme and at Arras, Ypres and Cambrai. His Medal Card confirms that he holds the 1914-15 Star and the General Service and Victory Medals. The photograph appears to show George standing outside his home: 4 Bayonne Road, Fulham.

__________________________
Percy William Morris 1880 - 1945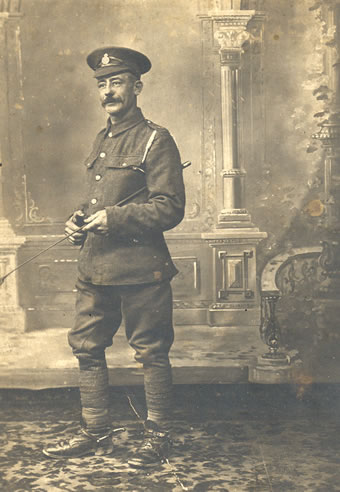 Driver Percy William Morris, 178955, was married to Sophia Charlotte Newbury, one of Jane Newbury's sisters. Having worked with horses as a cabman before he volunteered, he was selected for enlistment into the Army Veterinary Corps on 17 December 1914. He was then transferred to the Royal Field Artillery as a driver and arrived in France on 23 December 1914. Notice the spurs and whip. On his Medal Card are listed the 1915 Star and the General Service and Victory Medals.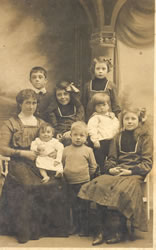 Sophia and their children

__________________________
George Ernest Mark Rice 1891 - 1956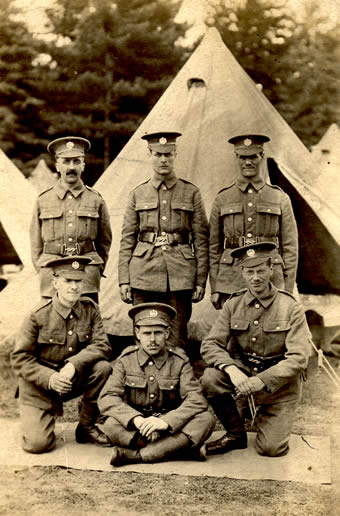 George Rice was a nephew of Mark Burgess, but which of these six is George? His full name was George Ernest Mark Rice and, according to the Airman's Service Records, he had a varied career in the forces starting in the Norfolk Regiment, before transferring to the Essex. It looks very like the cap badge of the Essex Regiment that these six are displaying.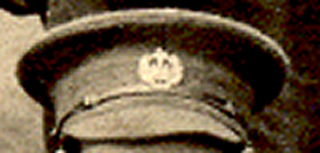 Essex Regt. cap badge?
After a further transfer to the Royal Defence Corps he appears to have joined the RFC as a Rigger and spent three months in Russia in 1919, by which time he was classified as A. Mech. 3 in the RAF. He was put on the RAF Reserve list in June 1919 and was "deemed discharged" on 30 April 1920.

George was born in 1891 but not baptised until 22 November 1897 - along with two brothers and a cousin (Joseph Stephen Burgess - see below) at the same time. His parents were Henry James Rice and Winifred Burgess. In 1911 he was working as a French Polisher and two years later he married Annie Sparks on 12 May, when one of the witnesses was Mark Burgess. His Service Record gives his service number: 104146; height: 5 feet 3¾ inches; chest measurement: 31 inches; the names of two sons: Leonard Charles George and George Henry; and Annie's address at 33 Queen Street, St Pancras.
__________________________

Joseph Stephen Burgess 1896 - 1917
I have no photograph of Joseph Burgess, only military records.

The entry in the index of the Commonwealth War Graves Commission
for the grave of Joseph Stephen Burgess
Joseph Stephen Burgess was the nephew of Mark Burgess. His parents, Joseph Mark Burgess and Georgina Stevens, were married on 2 August 1891 at St Michael's Church, St Pancras, and he was born on 28 November 1896, the third of nine children. Both his father and grandfather were horsekeepers but aged 14 he was described as a "Van gard on Railway" according to the 1911 census.
Joseph enlisted in the 1st Batallion London Regiment (Royal Fusiliers) on 30 August 1815 at Handel Street and served until 19 June 1917, when he died "In action". He had survived the Battle of Arras in April 1917 and, as the War Diary describes, his Battalion had moved to WANCOURT LINE on 11 June. On the 19th they moved again and the War Diary simply reports "Battn. moved into reserve area, about the HARP (N1b) one other rank killed, two wounded".
At some point Joseph had been promoted to Corporal and this was recorded by the Imperial War Graves Commission along with the name of the Cemetery: Tilloy; his number: 200742; age 20; and next of kin: Mrs L W Jarvis of 11 Harmood Place, Chalk Farm, NW.
Lydia Winifred Jarvis, née Burgess, was Joseph's elder sister by 3 years. She was also named as the sole legatee on the Soldiers' Effects Register, receiving £6:19:1 initially and then £14 War Gratuity. Also included in this register is his original regimental number: 2578.
Joseph is remembered in the records of the National Railway Museum, listed amongst the Railwaymen Died in The Great War, where he is described as Vanguard with the London & North Western Railway. The source is St Paul's Order of Service 1919: a memorial service for railwaymen held on 14 May that year.
Link to CWGC commemorative certificate for Joseph Burgess
__________________________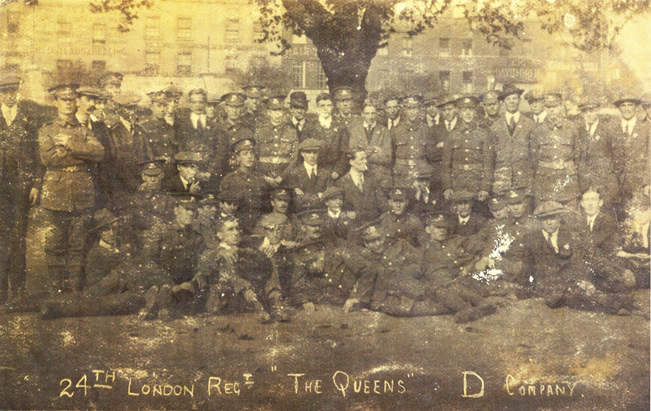 A photograph taken in Kennington Park in 1914
Albert Henry Burgess, on the left, and Reginald Walter Burgess were the eldest sons of Henry James Burgess and Elizabeth Lucy Hely. They both volunteered for the Army and enlisted in the 24th Battalion London Regiment in 1914. Do they both feature in the photograph above? Judging by their regimental numbers Albert was nineteen places in front of his brother in the queue to join up.

They are pictured here at a family wedding, long after both World Wars.
Reginald Walter Burgess 1897 - 1970
"Uncle Reg", at 17, was not old enough to volunteer in 1914 but that didn't stop him from signing up alongside his older brother, Albert. However, he was soon found out and on 21 September 1914 he was transferred to the Labour Corps where he served until 28 June 1919, according to the Roll of Individuals Entitled to the "War Badge" (Now known as the Silver War Badge). This document also states that he was a Lance Corporal.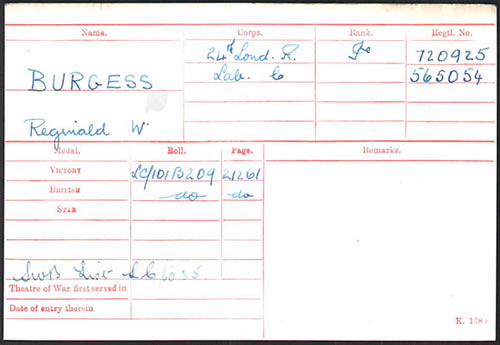 Medal Card for Reginald W Burgess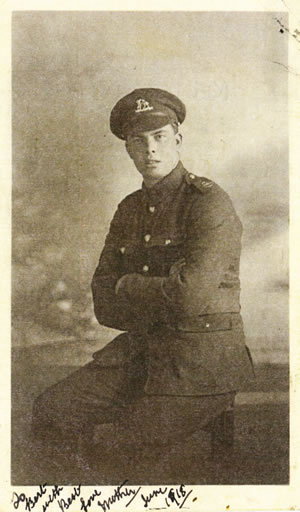 Both the Medal Card and the Labour Corps Roll of those entitled to the Victory Medal and British War Medal conveniently bring all his war service together by giving his name, his Labour Corps Number (565054) and his 24th London Regimental Number (720925).
Reginald Burgess is pictured here in uniform, including what looks very like the 24th Battalion, London Regiment cap badge, so presumably the photograph was taken soon after he volunteered, but before he was transferred to the Labour Corps.
At the bottom the message reads "To Bert with Best love Mother, June 1918". Did she send it to her other son, Albert, who at that time was serving in the Egyptian Theatre of War, according to Albert's medal entitlement record?

Albert Henry Burgess 1893 - 1968
At some point during his time in the army, Albert Burgess, 720906, was promoted to sergeant and served until he was shot in the right eye and lost his sight on that side. His hospital record states that he had served four complete years and that the operation described below was carried out on 19 September 1918, so he was wounded very late in the war.
The Record of Operations Performed, and Results:

"2/24 London: 720906: Sgt Burgess A : GSW Eye (R): Evisceration Eyeball, Lower lid sutured:
Capt Buchanan 19/9/18: Satisfactory: 20/9/18 To UK per HT Gloucester Castle"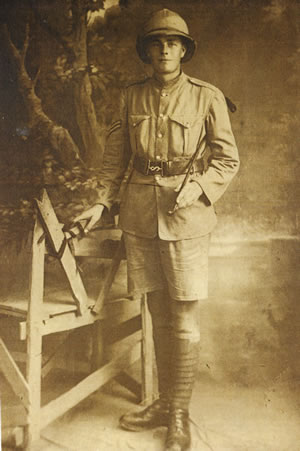 Could this be Albert Burgess in tropical uniform? For some of the war he served in Egypt. There is no cap badge but he does have two stripes so maybe he had just been promoted. The photo is in the collection of his brother Reginald's family
Here is Albert pictured at his wedding in 1922, four years after he had lost his eye. Are there enough similarities?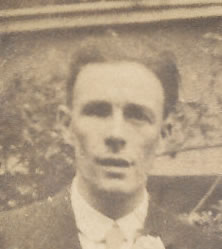 __________________________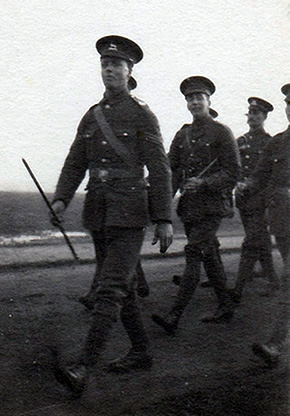 Finally, another anonymous photograph, this time from the Burgess family collection. I supect that this sergeant leading his troops wouldn't have approved of the broad smile and lack of attention from the soldier behind him. Perhaps he knew the photographer. The cap badge could well be that of the 24th Battalion, London Regiment.