Like most other families in the UK, we have relatives who served in the forces during the Great War. For a few I have pictures of family members in uniform, identified by their name written on the back of the photo by Rose Burgess. Now that service records and medal cards are available on-line I have been able to find out a little about their time in the army. If there are any more First World War family portraits out there I would be pleased to add them to the page, along with any relevant records of their service. To begin with, here is a picture with no known family connections beyond the fact that it was found in the Taylor collection of photographs. However it does set the scene.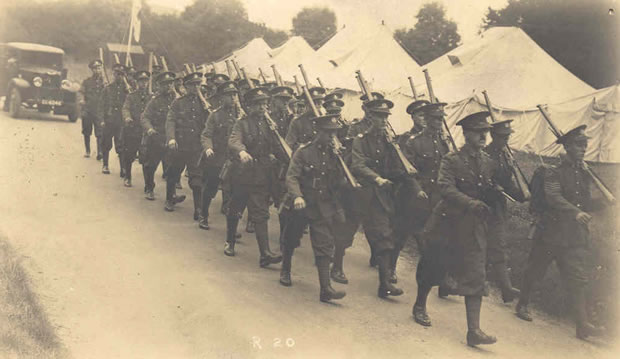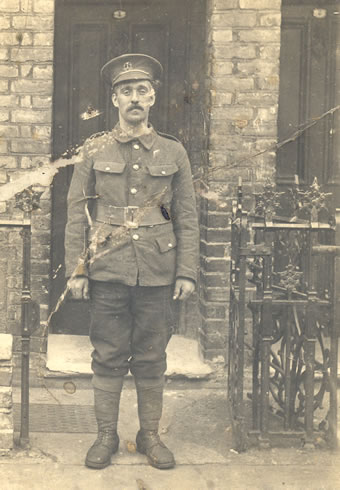 Private George Robert Newbury, G/10726, was one of Jane Newbury's brothers. He volunteered in May 1915 and joined the Middlesex Regiment, serving in France from 14 December 1915 until February 1918. After leave, he returned to France, serving until 19 March 1919. He received a pension, having suffered a gunshot wound to the right foot. He was also hospitalised for a gunshot wound to the scalp in April 1916. He has an entry in the National Roll of the Great War: an attempt to compile short biographical descriptions for as many as possible of those who served in the War. George's entry states that he took part in many engagements including those on the Somme and at Arras, Ypres and Cambrai. His Medal Card confirms that he holds the 1914-15 Star and the General Service and Victory Medals. The photograph appears to show George standing outside his home: 4 Bayonne Road, Fulham.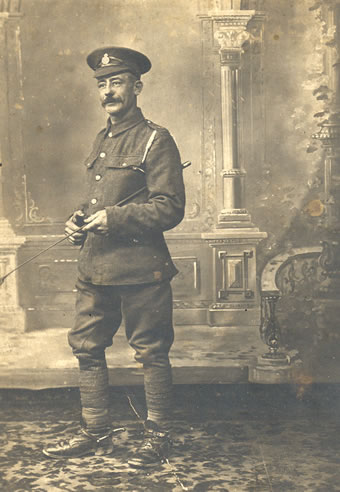 Driver Percy William Morris, 178955, was married to Sophia Charlotte Newbury, one of Jane's sisters. Having worked with horses as a cabman before he volunteered, he was selected for enlistment into the Army Veterinary Corps on 17 December 1914. He was then transferred to the Royal Field Artillery as a driver and arrived in France on 23 December 1914. Notice the spurs and whip. On his Medal Card are listed the 1915 Star and the General Service and Victory Medals.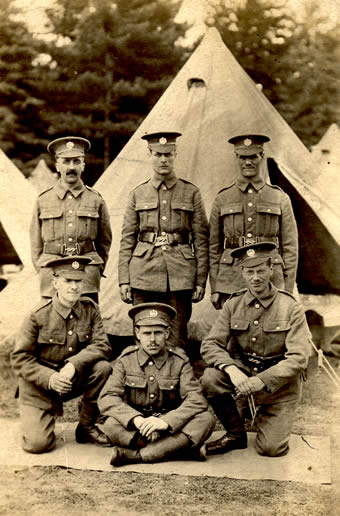 George Rice was a nephew of Mark Burgess, but which of these six is George? He would have been about 18 in 1914 so, whenever he enlisted, he should have been one of the younger looking men. Can anyone help to identify him?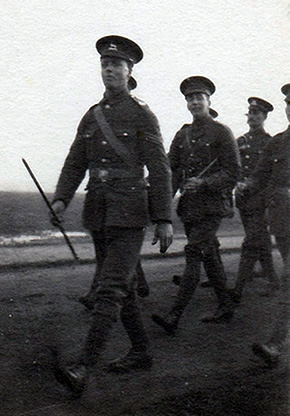 Finally, another anonymous photograph, this time from the Burgess family collection. I'm not sure that senior officers would approve of quite such a broad smile, but perhaps he knew the photographer.

Return to Memorabilia page