In the 1861 census most of the properties in Audley, Staffordshire were just listed under the general description of "village". No road name or anything. So at number blank we find John Hilditch (aged 30) and his wife Eliza (28) together with Harriet (5), Thomas (4) and Hannah (2). John was a boot and shoe maker employing 4 men and 1 boy. Next door lived Thomas Hilditch, 43 years old and another boot and shoe maker; and his sister Phoebe, aged 25 and a boot binder. There are good reasons - but not yet firm evidence - that John was their brother. Certainly, all these Hilditches were born in Audley. In 1831 the population of Audley was only 767 so it is quite likely that all those named Hilditch were at least related.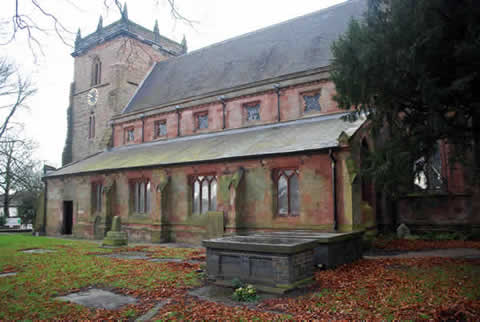 Three impressive Hilditch tombs close by St James' Church, Audley. Alongside them is the grave for Thomas and Elizabeth Hilditch, John's grandparents.
By 1871 John and Eliza had four more children and young Thomas had joined the family trade as an apprentice shoemaker. Next door, "brother" Thomas had married a local woman named Hannah and Phoebe had moved out.
A few miles away in Chesterton lived the Hall family. In 1861 Frederick Hall (26), a commercial clerk, and his wife Charlotte (27) had two children, John (3) and Priscilla (1). Frederick was born in Stone, Staffordshire and all the children, including a further four who were listed in the next census, were born in Chesterton. However Charlotte came from Paddington, Middlesex. She had probably accompanied her father, John Harrington, to Staffordshire when he became the butler at Apedale Hall. His employers, the Heathcote family, owned collieries and iron foundries in the Apedale valley.
In 1878, there was an explosion at Burley Pit, in the Apedale valley. A concert was held to raise money for the families of those killed or injured. Jo has an original poster advertising the event which refers to members of both the Hall and Hilditch families. Although only "Miss Hall" is known to have been related, Mr F Hall was also performing and Mr John Hilditch was selling tickets in Audley. If there was more than one John Hilditch around, wouldn't they have given a more comprehensive address?
To see the poster and find out more about the mine and the disaster click here.
"Violoncello - Mr. F. Hall" and "Pianoforte - Miss Hall", as the poster puts it, surely refers to Frederick Hall and his daughter Priscilla. A biographical memoir for Professor Hilditch from the Royal Society mentions that his grandfather Frederick Hall organized and conducted amateur brass and string orchestras in North Staffordshire and that he played the 'cello. It also states that his mother, Priscilla, was also musical and played the pianoforte competently.
By 1881 Thomas, then 24, had started up on his own as a boot maker in Chesterton and in 1884 he married Priscilla Hall. However, they were married in Islington, Middlesex, not Staffordshire. Two years later they had a son, Thomas Percy, who was born at 45 Marriott Road, Islington.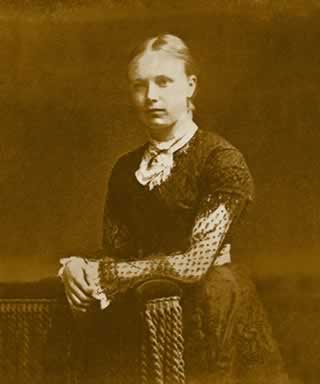 Priscilla Hall, born in 1859 at Wolstanton, Staffordshire, the wife of Thomas Hilditch and mother of Thomas Percy Hilditch.
At some point the Hall family also moved to London because, in 1891, they were sharing the same address. Thomas was then a boot manager and Fred Hall an agent for tiles - possibly glazed tiles from the Potteries.
The Hilditch, Hall and Harrington families all seem to have maintained close ties as they moved around the country. Joseph Hall, one of Priscilla's brothers, moved to Plumstead in SE London where he was a coal agent. In 1881 he was a boarder with a family called Harrington, some of whose children had been born in Staffordshire. Ten years later another brother, Frederick, married Alice the sister of Thomas Hilditch.
All three Hall brothers, Joseph, Frederick and John, were given Harrington as their second name.
As an adult, Thomas Percy Hilditch, Jo's grandfather, moved back northwards to Warrington and then Birkenhead. Indirectly, this led eventually to Jo and me starting our family at Market Drayton, only about 15 miles away from Audley, where the story began.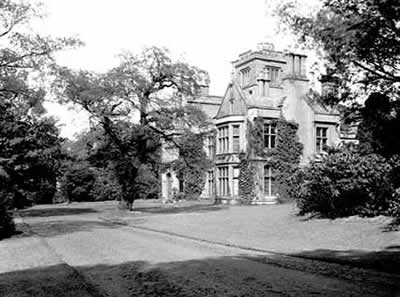 A view of Apedale Hall: the home address given for Charlotte Harrington when she married Frederick Hall in 1855.
Apedale Hall was built in 1826 by the Heathcote family and owned by them until 1928. After a short period of occupation by the Midlands Coal, Coke and Iron Company it was demolished in 1934. It apparently suffered from subsidence due to the coalmines. Poetic justice?