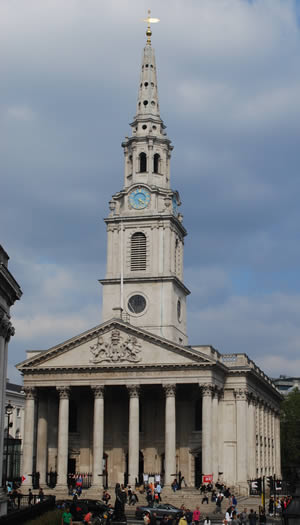 George Finmore married Catherine Griffin on 5 January 1791 at St Martin in the Fields Church, Westminster. A surprising venue perhaps, for a Thames fisherman from Clewer in Berkshire; but then the Finmore family has proved to be rather unusual in several respects.
When George died in 1834, aged 75, he left a will that had been witnessed by three masters from Eton College. At the time of his death he had freehold property in both Clewer and nearby Bray. After disposal, the value of the estate was to be shared equally between his sons and daughters, although his son Henry had the option to inherit the property at Clewer so long as he paid a fair share to the rest of the family. His other effects were also to be shared between his children except for "the bed given to me by Mrs Hawtry and which I hereby give to my daughter Elizabeth." Hawtrey was the name of the Headmaster at Eton College at the time.
St Martin in the Fields, Westminster
The reason for this close relationship with the college can be found in the census of 1841 where Henry Finmore's occupation is given as Servant to the Headmaster. Ten years later he described himself as butler and had a house in Weston's Yard, next to the headmaster's house. However the headmaster was single, as were his two sisters who were staying with him, so it is unclear quite who was the donor of George's bed. Fortunately, working close to the headmaster brought Henry to the attention of Eton boys and he was remembered in their published memoirs, even rating an illustration in one. To see this and to learn something of his life at Eton look at the page for Henry Finmore.
George and Catherine had eleven children between 1790 and 1810. The eldest son, William, took up his father's occupation and is probably the Thames fisherman featured in one chapter of a book entitled "Curiosities in Natural History". The author, Francis T Buckland, described a fishing trip on the Thames at Windsor "in August last". As the Preface is dated 30 November 1857 and George Finmore died in 1834, it seems likely that the fisherman described as an old man was William, who would have been nearly sixty when the book was written.
The fisherman was only named once as Finmore, and thereafter was referred to as Charon: the aged ferryman of Greek mythology who takes the dead across the Styx. There are extracts from the book quoting the fisherman's opinions on a page for William Finmore.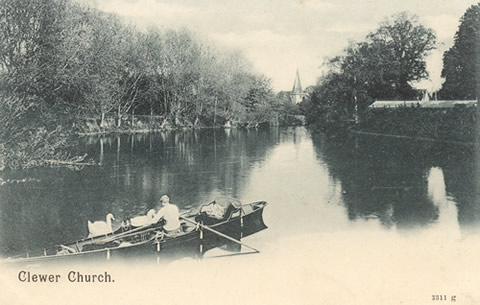 Clewer Church from the Thames
George Finmore's name appeared in an edition of the Berkshire Chronicle for Saturday, January 13th 1827. At the Berkshire Epiphany Sessions George gave evidence against A Towers who was found guilty of the theft of elm and deal boards, the property of George Finmore and Jonathan Griffin, of Clewer. The constable of Clewer told the Court he had "found withy poles, and the piece of a rudder of a boat, in the prisoner's house. The withy boards had been sawed up and put under his bed." Towers was to be "imprisoned for two calendar months to hard labour." It seems George and Jonathan were in business together, which might be explained by the contents of a will written in 1790 by Mary Griffin, Catherine's mother.
| | | |
| --- | --- | --- |
| | In the Name of God Amen | |
| | I Mary Griffin of the Parish of Clewerth in the county of Berks Widow being of sound mind and memory (thanks be to God / do make this my last Will & testament in manner & form following viz First I commend my Soul into the hands of Almighty God who gave it in humble hope of mercy & through the ----- of my Saviour Jesus Christ & my body to the Earth to be ----- buried at the Discretion of my Exors hereinafter named and as to such Worldly Goods wherewith it hath pleased God to bless me in this life after payment of all my just debts Funeral Expenses other costs & charges of proving this my Will I give & bequeath the same as follows I give & bequeath unto my Son in law Jonathan Griffin of Clewerth aforesaid all my Fishing Boats & Nets I give and bequeath unto my two daughters Catherine Griffin & Sarah Griffin the whole of my Wearing apparel to be equally divided between them under the Inspection of my Exors and as to the rest residue and remainder of my Estate & Effects of any nature or kind whatsoever or wheresoever I give & bequeath the same unto my Son Richard Griffin & unto my two daughters Catherine Griffin & Sarah Griffin aforesaid to be equally divided between them by my Exors share & share alike ---- ----- nevertheless to the payment of the Sum of five shillings of good Lawful money of Great Britain which said Sum of Five shillings I give & bequeath unto my Daughter in law Ann Simmonds which I desire may be paid within three months after my decease and I will that my said Exors shall not be answerable for any part of my Estate but such as shall come to their hands and I do hereby will appoint that my Exors shall by & out of my Estate retain & satisfy themselves all such Costs & Charges as they shall be put to or incur in the execution of this my last Will & testament and lastly I do hereby appoint my good friend Mr William Andrews Larkin of Charles Court in the Parish of St Martin in the Fields in the County of Middx Cheesemonger & Mr James Wilson of Villiers Street in the said Parish of St Martin in the Fields Schoolmaster Executors of this my last Will & testament In witness whereof I have hereunto set my hand and seal this Seventh Day of October in the Year of our Lord one thousand seven hundred and Ninety ~ Mary Griffin SS ~ Signed Sealed & Delivered by the within named testatrix in the presence of us who at her request in her presence & in the presence of each other have hereunto set our hands ~ Mary Ann Larkin ~ Frances Larkin | |
| | | |
"Son in law" and "Daughter in law" indicate that Jonathan Griffin and Ann Simmonds were stepchildren of Mary Griffin. There is a record of a marriage by licence at Clewer for Ann Griffen and Henry Symonds on 25 August 1760. Ann was a minor, which would fit with the baptism of Ann Griffin on 24 August 1742 at Clewer. Her parents were Jonathan and Ann Griffin. It seems the young Ann waited until she had just turned eighteen before she married Henry.
Mary Griffin died in 1811 and it appears that after Jonathan had inherited the "fishing boats and nets" he and his half-brother George Finmore went into partnership together.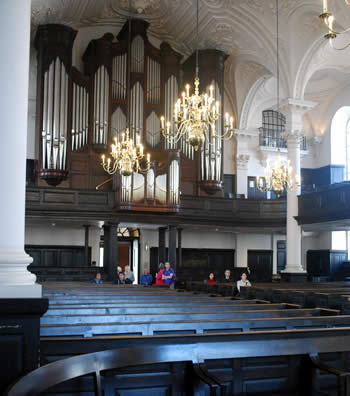 As well as asking friends in St Martin in the Fields to be the executors of her will Mary had other connections to the parish. Her daughter Catherine was married there and Mary's own wedding had been celebrated in the church of St Martin in the Fields. Mary Houghton married Jonathan Griffin by licence on 20 February 1764. The licence itself reveals that both Mary and Jonathan were widowed which confirms the "in law" relationship in Mary's will but also means that Houghton was not her original maiden name.
The interior of St Martin in the Fields
Henry Finmore

William Finmore
Return to Cambridgeshire Burgesses page