Matthew and Euphemia Dickson had at least three children: Barbra, born in England about 1800 according to later censuses, James born on 11 Jan 1805 and baptised on 10 Mar 1805 at Leith South, Midlothian, and David born on 30 Sep and baptised 28 Oct 1806 in Dunfermline, Fife. For James, the official record states that his father was a dyer and his mother's maiden name was Swan. For Matthew, his mother's name was given as Euphon Swan.
A likely marriage for the parents took place on 20 Feb 1799 at Christ Church, Tynemouth, Northumberland, but this needs to be confirmed. The names are given as Matthew Dickson and Uphon Swan. The date fits with Barbra's date of birth and it was common for a young wife to return home for the birth of her first child if the couple had moved away.
David Dickson took up his father's trade as a dyer and settled in Leith South where, in 1830, he married Isabella, the daughter of the late John Johnston, a shipmaster from Leith. Banns were called in June and the couple were married on 2 July. The spelling of Isabella's surname is in some doubt as both Johnston and Johnstone appear on the official record of the marriage whereas Johnson is used on the certificate completed by the minister. However, the record for her birth on 24 May 1809 gives her parents as John Johnston, sailor, and Sarah Ainslie, so that appears to be the correct version.
Leith, now part of the Edinburgh conurbation, lies at the mouth of Water of Leith, the river running through Edinburgh to the Firth of Forth. When the Dicksons lived there Leith was a separate town, divided by the river into North and South Leith, and serving as the port for Edinburgh.
At the time of the census in 1841 David and Isabella were living in Kirkgate, one of the oldest streets in Leith. It was a principal thoroughfare running through the heart of the town and containing several imposing buildings such as St Mary's Church and Trinity House, alongside businesses and dwellings. By this time there were three children, Euphemia (born in 1834), Margaret (b. 1839) and Matthew (b. 1841). In 1845 they had a third daughter, whom they named Sarah after Isabella's mother. For the next census, in 1851, Sarah and her parents were living at 26 Queen Street, a narrow alley of tall buildings leading to the shore, and David was working as a spirit dealer (retail). However, the three older children were staying nearby with David's sister, Barbra.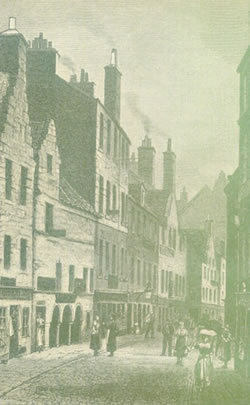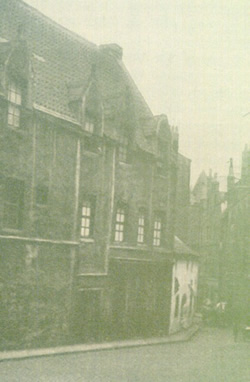 The Kirkgate

Queen Street
In 1861 Isabella was the head of the household and a spirit dealer. Perhaps David had died, although Isabella was not described as a widow. Margaret was an assistant in a shop, Matthew a printer pressman, and Sarah an apprentice milliner.
In 1871 Sarah married James Taylor and moved to Liverpool leaving Matthew, still a printer, and Margaret living with Isabella.
By 1881 and again in 1891 Isabella and Margaret were living at 17 Cochrane Place on the outskirts of Leith. For the first time Isabella was described as the widow of a dyer, and in 1891 they were both "annanants" which presumably should have been "annuitants" meaning they were in receipt of an annuity. Isabella died at home on 23 January 1892 aged 82; the cause of death given as bronchitis. The record confirms that Isabella's deceased husband was David Dickson, spirit merchant, and that her parents were John Johnston, shipmaster, and Sarah Johnston, although Sarah's maiden name is unclear. It also states that the informant was Matthew Dickson, son, of 37 Commercial Street, Perth, where he was living in 1891 with his wife Mary and working as a printer - machineman.