It all started with a throw-away comment written by my father-in-law, Jim Taylor, below a family tree he had compiled for one of my wife's cousins. "I had a cousin Tom Jennings who lived in Liverpool. He was a baker and confectioner and made your mother's wedding cake."
Now Tom didn't appear on the tree which included all the known ancestors in the family from the Irish and Scottish branches. How did he fit in as a cousin?
The wedding in question took place in 1936 between Mary Taylor and Tom Higson so I needed to find a Tom Jennings who was around in Liverpool at that time, preferably involved in the baking or confectionary business and related to Jim and Mary Taylor. A search came up with a possible candidate with surprising ease: Thomas Gregson Jennings, confectioner, aged 23 married Hilda Webster in 1933. But was he a cousin, even allowing for a rather loose definition of the word?
The name Jennings does appear in the family tree. Jim's maternal grandmother, Mary Jennings, was born in County Down and lived in Downpatrick. Her father, Hugh Jennings, was a turnkey at Downpatrick gaol and he has his own page elsewhere on this website. This was an obvious first place to look for a link to cousin Tom, but no-one of that name appears in the rather limited list of Irish Jennings relatives. Hugh had two sons: Kester, a bootmaker, and John who became a baker, marrying Susan Mclaughline, a baker's daughter in 1854. However, there were to be no Irish birth registrations for another ten years after this date so the only hope would be to identify a marriage in the next generation and see if it led to a baker's life in Liverpool.
The other individual who might provide a link to Tom was the intriguingly named Elizabeth Wilhelmina Wimbledon Jennings (EWW) who married Jim Taylor's uncle, James Alexander Taylor, in 1900. I had already traced several references to EWW in Liverpool and knew that she had lived with other Jennings relations before her marriage. The earliest source looked promising:
EWW born in January and baptised in March 1878

Her dad was a baker!
Next the 1881 census at 101 Louisa Street, Everton

So EWW's father was a ship's baker and her mother was born in Ireland.
Louisa, EWW's sister, was born and baptised in 1882. (Was she named after Louisa Street?)

The family tree for Elizabeth and Louisa Jennings leading back into County Down.
Could this John Jennings be the same person as the son of Hugh Jennings the turnkey? The marriage and birth dates look promising, but where would I find the proof?

Finally, the 1891 census at 119 Walton Breck Road, Everton

More instances of bakers in the wider Jennings family: EWW and sister Louisa's cousins (Kester, Hugh, John and Annie) headed by Kester Jennings, all born in Ireland. A bit of research luck and another generation or two of bakers and I might find the elusive Tom. Little did I know what was in store.
Kester and his three siblings could be traced back to Ireland only as far as their father Francis. Once again, all their births occurred before civil registration was introduced.

Time to approach the problem from the other end. Could I trace Thomas Gregson Jennings and his ancestors in Liverpool?
Despite the repetitious names (Caster, John, Francis and Thomas all occurring four or more times) the family tree grew satisfyingly quickly, with images of parish registers providing the hard evidence and family groups in censuses confirming relationships, occupations and addresses. It was the occupations that really caught my attention. Nineteen members of the wider Jennings clan were involved in the flour and baking trades. A few were based in Ireland but sixteen were active in Liverpool, described as bread bakers, flour dealers, cashiers in flour mills and the like. And all with proven family links to each other, but not to Jim Taylor.
Click here to open a new window with the full Jennings family tree described above.
The breakthrough came with the discovery of yet another Thomas Jennings whose aunt, Annie Isabella Jennings, married confectioner-Tom's great uncle, Edward Jennings. Were they already related? With both branches having farming origins in and around Downpatrick, County Down, it is very likely; but also difficult to prove.
The clinching evidence emerged on a census page from 1911.

Thomas was described as the nephew of James Birchall whose wife Annie Birchall, née Jennings, was the same Annie to be found at 119 Walton Breck Road in 1891 living with Kester and their two brothers John and Hugh. (Hugh was still boarding with Annie and her husband in 1911.) It isn't clear quite why Thomas was a "nephew" as his parents Francis James Jennings and Hannah Eliza Wynne Hesketh have no obvious links to Annie's ancestry. But then perhaps it was used to represent a more distant but well-established family link involving different generations. There is too little space on a census form to go into the likes of second-cousin-twice-removed. We even have a photograph of ship's steward Thomas with his date of birth confirming his identity.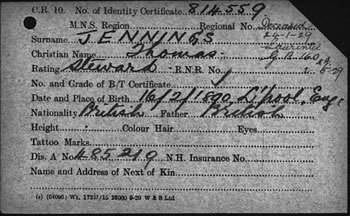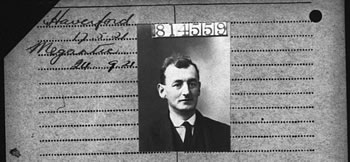 Nephew Thomas Jennings, steward
Born 16 Feb 1890; died 24 Jan 1929
We now have a chain of relationships from Jim Taylor's aunt EWW, via "cousin" Annie from the 1891 census, and Annie's "nephew" Thomas on the 1911 census, to Thomas Gregson Jennings, the confectioner, who was in the right place at the right time to bake a cake.
Would that be enough for Jim Taylor to describe Tom Jennings as a cousin? A few thoughts:
EWW and her husband James Alexander Taylor had nine children before 1920, then tragedy struck when the whole family contracted TB. One after another they all died and by 1930 there was no-one left. Jim Taylor remembered attending their funerals and will have met any number of Jennings relatives. Surely they would have been explained as cousins rather than struggle with the intricacies of details.
Also it is quite possible that there is a more direct connection between EWW and Tom the confectioner that has yet to be uncovered. I haven't traced all the younger generations by any means. Who knows what further marriages might have occurred to create a "short cut" to a cousin or two? There were certainly several Jennings to Jennings marriages, including between distant cousins of different generations.
Finally, there may be a link leading directly back to Ireland and Hugh Jennings the turnkey. But there are serious gaps that would need to be bridged.
For now I will have to be satisfied that a connection does exist, albeit a rather devious and mazy one.