James Henry Newbury was Jane Newbury's older brother, born in 1877. When he married Emily Small in 1899 he was working as a postman, but by 1911 he was employed as a builder's labourer and they had five children with them in Fulham aged ten or younger. Another three children were born before Emily died in 1916. So, by 1921 James, now working from home as a rag sorter, and his 18-year-old son George were coping with five children aged between 4 and 14 and living at 6 Ferrier Street, Wandsworth.
Along the road at number 28 lived Sarah Johnston with three children but no husband. He was recorded at Rowton Houses, one of a chain of hostels offering cheap accommodation for men on low income.
An account of a case being heard at the South Western Police Court and taken from the Fulham Chronicle of 28 May 1920 goes some way towards explaining what had happened.


From the Fulham Chronicle of 28 May 1920
In short, it appears that when James Newbury's wife died one of his neighbours, Mrs Johnston, offered to help him with his young children. Her husband had left her and she didn't want him back. They became friends and would go for a drink together. One evening, as they were returning to their homes, Mr Johnston shot at them both, wounding his wife in the back and James in the chest.
At the Old Bailey in June 1920 much of the evidence was repeated with few additions or alterations. But there are one or two points worth mentioning which were reported in the papers.
James said he became acquainted with Mrs Johnston while her husband was in the army. Mrs Johnston said she had not lived happily with her husband and they had separated. Johnston said he was greatly upset by knowing that his wife and Newbury were going about together as man and wife and treating him with contempt. He claimed he fired his revolver five times, but fired it in the air, intending to frighten them. Being nervous his hand must have dropped, and he hit them accidentally.
The Fulham Chronicle reported the summing up, the verdict and the sentencing at the Old Bailey as follows: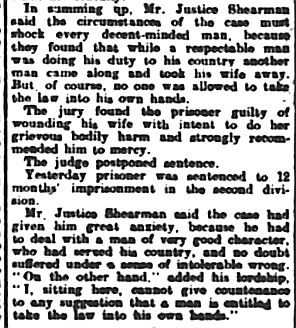 "… in the second division" imprisonment indicates that he would not be subject to hard labour, amongst other measures, when he served his sentence at Wandsworth Prison. The After-Trial Calendar of Prisoners confirms this and also another interesting aspect of the case.

Although the original charges included shooting at both Sarah and James with intent to murder and wounding both with intent to do grievous bodily harm, the verdict was: "Guilt of wounding Sarah Johnston with intent to do her grievous bodily harm. Not guilty of shooting her with intent to murder. Not tried in respect of other offences."

So the attack on James was totally written off. Fulham Chronicle of 18 June 1920

The picture presented at the Old Bailey appears to have been of a courageous soldier who had survived the war and returned home to find his wife had been unfaithful to him in his absence. All the sympathy of the court was directed towards the prisoner and none towards the victims. So soon after the war perhaps that was understandable, but here is a little more evidence to add to that picture.
Sinclair William Johnston was born in 1861 and in the 1881 census he was recorded as a musical instrument maker. Then on 24 Oct 1881 he joined the London police force (Warrant Number 66009) and remained with them until he resigned on 11 August 1891, a few months after he married Sarah Revell in February. He was 30 and she was 21.
He may have resigned because they had plans to emigrate to the United States. I have not found a record for this, but they returned to Southampton on the SS Berlin in June 1893 accompanied by one-year-old Mabel Johnston, born in New York and duly recorded as a foreigner. It must have been a lengthy visit – much longer than just a holiday. Mabel's age, place of birth and relationship as daughter are all confirmed in the censuses of 1901 and 1911. The passenger list gives her father's occupation as polisher and he was consistently described as a marble polisher according to all types of record after their return from America. Now the military records take over.
Piecing together the information from a dozen or so pages, his army service appears to begin in about 1877 when Johnston was sixteen. Attestation Papers for the Territorial Force, dated 15 Nov 1916, have a section for previous service which states: "2nd Royal Fusiliers (Westr. Vol Corps) 4 years, left 1881" and "Royal Fusiliers 2 years 35 days discharged 11/11/16." This suggests he left the Westminster Volunteer Corps to join the police, but no further documentation for this has emerged so far.
As for the second period of service, he was declared fit for service with the Royal Fusiliers (Special Reserve) on 8th October 1914. However, he claimed to be 44 years old which would have made him only eleven when he left the Volunteers and joined the police. The upper age limit for the Special Reserve was 42 so perhaps he felt he could get away with 44 but his correct age of 53 would not be acceptable. There can hardly have been two Sinclair William Johnstons, both marble polishers, around at that time, can there?
He was discharged from the Royal Fusiliers on 11th November 1916 and declared "no longer physically fit for war service". Despite this he signed up with the Royal Defence Corps 252 Protection Coy. just four days later, on the 15th. This time he was 55 years and 11 months old. Another Medical Board report, dated December 1917, stated that he was "physically unfit" and that his condition was "not caused by but aggravated by guards and fatigues". He was discharged as physically unfit on 19th January 1918 and appears to have been granted a Gratuity of £24.
None of his time in the various military units was served abroad. His identity on all the documents is confirmed by his trade and by his home address in Ferrier Street. His age is mostly consistent apart from the claim to be only 44 when he joined the Royal Fusiliers in 1914.
A few thoughts: A sympathetic hearing from the judge and jury might be expected, so soon after the war, but him "doing his duty to his country" wasn't quite as dramatic and heroic as one might have imagined.
James Newbury's wife Emily died on 19th November 1916, after Sinclair Johnston left the Royal Fusiliers and joined the Royal Defence Corps. Sarah Johnston said in Court in June 1920 that she had known Mr Newbury for about 3½ years. That would be early 1917, when she said she took an interest in the Newbury children who had lost their mother. She also stated that the "prisoner left her 18 months ago" and "she refused to have him at her house".
The prosecutor's assertion that "when her husband was demobilised she declined to live with him" was about a year out and makes it sound like she left him. In the 1921 census James was living with six children aged between 4 and 18; Sarah's household included three sons aged 7 to 20. Back in 1918 the Register of Electors listed two older sons who were of an age to vote and still at the home address. There doesn't seem to be any obvious sign of adult sons turning against their mother for her behaviour.
It seems extraordinary that the prosecutor and the court took no action over the shooting of James in the street. How did Sinclair Johnston come to have a revolver? He had not been an officer at any point during the war and he certainly didn't bring it back from mainland Europe as a war souvenir – he'd never served abroad. Was it OK to possess a revolver before the Firearms Act of (late)1920?
James and Sarah were not on trial and could only answer the questions put to them by both the prosecution and defence counsels. Yet the tone of the court proceedings seems to blame them more than Johnston for his action. Even the prosecution twisted the circumstances behind the breakdown in the marriage and totally ignored the shooting of James Newbury.
We do not know whether there was any mention at his trial of Johnston's previous court appearances which were reported in various newspapers over several years. Two examples from The Gazette in 1902 and the West London Observer in 1904 make it clear that the Johnston's household was not a peaceful one.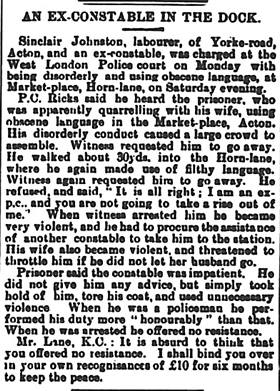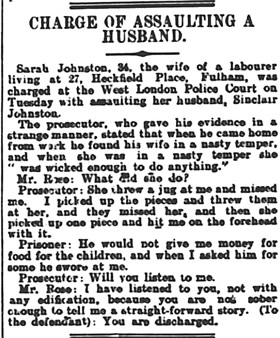 The Gazette of 14 March 1902 and the West London Observer of 26 August 1904 So much for Mr Justice Shearman's "... man of very good character..."

Was Johnston's keenness to join the army partly to give the pair of them some peace and quiet? (And possibly a regular income: it seems he wasn't a marble polisher for all those years after their return from America.)

Did it make a difference that Sinclair Johnston had been in the police for ten years? Was consideration given to his poor health when sentencing him without hard labour? In the event he only lived for a couple of years after leaving prison, dying in 1923 aged 62.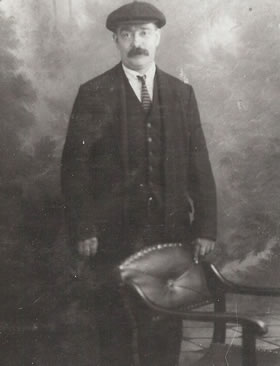 James Newbury married again in 1922. His bride was Eliza Small, née Virr, the widow of Bruce Small, brother of Emily Small who had been James's first wife. They had four children before James died in November 1943.