According to the 1851 census Henry Spiers, a sawyer, was born in Farnham, Surrey in 1791. He married Elizabeth Knight on 25 December 1809 at St Mary Magdalen, Richmond, Surrey and they appear to have moved to Woolwich in Kent where two sons were born: Charles in 1813 and Henry in 1815. However it seems they had moved back to the Richmond area by 1818 because Charles and two other children, Sarah and James, were all baptised on 4 January that year at the church where their parents were married. Henry had already been baptised in Woolwich the year he was born.

The parish records state that in 1818 they were living in Water Lane. Presumably this was the one in Richmond itself, leading down to the Thames. However there is another Water Lane across the river in Twickenham close to Richmond Road where their home was at the time of the 1841 and 1851 censuses. Since all the later family baptisms and births were recorded in Twickenham it is just possible that they never lived in Richmond but just used the family church. The remaining family baptisms were for Alfred William born about 1829 and baptised on 23 August, Thomas who was baptised in 1831, George in 1833 and Fanny Barbara in 1837.
There was however at least one other child whose baptism I cannot find: Elizabeth, my direct ancestor was born in about 1825 in Twickenham and married David James Looker in 1845. The marriage certificate records Henry Spiers, sawyer, to be her father and in 1861 one of Elizabeth's daughters was living with her uncle and aunt in Woolwich. They were Henry's son Charles and his wife Barbara. Like his father, Charles worked as a sawyer in Woolwich. In the 1871 census we learn he was a sawyer, pensioner from the docks, which suggests he moved back to Woolwich to find a permanent, steady job. Probably it had been the same for Henry when he and his wife Elizabeth left Richmond soon after they were married. In 1863 there were 24 sawyers on the strength at Woolwich docks.
Charles may also have seen the move as an opportunity to escape from working under his father, literally. Sawyers worked in pairs using a saw about two metres long. A tree trunk to be sawn into planks would be laid across a sawpit. The more senior sawyer would stand on top of the wood, controlling the cutting while his apprentice would hold the other end of the saw but be standing in the pit with sawdust constantly falling on him. It would be natural for a son to assist his father while he learnt the skills but perhaps not so easy to strike out on his own until a replacement under-sawyer could be found.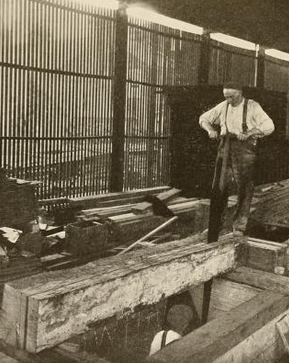 Fortunately Henry had a ready supply of sons to fulfil this role. His namesake, Henry junior, was a sawyer and so too was one of his younger sons, Alfred William. Indeed both these sons in their turn had sons, who they named after themselves, and passed on their skills to enable them to become sawyers: the two Henrys in Ealing and the two Alfreds in Twickenham. So, for part of the 1870's there were six members of the Spiers family across three generations all working as sawyers at the same time. Henry died in 1875 but in 1881 his five sons and grandsons were still working with saws, although Charles was now a saw sharpener. However, by the 1891 census there were none. Those still living had changed their occupations, probably as a result of advances in mechanisation and the development of the modern sawmill.
This illustration from a book published in 1875 shows a top-sawyer and under-sawyer using an indoor sawpit.