The photograph below comes from the Taylor side of the family but so far no-one can identify the woman. She could be from the Irish branch of the Dicksons. Alternatively she could be Scottish in which case she might be a Taylor, Adam or even a Johnston.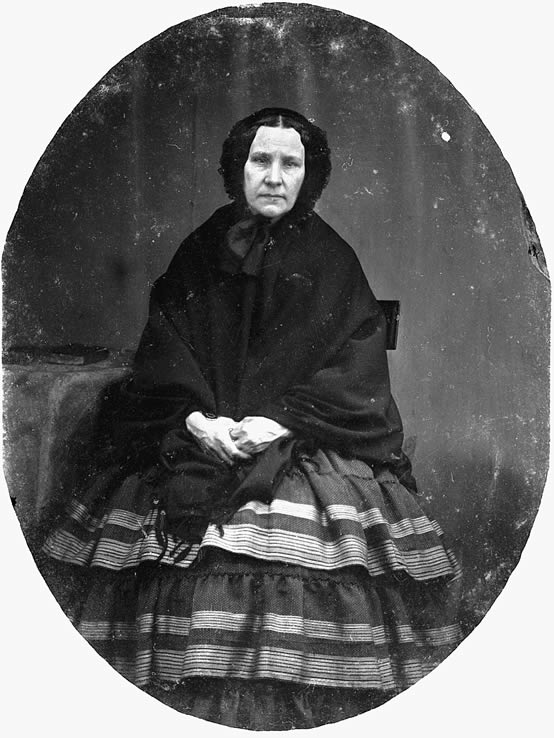 The setting for the image is a metal alloy frame approximately 5 cm. by 6.5 cm. Presumably the wet-collodion method was used to produce an ambrotype. There are two sheets of glass within the frame but there is no space for black felt backing to be inserted to display the picture more clearly. Fortunately there is no black varnish either (another alternative), since it has permitted a scanned enlargement to be made showing the excellent quality of the image. Perhaps a piece of black paper was inserted originally to show the picture up.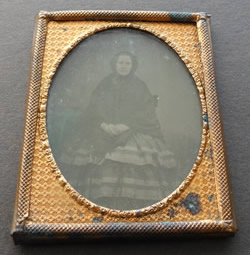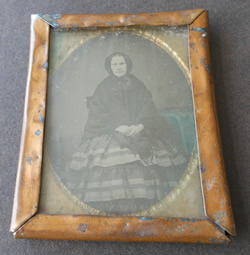 When Jessie Bailey, née Hilditch, saw the photograph she wrote some ideas down about the costume that may prove helpful.
One book in background probably Bible. Dress - as worn by Great Grandmothers - mourning widows. Light stripes relieving all black. Grandmother Taylor's more Irish round shaped face.
Books on costume suggest that the flounces in the skirt are indicative of a date in the 1850's, just after the ambrotype method was invented. The plain background and very simple props also seem to support an early date. On the third finger of the "right" hand (which could be the left if we are seeing a negative view) there is a white sparkle that might be a ring. But it could be one of the many blemishes that are sealed between the two layers of glass.
A possible candidate could be Mary Adam who married James Taylor in St Ninians in 1835 and who was widowed between 1841 and 1851. Or perhaps it is Isabella Johnston who married David Dickson in Leith in 1830 and was a widow by 1861. If the photograph does date from the 1850's then I have no names to suggest from the Irish side of the family.
Any ideas about the age of the photograph or the identity of the sitter would be most welcome.