My aunt, Ethel Emily Burgess née Wallis, was born in 1885 in Bermondsey. Her parents, Eliza and Thomas, lived at 35 Gedling Street, close to St Saviour's Dock and not far from Tower Bridge. Thomas was a compositor, setting up the type ready for printing. Without even checking the records, Ethel's exact birth date of 18 October may be inferred from Edwardian period birthday cards sent to her: one posted on 17 Oct 1908 includes in the message "Rather previous but can't be avoided", another dated 18 Oct 1909 wishes Ethel "many happy returns" and a third postmarked 19 Oct 1905 apologises for "… many happy returns of yesterday". Of course at this time, within any town or city, a card posted in the morning could be expected to be delivered later the same day.
In both the 1901 and 1911 censuses Ethel was described as working as a tie maker. By 1905 she and her friends were enjoying occasional holidays and trips to the seaside and sending each other postcards, or PC's as they would call them. Sometimes they would even return a postcard as a "thank you" for one that Ethel had sent from the coast, so we even know her holiday address. Fortunately Ethel managed to keep many of these cards despite having her house destroyed by a bomb in WWII. Mostly they are in quite good condition, although some of the pencilled messages have become faint.
The selection of postcards below reveal something of Edwardian life, not just in the illustrations but also sometimes through the messages on the reverse. I have copied the postmarks to date each card and included extracts from the backs of some, keeping the grammar and spelling as it was written.
London 14 Aug 1905 10 am.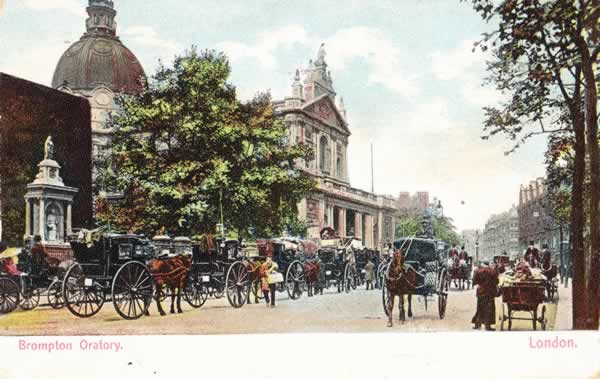 A fine collection of Hansom Cabs waiting outside Brompton Oratory; probably a good place to pick up a fare.
____________________
Worthing 22 April 1906 8.15 pm.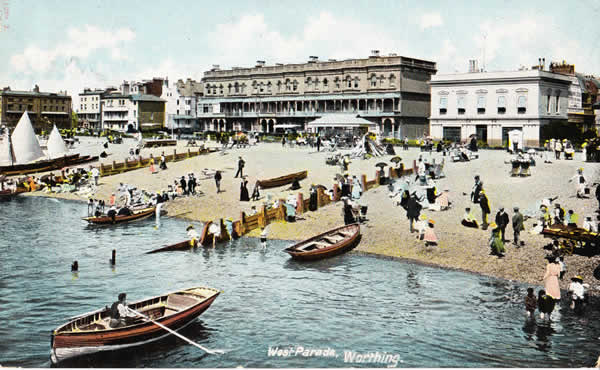 5 Warwick Place, Worthing
My Dearest Ethel
Please to say that I am enjoying myself. I have been paddling with the children, but would have liked you to have been here to put my veil on.
Your Loving Old Auntie xx
I don't know who "Old Auntie" was but she could easily have been born before 1850.
____________________
Littlehampton 13 Aug 1906 6.30 pm.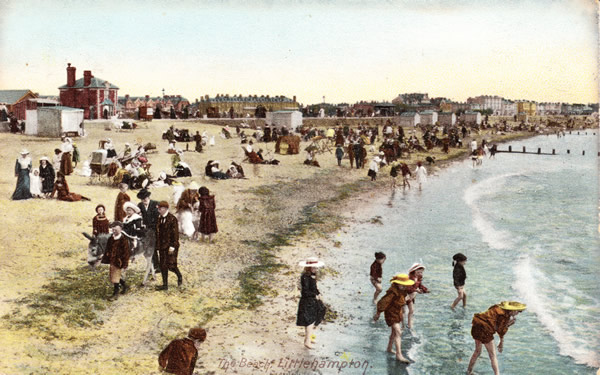 4 Central Gardens
Dear Ethel
I am enjoying my holiday. Quite sunburnt.
Edie
Would sunburn have been much of an issue? After all, very little skin was ever exposed. Was a suntan considered beneficial or attractive at this time? The boys leading the donkey look somewhat overdressed compared with the paddling children. Now, they might have finished their holiday with tanned legs.
____________________
Hastings 4 Sept 1906 11.30 am.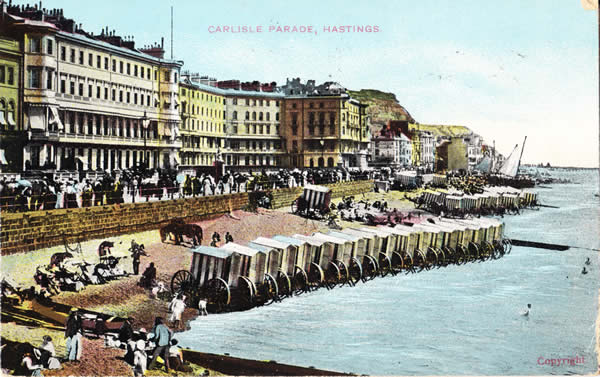 70 George Street, Hastings
Dear Ethel
We are enjoying ourselves immensely. I don't think I shall come home any more. We are at present waiting for the Band to begin. Excuse scrawl.
Love from Lily
Rows of bathing machines are lined up on the shore with a couple of horses on the beach waiting to tow them into the water. First used in the 18th century, bathing machines continued to provide privacy and decorum for bathers throughout the Victorian era, but after councils began to approve mixed bathing in the early 20th century their use declined.
____________________
London 4 Nov 1906 12.15 pm.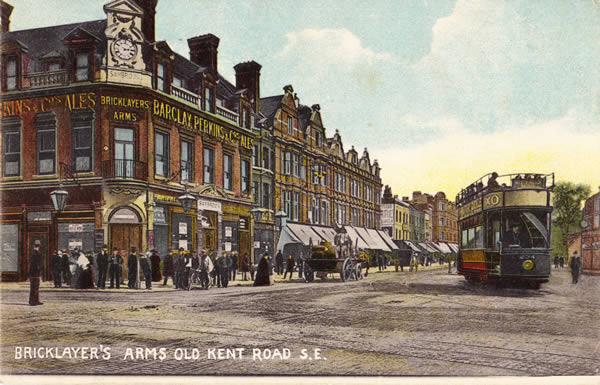 Wednesday
Dear Ethel
I am very sorry but I shall not be able to come this evening as I have a fresh cold – nice for me isn't it? Hope you have a good time.
With Love Daisy
So the card was postmarked at 12.15 pm and Daisy confidently expected it to be delivered in time to let Ethel know of the change of plans for that same evening.
The open-top electric tram (with a below-ground power supply) carries a familiar Oxo sign but there is very little other traffic for 2.50 pm, as shown on the clock: just a brewer's dray outside the Bricklayer's Arms and a cab in the distance. Clothing looks rather more formal than in the coastal resort pictures.
____________________
Folkestone 2 July 1907 1 pm.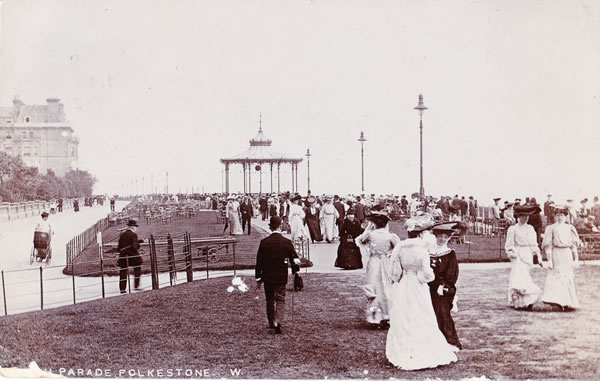 36 Foord Road, Folkestone
Dear Ethel
Splendid place for courting and spooning but I think the beach is awful. Wish you were down here it is rather dull always with Mum and Dad. Lovely weather but cold.
With love and kisses from Nellie
An uncoloured photograph that shows dress styles more clearly. Ladies hats are large and ornate; dresses are gracefully Edwardian. The gentlemen look more formal with their sticks and hats but some are wearing boaters.
____________________
Margate 20 Aug 1907 5 pm.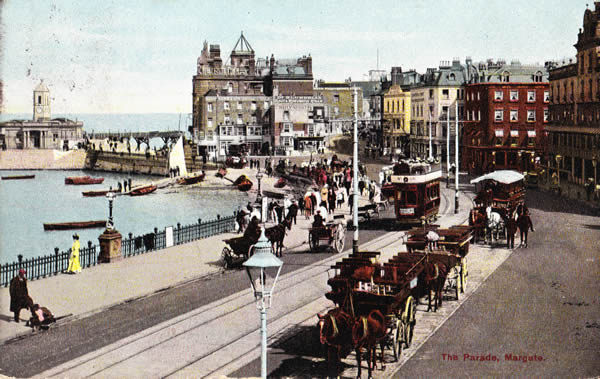 Dear Ethel
We are getting on fairly well at that stylish health resort Margate. The place is very lively with people and other things. The best part of it is we get tons of grub. Hope you are quite well.
Kind regards, Bert
This is probably not 22-year-old Ethel's future husband Albert; he would only have been 14 in 1907. There is a good selection of horse-drawn transport on show together with a No. 36 tram with overhead cable for power. It looks as if a bootblack is at work in the bottom left of the picture.
____________________
Margate 23 Aug 1907 6.30 pm.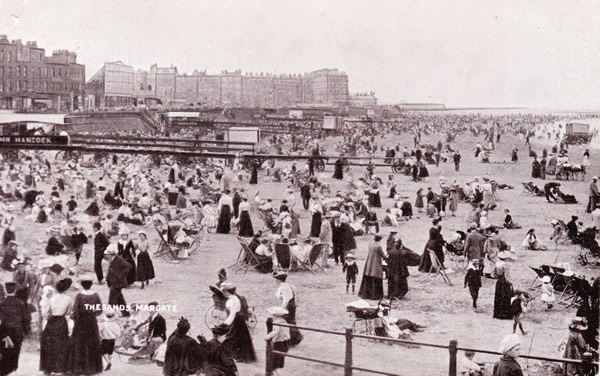 Beach holidays were popular judging by this view of Margate with the crowds stretching into the distance.
____________________
Leigh-on-Sea 25 Oct 1907 8.45 pm.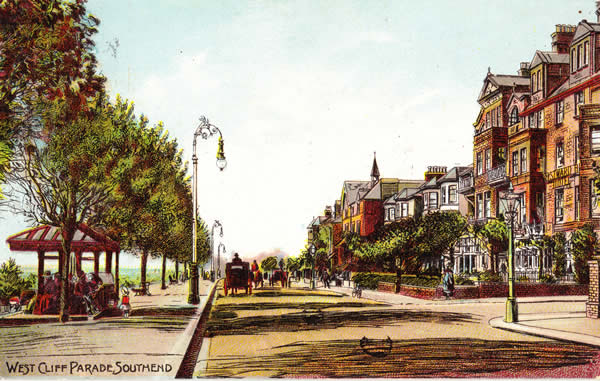 Dear Ethel
I was very pleased to hear from you. We are enjoying ourselves very much. We have just dined from cold roast lamb and mint sauce with a lovely pudding afterwards with custard, and a cup of tea, for which we pay one halfpenny for the missionary box….
This doesn't sound like the usual type of seaside accommodation. Possibly it was something arranged through a local church. In the drawing the left-hand street lamps look very ornate as does the hotel on the right.
The card was addressed to:
Miss Ethel Wallis
c/o Coates and May
Bayer Street
Golden Lane
City
Coates and May are listed in directories around this time as makers of belts and ties so presumably the postcard was sent to Ethel at work, perhaps by a workmate who didn't know her home address.
____________________
London 4 Feb 1908 12.45 pm.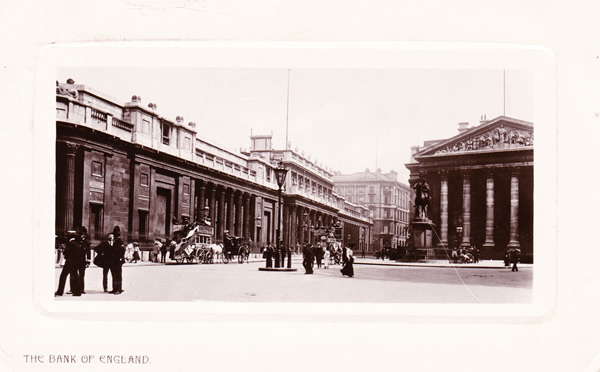 Very light traffic in the City of London: a couple of horse-drawn omnibuses and a Hanson cab. Were pedestrians often able to walk safely in the road as we see here? No doubt professional photographers would choose early morning on a Sunday to take a picture in a city centre. In which case three policemen seems rather a lot, even outside the Bank of England.
____________________
London 5 Aug 1909 3.15 pm.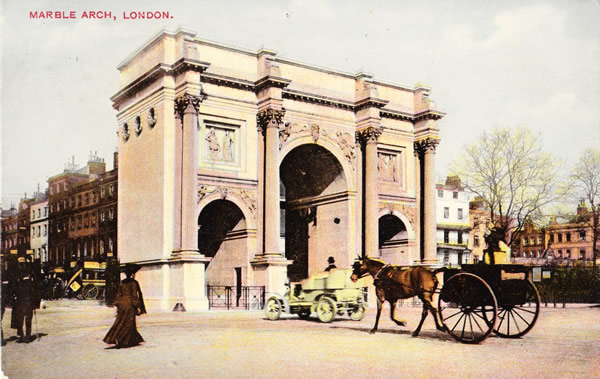 The first automobile to appear on one of these postcards and it is travelling so fast it is slightly blurred. Still, it doesn't seem to have discouraged the jay-walker. Can anyone identify the make of car?
____________________
London 15 Sept 1909 12.15 pm.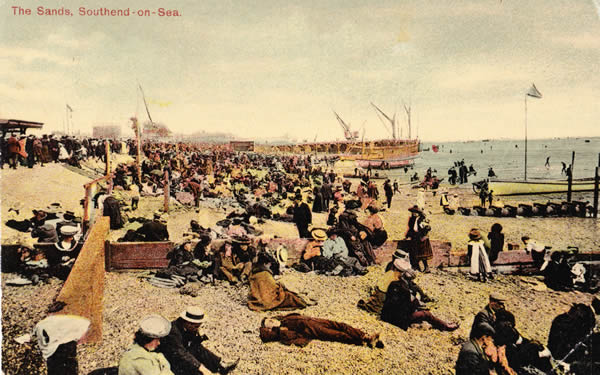 Dear Ethel
I did think of going to the Baths this evening but on second thoughts will not. Can you come round between 7.30 and 8 – have a bit of ironing to do but expect to be finished by then.
Love to all, Daisy
Another example highlighting the frequent collections and deliveries that allowed people to make arrangements at short notice. The Baths could imply a swimming session but could also mean a chance to soak in a proper bath at a time when many homes had no bathroom and the alternative was just a zinc bath on the kitchen floor.
____________________
The last few postcards are not strictly Edwardian according to the postmarks but the photographs could still have been taken before George V came to the throne. The style is certainly consistent with the earlier examples.
Yalding 27 July 1911 9 am.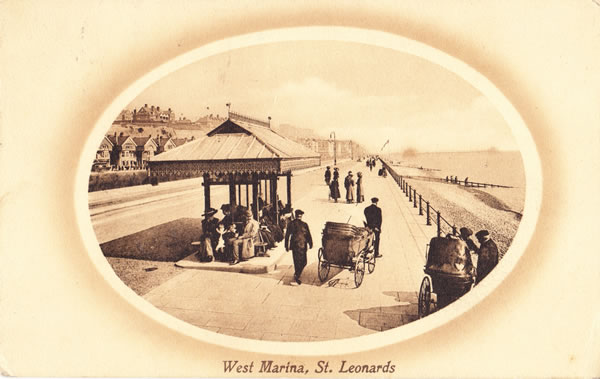 Dear Ethel
Thanks for PC. Glad you arrived home safe. We are not enjoying ourselves this week as we did last. The party are not at all nice so we are on our own. George and Bert has not got off because there are nearly all married couples here. We went to Hastings on Monday with G – B but such a hard road that I was fagged out. I came home by train and the boys came on their cycles. Well goodbye for now
Kind regards from Both, Elsie
The oversized perambulators are presumably carriages for invalids. They seem to need two men each to manhandle them when they leave the promenade.
____________________
Southend-on-Sea 2 Sept 1911 2.45 pm.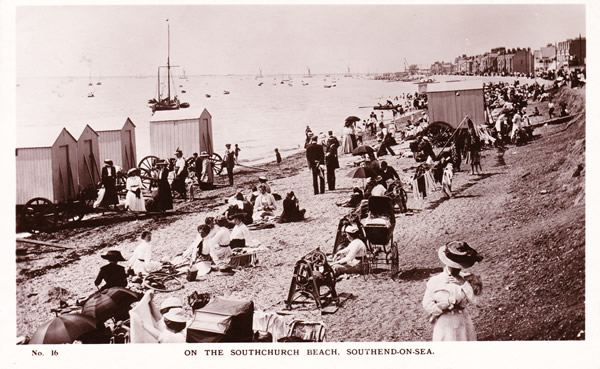 There appear to be towels hanging up to dry to the right in the picture. Were the bathing machines still in use? Several ladies on the left have removed their hats. Not something that could be seen in any of the earlier postcards. Were fashions changing or had they been for a dip?
____________________
Margate 23 Aug 1912 4.30 pm.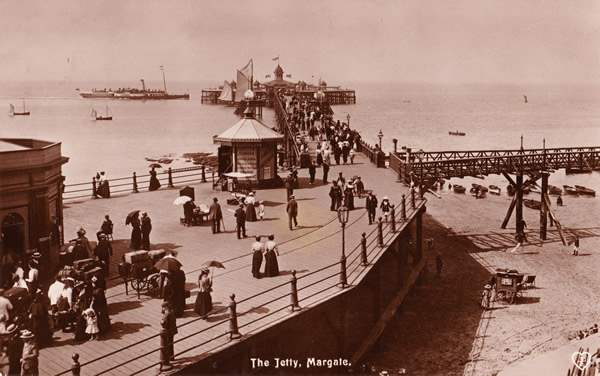 Dear Ethel
The weather here is very wet today.
Love and kisses from Jessie
So August days were not always sunny, even then. The Jetty at Margate was so named to distinguish it from the stone-built Margate Pier that formed the harbour wall. The paddle steamer shown approaching the jetty would have been a common sight for holiday makers who could take a day trip excursion between seaside resorts. Judging by the carts laden with luggage to the left they might even have gone for longer, or across to the continent. There appear to be rails running onto the jetty, but surely not for a train. Several sideshows and stalls are trying to attract business, including a camera obscura by the entrance to the jetty and a photographer down on the beach.
____________________