Among the photographs that Rose Burgess collected over many years were two of a young man she identified on the reverse as Alf Thomas. In one of these, which also has "1st March 1916 A. F. Thomas" written on the back in a different hand, he is in civilian dress with an armband and a badge on his lapel. In the other he is shown wearing army uniform with a medal ribbon and a black second button, indicating that a close relative had died.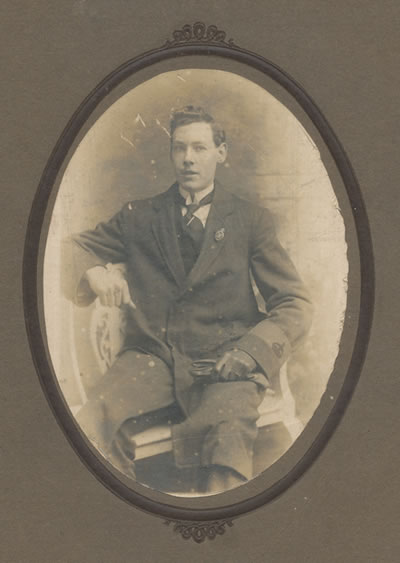 The armband (khaki-drab with a red crown) in this photograph shows that Alf was an army volunteer under the Derby Scheme. This scheme was introduced in October 1915 by the Earl of Derby to encourage men to volunteer for the forces. After a day's service they were placed on reserve and went home to wait to be called up.
Alf is also shown wearing the 1915 On War Service badge indicating that he was contributing to the war effort by working in Ordnance. Young men out of uniform would have been keen to demonstate that they were doing their bit for the country.
The armband was usually worn higher up the arm; perhaps it had slipped down or maybe the photographer thought it showed up better on the forearm.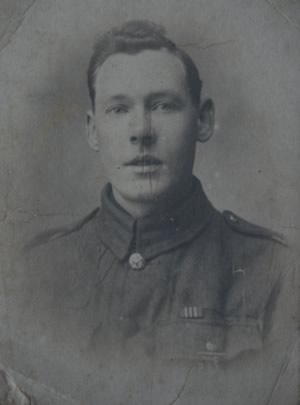 The second photograph must have been taken much later in the War because, not only is he pictured wearing army uniform, he has also been decorated. The ribbon above the pocket is for the Military Medal and a search for Alf in the London Gazette has revealed a likely entry.

London Gazette, 6 July 1917, Issue number: 30172
6836 Supplement to the London Gazette, 9 July, 1917
Military Medal
G/25234 Pte. A. F. Thomas, Mdx. B

Rose had also kept two documents referring to Alf: a WW1 postcard from France and an autograph book, given to her on her 13th birthday in 1918, containing a page dedicated to him. Using all four items it has been possible to identify Alf and piece together his story.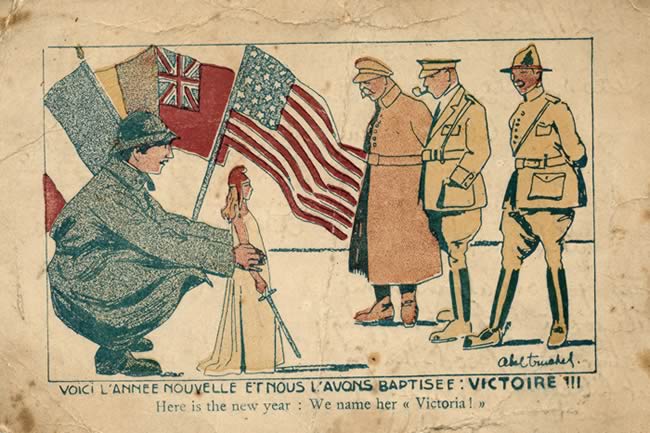 The postcard is marked "passed by censor" but still contains enough information to confirm his identity.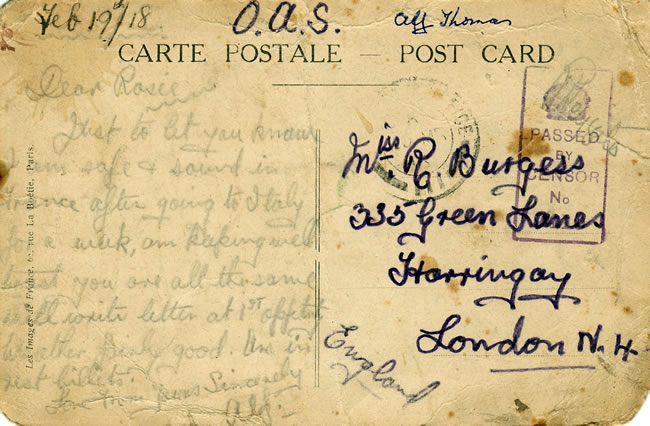 Feb 19th/18, OAS

Dear Rosie
Just to let you know I am safe and sound in France after going to Italy for a week, am keeping well, hope that you are all the same. Will write letter at 1st opportunity. Weather fairly good. Am in rest billets.
Love from Yours Sincerely, Alf
It looks as if the card was written in pencil and then some details overwritten in pen. The date appears to be 19th February 1918, which would fit quite well with the movements of the 23rd Bn. who moved to Italy in November 1917 and returned to France by March 1918. There is a document included with the Battalion War Diary entitled: "RECORD of the 23rd. (S) Battn. MIDDLESEX REGIMENT" which describes this period as follows:
On the 14th November, the Battalion moved from this area to join the British Forces proceeding to Italy, and after a journey of 8 days by rail, detrained at WISARQUES and marched to SELVA, immediately in rear of the Montelle, a distance of 112 miles which was accomplished in 7 days' marching. On the 1st January 1918, a Composite Company of this Battalion undertook the first raid by British Troops over the River Piave, making the crossing with over 200 men, and with the loss of one man wounded. On the 23rd March the Battalion was recalled to France... (NOTE: I wonder if this should read 23rd February in view of the next section)
... in anticipation of the coming German Offensive, and the 23rd Middlesex were in the line on the 22nd. On the 23rd, 24th and 25th., the Battalion was concerned in the retirement from this position to ACHIET-LE-PETIT, where it had the great misfortune to lose it's second Commanding Officer, Colonel Haig Brown.
The Commonwealth War Graves Commission has an entry for Alfred F Thomas of the 23rd Battalion, the Middlesex Regiment. He died on 25th March 1918 and is remembered on the Arras Memorial.
The War Diary of the 23rd Battalion, Middlesex Regiment for that day reads as follows:
MONUMENT 8 AM. Shelling of our line commenced. Enemy attacked shortly afterwards compelling the troops to withdraw across the ARRAS – BAPAUME ROAD to the line held by the Battn. The enemy continued to push forward in massed formation. It was not until the units on both left & right had retired that the Battn. commenced an orderly withdrawal by platoons. Casualties were heavy and the enemy reached the trenches in considerable numbers as Battn. H.Q. commenced to withdraw. During the day other lines were taken up (1) Along the railway embankment behind BIHUCOURT (2) At AICHET-LE-PETIT. The division was relieved during the night 25/26th. The battalion assembled (via BUCQUOY) at GOMMECOURT and took up a reserve line in old trenches there for the night.
Casualties on the 25th:
13 Killed, 61 Wounded, 30 Missing, 1 Missing believed killed, 7 Missing believed wounded.
Killed: 2nd Lt. W. D. Tull, 2nd Lt. T. J. Pitty.
Wounded: a/Capt. W. Hammond M.C., Lieut. R. A Green, 2nd Lt. G Barton.
Missing believed killed: Lt. Col. A. R. Haig-Brown D.S.O. Missing: a/Capt. B. T. Yoss M.C.
Evacuated sick: 2nd Lt. J. Jennings.
One of the two officers who was killed, 2nd Lt. W. D. Tull, had been one of English professional football's first black players and was also the first black officer to command white troops in the British Army.
Almost exactly a year later, a memorial page was completed in Rose's autograph book.

| | |
| --- | --- |
| Think of "me" when you are lonely | In Remembrance |
| Keep for me a little 'spot' | Of Alf |
| In the depth of your affection | A Lonely Spot it maybe |
| Plant a sweet for-get-me-not | But sweetest thoughts |
| | Will "ever" Linger |
| Daisy Aldous | Around "that" Spot |
| | Where thou art Laid |
| | |
| | Winnie Burgess |
| | 18:2:19 |
| | A Lonely Spot D A |
Winnie was Rose's sister and D A was probably Daisy Aldous, their cousin, who wrote several entries in the book, including the one on the facing page which appears to be part of the same memorial.
The inscription above the picture on the right-hand page reads: From Alf to Rosie Aug 14: 16 France O:A:S. It looks as if Alf was called up soon after the first photo was taken if he sent 11-year-old Rose a textile picture from France on 14th August 1916.
The surname Thomas does not appear anywhere in our family so Alf seems to have been a friend rather than a relative. From several sources his full name is given as Alfred Francis Thomas, his birthplace Harringay and place of enlistment Mill Hill, Middlesex. After he was killed his effects were returned to his father, Francis H Thomas. The record states "Alfred Francis Thomas 23 Middx., Pte 25234, 25 March 1918, death assumed" and tells us that £14: 8 shillings: 5 pence was authorised to be sent home. This included a War Gratuity of £11: 10 shillings.
In the 1911 census there was a Thomas family living at 28 Gladstone Avenue, Wood Green, London N. The head of the family was widower Francis Henry Thomas, a house painter, and the eldest of three sons was Alfred Francis Thomas, aged 16, a plumber's mate, born in Surrey. The address is just over a mile to the North of Rose's home at 335 Green Lanes, Harringay.