After Elizabeth and Thomas were married, three daughters were born at Grappenhall over the next nine years: Priscilla (Pip) Monica Hilditch born 1913, Gwendolen (Gwen) Mary Hilditch born 1917 and Jessie (Jess) Margaret Hilditch born 1921. Then in June 1923, Elizabeth and Thomas were mutually separated, according to Thomas when quoted in 1929. Elizabeth apparently returned to the London area. She left, with Pip, three copies of the photograph of herself shown at the top of the Lawrence Family page and all dated October 1923: one for each of the girls.
The photograph of Elizabeth shown below is inscribed on the back "Priscilla, Gwen, Baby, Mama October 23rd 1923" and above "Baby" is written "Jess", in brackets.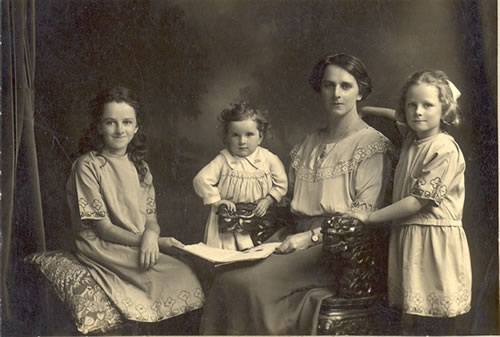 From the left: Pip, Jess, Elizabeth and Gwen
When Thomas Percy was appointed Professor of Industrial Chemistry at Liverpool University in September 1926, he and the girls moved to 32 Beresford Road, Oxton, Birkenhead. Meanwhile Elizabeth was awaiting the birth of Constance (Connie) Marion Andrews at 3 Leigham Court Road, Streatham in November. Connie's birth certificate named her father as William John Andrews, butcher's manager, of 24 St Johns Road, Highgate and her mother as Elizabeth Monica Andrews, formerly Lawrence.
In March 1929 Elizabeth entered the maternity ward of Guys Hospital, Southwark. She gave birth to twins: a boy and a girl. The boy was not named and died after five days. His mother died three days later, aged 36, of heart failure following lobar pneumonia, empyemia and pregnancy. Elizabeth's daughter, also named Elizabeth, lived and left hospital to become the responsibility of Southwark Union. The address for all three was 65 Aylesbury Street, Bletchley, Bucks. where Elizabeth was a domestic housekeeper. On her death certificate (informant Thomas Percy Hilditch) her name was given as Elizabeth Monica Hilditch otherwise Elizabeth Andrews. She was buried in an unmarked grave at Nunhead Cemetery; Thomas Percy later stated that he paid for the funeral.
In June 1929 a representative from Southwark Union visited Thomas Percy in Birkenhead, trying to clarify the facts that would decide the future of the surviving twin. He was told that after the separation Elizabeth resided at various addresses in lodgings, at no place for more than 8 months. Since 1926 she had only supplied accommodation addresses for letters. Further investigations elsewhere revealed that Mrs Hilditch had stayed at 3 Leigham Court Road for three weeks when Connie was born there, and that she had returned in 1929 while waiting to go into Guys. Connie had stayed until three weeks after her mother's death when her father, William Andrews, collected her. After an exchange of letters and attempts to find Mr Andrews, Birkenhead Union agreed to accept baby Elizabeth.
In July 1929 Thomas Percy married Eva Parsons (née Richardson), a war widow who, for several years, had been working for him as housekeeper and looking after the three girls. Pip, then aged 15, was one of the witnesses at the wedding; the other was James Richardson.
Elizabeth Hilditch was removed from Southwark to Birkenhead in September 1929 where, just over a year later, aged 18 months, she died of broncho pneumonia and infective enteritis at 56 Church Road, Tranmere (The address of Birkenhead Workhouse). Her death certificate states: "of 3 Linden Terrace, Spencer Road, Hornsey, daughter of Elizabeth Monica Hilditch, formerly Lawrence." The address is that of Emily Collins, née Chalkley, daughter of George and Margaret Chalkley.
William Andrews took Connie to the John Groom Orphanage telling them that he could not cope. Connie was accepted into the orphanage and in the documentation Emily Collins was named as an "interested adult". Connie had in her possession a photograph identical to the ones left with Elizabeth's other three surviving daughters. Many years later this led to the two parts of Elizabeth's life being linked when two sets of descendants met for the first time.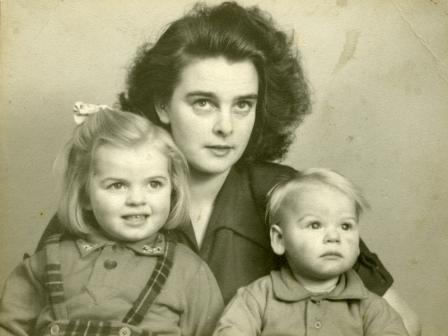 Connie with her two eldest children