William Statham was born in Audley in 1795. He was a miner at the Boyles Hall colliery close to Boon Hill, to the east of Audley, where he lived with his wife and family. He was apparently quite a character, to say the least. His behaviour is described in an article published on the web site of the Audley and District Family History Society. Here is a short extract, but the whole story deserves to be read in full.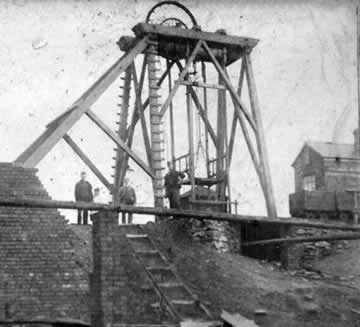 At Boyles Hall colliery the banksman who controlled the movement of cages was a man whose general behaviour over the years had earned him a terrible reputation. He was given to heavy drinking and other intemperate habits, and was noted as a bully to his family, neighbours and workmates. He particularly disliked the growing band of Methodists, many of whom worked in his pit, and who were sponsoring the growing Temperance movement. A particularly bad habit of his was to hold out a half brick over the shaft when he recognised a chapel-goer ascending at the end of a long shift. "Sing, or I'll drop it", he would taunt them, and the person beneath, knowing his reckless character, would wisely strike up a Wesley hymn. This oft-repeated prank earned him the nickname of "Drop it".

The Boyles Hall shaft
There is much more in the article by David Dyble. Click on the link below and use the menu to go to "Publications" and then scroll down to Volume 2 of the Audley Historian (Society Journal). Select the article "Sir Thomas Comes of Age".
The first part of the article is indeed about Sir Thomas Boughey and his twenty-first birthday celebrations. This sets the scene for William Statham's behaviour on the occasion of Sir Thomas's birth, when similar entertainments were provided for the villagers.