Jessie Hilditch (1921 - 2013) was the third daughter of Thomas Percy Hilditch and Elizabeth Lawrence. When she died she left a file of genealogical research that she had commissioned from a professional genealogist in the days before records appeared on websites.The resulting periodic reports record the agonisingly slow progress that was made as Jessie remembered additional clues enabling the researcher to add another branch to the family tree. Jessie, or Jess as she was more commonly known in the family, also left a handwritten memoir covering her various occupations after leaving school until she retired in 1983. This is transcribed below, together with a few appropriate photographs from her collection.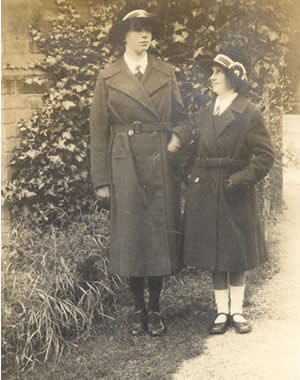 Jess had not had a happy childhood. In 1923, her mother left home before Jess was 2 years old: a "mutual separation", according to a later official source. By the time she left school her two older sisters had moved out and, although Jess got on well with Eva, her step-mother, it was Professor Hilditch who ruled the household.
The photograph shows Jess and her older sister Gwen in their school uniform in the Christmas Term of 1932. Possibly the first day of the new school year at Birkenhead High School, Girls Public Day School Trust. If so it was Jess's first day at secondary school.
Jess entitled her memoir:
"Potted summary of my life after school at Birkenhead High School G.P.D.S.T."

"I wanted to do Domestic Science Training – not allowed to by Father. Situation at home not tenable."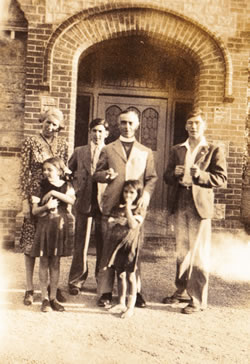 "The Rector and his wife at Woodchurch, which I attended regularly then, needed help. It was a very busy and active Parish. They had two very young daughters plus three older sons who were at Repton College. They asked me to move in with them at the large Rectory (by Arrowe Park). I needed to give Pip and Jim some space and enjoyed helping out, living with the family until the Rector was asked to accept the Bishopric of Adelaide."
"Again, they wanted me to go with them, but in Wartime, it was not possible to leave this Country unless you were family. It was strict, and I was not sure that it would suit my future. They offered to send me to College in Chester before they went but the problem was solved, by my Call-Up, and I joined the A.T.S. Basic Training was at Wrexham. I opted for the Catering Corps, was attached to the Sherwood Foresters."
The Rector and his family outside the Rectory

It appears that Jess was staying with her newly married sister Pip and her husband Jim before she joined the Rector, Bryan Percival Robin, and his wife. He became Bishop of Adelaide in 1941, when Jess was 20, and in December of that year Parliament passed the National Services Act which introduced conscription for single women between the ages of 20 and 30. Jess joined the Auxiliary Territorial Service - the ATS. Even the Professor couldn't argue with that.
"Selected to go to Loughborough Training College, then posted to Patrington (outside Hull). The Royal Artillery (R.A.'s) had a large Anti-Aircraft Battery on Spurn Head. We operated the searchlights to pinpoint enemy planes for them, in teams of eight at night, running the Camp in daytime. It was very busy, we were in a very strategic area. Hull was an important target, as were the Barracks."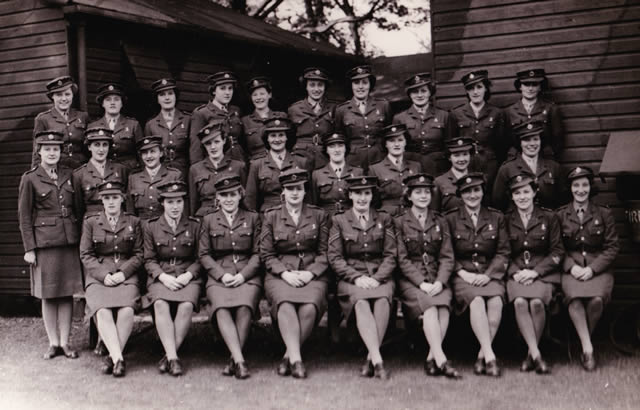 A group photo of members of the ATS taken in the Hull area
The corporal in the middle of the front row looks as if she could be Jess
"The enemy reverted more to Land Mines and doodle Bugs after losing too many of their Aircraft. We moved, and I went to Brigade Headquarters – "Location unidentified" – out in the country, about 4 miles from Hull. Some of it was underground. We could tell that D-Day was imminent, and knew the night before by counting out the continuous sound of Planes (ours) going S.E. After that the use of unmanned enemy bombs increased and R.E.M.E. became overstretched trying to deal with the fallout."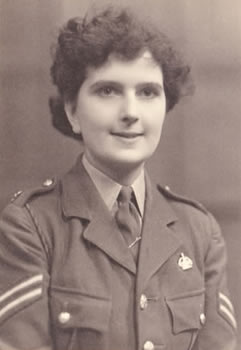 "I was posted to their Headquarters at New Holland across the River, where they were working 24hr days so there were obviously many Night Call outs, and near misses. Eventually, with our troops progressing in Europe, and the Far East needing re-enforcements, preparations were made to establish Holding Camps for returning Units from Europe to rest and be re-posted to the Far East. I went to Borrowash a Permanent Camp near Tuxford, where the first soldiers back from the Holland and Germany campaign area were the Royal Engineers. The first person I really noticed was Jimmy. His Division was re-routed, on the Troop Carrier bound for Japanese War, to Greece, to deal with the E.O.K.A."
Jess with corporal stripes. The photographer's address is given as Retford suggesting this might have been taken after the move "across the river".

"Jimmy" was James Frederick Bailey, who was born in North Wales. As a youngster Jimmy had spent some time in Canada but he returned to work as a plasterer in St Asaph and, when war broke out, he joined the Royal Engineers as a sapper. I'm not so sure that E.O.K.A. was the reason for his diversion to Greece; they were responsible for the struggle to end British rule in Cyprus in the 1950's. It was civil war for the control of the country that would have necessitated his Division's re-routing to Greece. At the end of the war, according to Jess, he was with the first troops who entered Belsen concentration camp and had nightmares for many years after.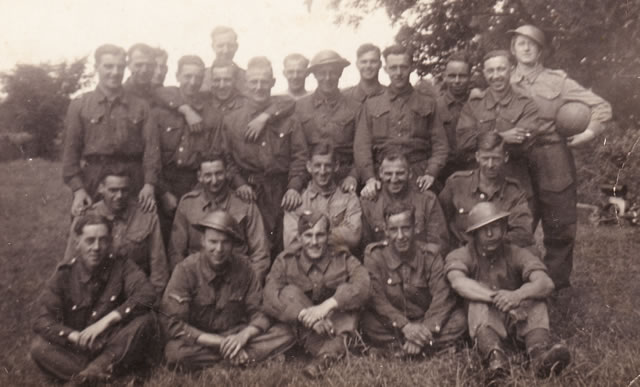 Jimmy Bailey is standing on the right at the back with a football under his arm
"I remained there, eventually with a skeleton staff, until all the returning troops had been processed. If I had not met Jimmy I would have signed up for a permanent career in the Army. As it was I was de-mobbed in March 1946 and Jimmy returned to be de-mobbed in April 1946. We married in St Mary's, West Derby, on 8th June 1946."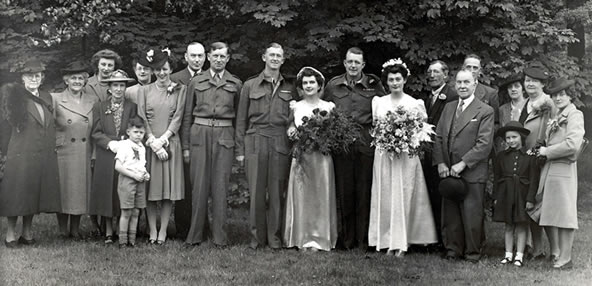 Jess and Jimmy's wedding photograph. Jess's stepmother attended, but not her father.
"We lived with my mother-in-law until we obtained our home in Bryn Elwy, St Asaph the following year. I had a miscarriage at 5mths in late 1947 and Dr Austin Holmes, who turned St Asaph Hospital (later H.M. Stanley) from Workhouse into General Hospital, single handedly, persuaded me to take a job there. He was anxious to improve hygiene in the Theatre, X-Ray and Surgical Areas, as it then was (Pre Health Service) although nothing went wrong in his time and he also ran a busy G.P. Practice with one (later two) fellow Doctors. He then commandeered (a never used) Isolation Hospital in the adjacent grounds and had it turned into a separate Maternity Unit with Premature Baby Unit and, eventually, Gynae Ward. He persuaded two professional Midwives to come here from Liverpool to oversee the setting up of the area. At that time most Nurses were Enrolled Nurses who had gained their status by Experience, as opposed to written qualifications. Naturally, Dr Holmes was sidelined when the Health Service came in 1948, although he had handed over the G.P. Practice to Dr Robinson to accommodate the new order of things. He was really Mr Holmes, because he was a F.R.C.S. A fine Doctor."
It was not unusual for workhouses to become hospitals; indeed the hospital wing of a workhouse was often visited by non-residents needing medical attention, for example, as early as 1892, Jess's grandmother was admitted to Islington Workhouse just for the birth of her daughter and left again less than three weeks later. In 1930 the workhouse system ceased when Local Authorities took over responsibility for the needy from the Boards of Guardians. At St Asaph the building became a Public Assistance Institution. According to A History of H. M. Stanley Hospital, published in 2012: "Mr. A. H. Holmes, a local GP, who took up Infirmary duties in 1937, extended the midwifery service and introduced gynaecological work into the hospital, and is generally regarded as the founder of the Obstetrical and Gynaecological department at H. M. Stanley."
The hospital had been renamed H. M. Stanley in 1959 to acknowledge its link to the reporter and explorer who famously searched for and found Dr. David Livingstone; although in 1847, when Stanley was a six-year-old, reluctant resident in St Asaph Workhouse, he was known as John Rowlands.
"I was still mainly in the Theatre X-Ray Area, looking after things for the various Consultants, Registrars, Anaesthetists, etc. but it was becoming rather unnecessary – there were so many people in post, trained Sisters, Nurses, teams of people, meetings, etc. but I was lucky. The Chief Administrator (in those days called The Hospital Secretary) who was ultimately appointed, was an ex-Army man, prepared to do battle to get people he wanted to fill the new posts being created. There was stiff competition. Fortunately he knew that I had administrative capability and could work at relations with other Disciplines. In those days there was a very "Them and Us" line in Hospitals. I just took people as I found them. The Consultants mostly did likewise – it was not so easy in "between". I got the Domestic Services Manager job (now called "Hotel Services"). It took about 2 years before Ancillary Staff were finally valued in their own right as part of a team necessary to giving total Patient Service. The Salmon Report [1967], which led to the separation of duties from Nursing Staff to Auxiliary Staff, had also provided for Nursing Officers in charge of defined sections of Nursing. Again, they were usually very cooperative. I loved my job. I was allowed to appoint two Supervisors to assist me, and I employed my own staff, ordered Supplies, managed my own Budget."
"One of the first things I did was to have an Organisation and Method Study – which produced quite drastic changes and facilitated a Bonus Scheme. This was a blessing for – at that time – very low paid Domestic Staff, and made a more concentrated work-load acceptable. It also required stringent monitoring – weekly Bonus Sheets for every individual had to be completed to prove earnings and keep within Budget. Extra workloads by additions added to Wards and Departments and other areas produced extra staff hours. But I had wonderful staff, the Evening Team as well as the Day Team. A part-time worker would usually add an extra hour to their contract or if there was a larger amount of extra time available, we might use it for an extra evening worker by transferring work from days, if feasible. Everyone worked together. They were happy and kept informed as to the "whys" and "wherefores". Training was ongoing, but new staff had to accept the routine outlined by Supervisors. My "Boss" left me to it, but I kept him informed. As he kept adding to my responsibilities, with Linen, Sewing Room, Pest Control, Fire prevention, and any Personnel problem or situation he had no time to deal with, I presume he was satisfied. I think we had a relationship of mutual respect."
"When Glan Clwyd was built[1980],subtle changes were taking place. Money was becoming more important than Vocation and Service. Restrictions on who we employed became law. Patients were no longer, apparently, top priority. The Medical Staff of St Asaph were always very caring people and I doubt that they enjoyed the changes taking place. There were many good and interesting people there, including the families of some Doctors whose rented properties in St Asaph we looked after when there was a change of occupancy. Most of all I cared for my staff. When we were forced to take people sent for selection by the Job Centre, it was not so happy because not everyone fits in everywhere. I loved my job."
"I could have stayed in post or moved to Glan Clwyd until I reached 65yrs and certainly after Jimmy Died, would certainly have done so but I went when I was 62yrs old [1983]. It was no longer a Service as we knew it. My Boss had gone twelve months before and at least two of the Nursing Officers were going – all people with whom I had established a really good working relationship. The Radiographers, Physiotherapists, Records Dept., Building and Engineering Depts., Hearing Aid, C.S.S.D., Path. Lab, Dispensary, as well as Ophthalmic Outpatients Staff had all pulled together with us. It was fragmenting. Time to go."
"I was sorry to leave many people, but not the system emerging. I doubt if many people remember that it all came about at St Asaph because one, Doctor Holmes, had created a Hospital from a Workhouse. Incidentally he made sure that the previous occupants were well cared for elsewhere. I had a job of extraordinary variety, not at that time did it pay a huge salary, but the returns in satisfaction more than compensated for all the long unpaid hours. Jimmy, of course, always enjoyed it if I was happy, and worked with me, in the background, at home, in spite of my long, varied hours. We certainly had no shortage of interesting topics of conversation!"
The photograph shows Jimmy plastering the wall of Bryn-Elwy, the bungalow he built at Rhuddlan, with help from his friends and his employer, for himself and Jess to live in after retirement. I'm certain the scaffolding arrangements wouldn't pass a Health and Safety risk assessment nowadays. The bungalow was named after the road in St Asaph where they had lived for so many years.
Jess and Jimmy moved into their bungalow around 1980 but unfortunately were not able to enjoy it together for very long as Jimmy died in March 1981 after a massive stroke.
Jess learned to drive in her sixties and then added the Advanced Driving Test for good measure. She moved to Bodelwyddan where she was an active member of the church, and enjoyed helping the Old Folk - as she described them when well into her eighties. Jess died in 2013, aged 91.