James was born in 1839 in the parish of St Giles, Middlesex. This area is now better known as Charing Cross Road and New Oxford Street, and it lies just to the south of the British Museum. In the 1840s, part of the parish had a dubious reputation as a slum area. It contained an island of cellars and tenements grouped round courts and alleys known as the Rookeries. The area had a large Irish population and many of the entries for Hely in census records mention Irish links. Another name for the Rookeries was Little Dublin.
In the map below, the Rookeries lie within the loop of road just below the main road across the centre of the map. As Thomas Beames describes it in The Rookeries of London, "... crowded with loiterers ... women with short pipes in their mouths and bloated faces ..." and "... squalid children, haggard men with long uncombed hair, in rags ... wolfish looking dogs".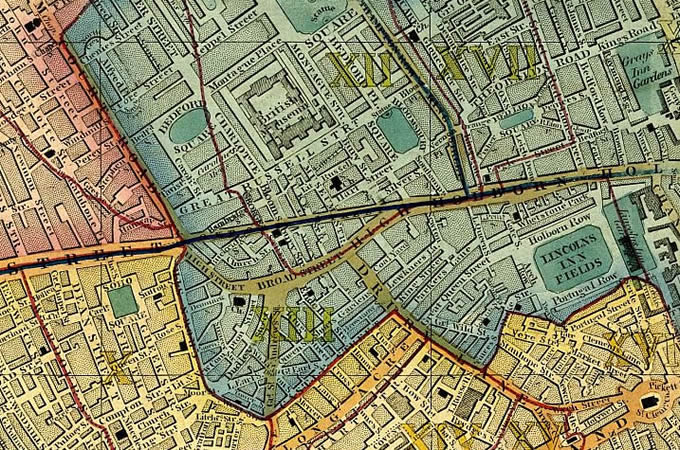 James's mother, Elizabeth Pocknell, was born in Camberwell across the Thames in Surrey. His father, also named James, was a coach builder. Having a skilled job probably allowed them to avoid the worst examples of housing in the area.
On 24 February 1861 James, then a cook, married Tamson Deane at St Andrew's Parish Church, Holborn, London. Tamson was born in Shoreditch in about 1836, but her mother came from Bath, Somerset. The census of 1861 recorded the couple living at 18 Bakers Buildings, Bishopsgate just to the north of London Bridge. James was stated to have been "formerly barman".
Ten years later they had six children and their circumstances had changed considerably. James and Tamson were living with their 8-year-old son James at 20 Lime Street in the City of London, a quarter mile north of London Bridge. Also listed in the census of that year were two servants, Eliza Coley and Mary Grimley, at the same address. James was by then a manager. Meanwhile, four other children, Susannah (5), Walter Ben (4), Ellen (2), and Elizabeth Lucy (1) were living at 81 Tooley Street, just south of London Bridge. Their grandmother, Elizabeth Hely, appears to have been looking after them, perhaps helped by Susannah Deane. She was listed as a visitor from Bath and was probably Tamson's mother. There is no mention of John Deane, Tamson's father, who was a cabinet maker at the time of Tamson's wedding.
Since the census is a one-night snapshot, there is no way of knowing if the children usually lived with their grandmother or if they were staying overnight for some reason. The eldest child, Emily aged 9, was not at either address.
At some point James started his own business as a confectioner and by 1881 two other members of the family were involved as well. Emily and young James were working as assistant confectioners. Susannah was a fur dresser, Walter an errand boy and Ellen a pupil teacher at the age of 13. Elizabeth was still at school. Two more daughters had been born, Alice (6) and Ada (5). Also living there was Susannah Deane, then aged 71, and listed as a widow, formerly a laundress and mother of the head of the household. Perhaps this was intended to be mother-in-law in modern usage. Their address for the census in 1881 was 46 Snowsfields, in Bermondsey, and from the Post Office Trades Directory of 1882 we know that they were running the business from home. The name Snowsfields is said to be due to the tanning work carried out there. Tanned hides bleached in urine hung in rows that stretched like fields of snow, according to the mini-museum at the nearby Guy's Hospital.
When Elizabeth was 20 she left home to marry Henry James Burgess, from Wareham in Dorset, on 5 October 1890. They moved into one room at 2 Ashford Road, Shoreditch.
James Joseph continued to run the family business with son James as his assistant. Their home in 1891 was at 14 Neckinger, Bermondsey. It must have been a crowded household with five children and a grand-daughter in residence.
Ellen, now appearing as Helen in the 1891 census, worked as a card mounter. Alice was packing biscuits and Ada was in domestic service. Emily had married Charles Edward Flower and, for at least the night of the census, she and daughter Florence Daisy were staying at 14 Neckinger. Emily was listed as a domestic servant so perhaps grandmother Tamson was looking after the 9-month-old Florence. There are possible extra family links to investigate here.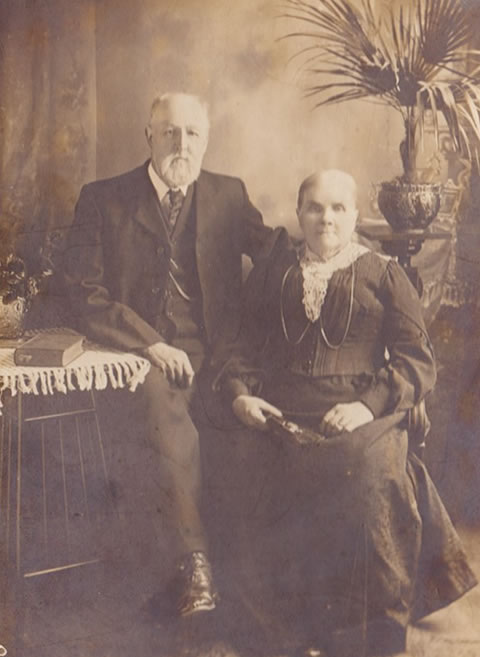 James Joseph Hely and his wife Tamson.
Could this photograph have been taken to mark their wedding anniversary?
In which case would it be Ruby in 1901 or Golden in 1911?
As time went on James Joseph must have handed over the running of the business to his son. In 1901 he and Tamson were living on their own in Camberwell, but he was still working, as a "traveller with confections". However by 1911, when they celebrated their Golden Wedding, both were retired on old age pensions and living at 24 Clayton Road, Peckham. In the P.O. Directory for 1923 the company name was changed to Hely & Son, Manufacturing Confectioners and based at 231 Walworth Road, S.E.17. It was still listed in the 'phone book in 1946 with the address given as Hatcham Road, S.E.15, telephone: NEW X 0352. Whether these premises were still viable is not known, bearing in mind the following, taken from the Pilotless Aircraft Reports 1/2 to 3 July 1944 (National Archives, Kew).
"A flying bomb detonated in premises occupied by Mssrs Hely & Son, confectionery manufacturers, at the junction of Hatcham Street & Record Street, Camberwell, 2 July 1944 at 11.14am. Complete demolition (known as "A" damage) of single storey shed type building (Hely & Son?), "B" damage (i.e. requiring demolition) to warehouse type properties & "C" (serious, but not structural) damage to 11 'old' terraced cottages. 'Fire started involving oil, sugar and motor tyres'."

(This was one of three incidents that occurred in Camberwell within the space of half an hour that day, so the casualty figures filed in the report - 12 killed, 32 seriously injured & 40 slightly injured - are for all three).
Would the demolished buildings have been rebuilt by 1946 or was the telephone directory out of date? The incident took place on a Sunday so hopefully the business was closed. No one called Hely appears in the death registers for Camberwell in July 1944.