Instead of describing what I have discovered about the family from official records, I will let Jo's father Jim Taylor take up the story. Many years ago he wrote out a family tree for Pat Amies, his niece, and included some additional information where he could. It paints an interesting picture of the family's place in the village.
"Great Grandfather" refers to John Dickson and "David (2)" was his second son of that name, born in 1884
Your Great Grandfather was a carpenter but may also have been mainly a coffin maker and funeral director because his son James was also a carpenter and funeral director and antique dealer - he also had a large racing pigeon loft. He walked with a limp as he was kicked by a horse when a lad.

Uncle Hugh owned a large hardware store in the village square selling literally anything from a nail to a horse trough or cattle feed to shot guns. He was mayor and a Grand Master of the Orange Lodge. Ginger now runs it or did recently.

John Smythe (Uncle John) worked for Uncle James but also kept cows and bees and ran a milk round.

Uncle Bill worked in the Council Offices - my grandmother lived with them - she was a great spritely lady. Lily Smythe was a hydrocephalic cripple in a wheelchair and was very intelligent and cheerful.

As you see I had 16 cousins there (in Downpatrick), some are still alive and of course had families of their own. David (2) was a dentist in New York and died from drinking prohibition whisky which wasn't what it should have been. I had a cousin Tom Jennings who lived in Liverpool. He was a baker and confectioner and made your mother's wedding cake. Vera is still living - a spinster who is the Guide Commissioner for County Down.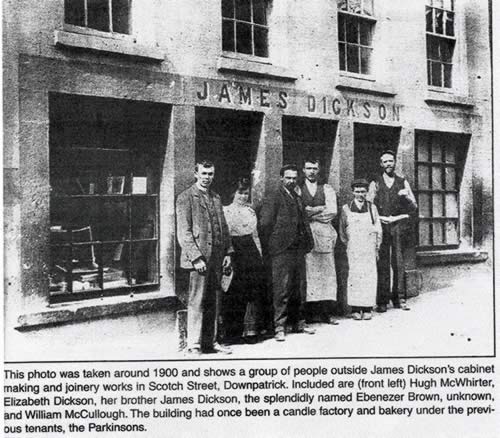 James Dickson's carpentry business in Scotch Street.
Judging by the caption beneath the picture it seems to have come from a newspaper or magazine but I don't know which one. Presumably the photograph was not taken especially for the publication, otherwise they would not have needed to refer to the year 1900 in the way that they did.

Elsewhere on the family tree that Jim prepared, he gives further snippets of information.
Kathleen Dickson's husband, Adam Shearer, was a Merchant Navy officer and later a Clyde pilot, which explains why they lived in Cardonald, Glasgow. Mabel Dickson and her cousin, Bunt Dickson both married parsons and Bunt's sister, Ann, had a son who quite by chance met Jim's son Dave Taylor in Central Africa.
Jim's brother Dave recalls that on visits to Ireland his cousin George Dickson "Maggery" would take him out when he went shooting for duck or snipe down on the Quoile River and wood pigeons up at the golf course where he was a member. He won the Amateur Championship of Ulster in the 1930's. Another cousin, Vera Smythe, had joined the Guides as a girl and finally rose to be appointed Chief Guide, honouring a lifetime of service to the community and young people.
John Dickson died on 20 Oct 1898. In the 1901 census his wife Mary is shown as the head of the household at 29 Church Street, Downpatrick.
| | | | | | | | | |
| --- | --- | --- | --- | --- | --- | --- | --- | --- |
| Mary | Dickson | Head of Family | Unitarian | R & W | 55 | F | Publican | Widow |
| James | Dickson | Son | Unitarian | R & W | 33 | M | Cabinet maker | Not Married |
| William | Dickson | Son | Unitarian | R & W | 28 | M | Clerk in Co. Council Office | Not Married |
| Lizzie | Dickson | Daughter | Unitarian | R & W | 25 | F | … | Not Married |
| Mary | Dickson | Daughter | Unitarian | R & W | 20 | F | … | Not Married |
| David | Dickson | Son | Unitarian | R & W | 16 | M | Ironmonger Apprentice | Not Married |
"R & W" indicates that all could read and write and "Unitarian" records the family religion. Interestingly neither of these are included in the English census for 1901. Most of the information agrees closely with Jim's account although he doesn't mention that Mary had been a publican.
Downpatrick is about 20 miles to the south of Belfast and 5 miles north of Dundrum Bay. It lies within the Parish of Down, which is part of the Barony of Lecale. It has Bronze Age origins and was developed into a walled town by the Normans. The Cathedral Hill in Downpatrick is traditionally considered to be the burial place of St Patrick.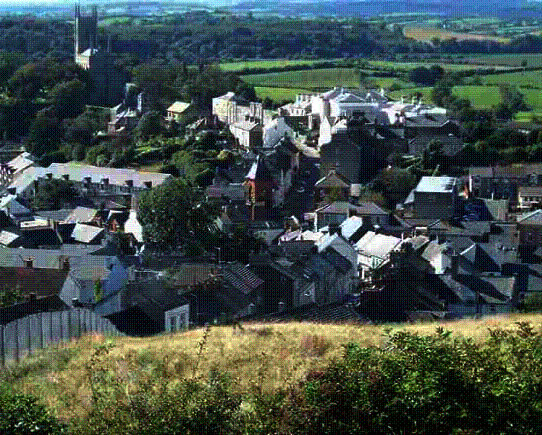 In the photograph, Church St. begins at the town centre by the red tower and heads off northwards, to the right. The cathedral may be seen at the top of the picture.