David Dickson left Ireland for America in 1906. He sailed from Liverpool, travelling Third Class on the SS Majestic, on 2nd May, and arrived in New York on 10th May. He was described on the bottom line of the List or Manifest of Alien Passengers shown below as an ironmonger from Downpatrick, of good health, both mental and physical. The passenger list compiled when he left Liverpool stated that he was a labourer however.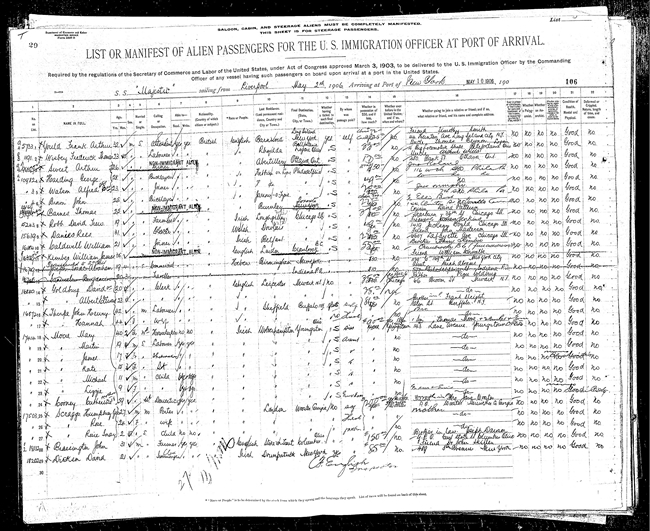 The rest of the information about David Dickson tells us that he was a 21 year old single male, Irish, able to read and write, and that his passage to his final destination of New York had been paid for by his father. He had $85.00 with him. He was going to join a friend, Dr John Skillen who lived at 489, 8th Avenue, New York. He had never been in prison, almshouse, institute for the care and treatment of the insane, or supported by charity. He was not a polygamist or an anarchist. He was not deformed or crippled. He had not been offered a job in the USA. He had never been in the United States before.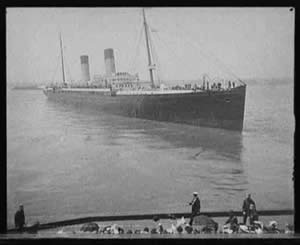 The RMS Majestic was launched in 1889 and once held the Blue Riband for the west-bound Atlantic crossing. She was owned by the White Star Line and for a while was commanded by Captain Edward John Smith who was later to take the Titanic on her maiden voyage.
According to a list of family events compiled by David's sister, Mary, he was married in New York to Chrissie Ross on 13 October 1907. The ceremony was conducted by Rev. Dr. Stone. An on-line transcript of the marriage record fills in some more details. It confirms that David's parents were John Dickson and Mary Jennings. The bride's parents were named as George Ross and Annie Mcclarly, but the latter name could be Mclardy or Mclarty according to other sources. The marriage took place in Manhattan.

By the time of the US census in 1910 David and Chrissie had a one-year-old daughter, called Ruth, born in New York. They were living in Manhattan Ward 12, New York. Also with them was Alice Ross, described as David's sister-in-law. The census states that Chrissie (24) and Alice (23) were born in Scotland and David (also 24) was from Ireland. These ages have proved to be somewhat suspect however. Other transcripts suggest Chrissie was born in 1881 and Alice in 1884. Did Chrissie want to conceal how much older she was than her husband and manage to persuade Alice to adjust her age as well? If the stated years of immigration were correct then Chrissie arrived in 1905 and Alice in 1906.

On 19 June 1910 Chrissie (24) and Ruth (2), both claiming to be Americans, landed at Glasgow having sailed across from New York on the SS California of the Anchor Line. Then in May 1914 the whole family sailed back from Glasgow to New York on board the SS Columbia, also owned by the Anchor Line. Did Chrissie and Ruth stay with family in Glasgow for four years while David worked in New York? So far I haven't found any other records of journeys for those years but David must have crossed the Atlantic at some point. Perhaps he visited Downpatrick before joining his wife in Glasgow. He is not easy to identify when travelling alone.
When the family left Glasgow on 2 May 1914 David was described as an electrician, aged 29. When they arrived in New York he said he was a dentist. At least his age was correct, and is consistent with other sources whereas Chrissie's age of 26 isn't. The List of Alien Passengers gave further useful information naming Mrs J Dickson of Downpatrick as David's nearest relative, and revealing that they were going to stay with his sister-in-law Mrs Alice Clark at 972 Morris Ave., Bronx, New York. Most probably this was the same Alice who was living with them in 1910. David stated that he had previously lived in New York between 1907 and 1912 which might help to find his missing voyage to the UK. Chrissie's dates are 1906 and 1911 suggesting that she did remain in Glasgow with Ruth for several years.
A physical description was included for each passenger.


David: 5 ft. 7 in. tall, fair complexion, fair hair, grey eyes.


Chrissie: 5 ft. 4 in. tall, dark complexion, dark hair, brown eyes.


Ruth: no height for a five-year-old, fair complexion, fair hair, brown eyes.
At the time of the 1920 census the family were living in Bronx Assembly District 8, Bronx, New York. Chrissie was growing ever younger: only 30 while David had correctly aged to 35. The same year they returned to Glasgow on the SS Columbia, landing on 20 September. They gave their address as 29 North Craigpark St., Glasgow and were listed as British passengers but intending to live permanently in a foreign country. They stayed until 19 June 1921 when they set off again for New York on the SS Cameronia, arriving on 30 June. David's mother, Mary Dickson, was again named as his nearest relative. This time they gave their home address in New York City as 2654 Valentine Ave. Both David and Chrissie claimed to have lived in the United States from 1904 to Sept 1920. At 12 years old, Ruth's height was 4 ft. 11 in. but Chrissie was apparently now only 5 ft. 1 in. tall.
On 26th May 1926 David initiated the process of becoming a United States citizen by signing a Declaration of Intention.
The next census, in 1930, found them in Bronx (Districts 501–750), Bronx, New York. Ruth was still living with her parents and had added a middle initial A to her name. David thought he had immigrated in 1904 and Chrissie in 1906.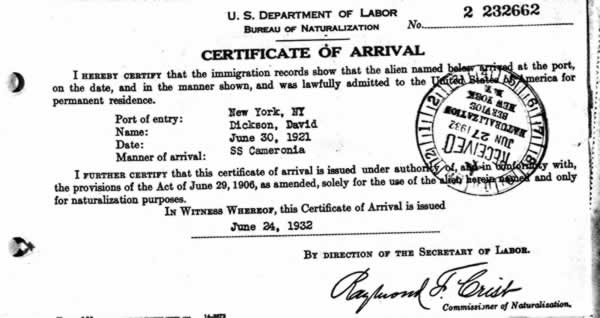 In June 1932 David acquired a Certificate of Arrival confirming that he had arrived in New York on the SS Cameronia on 30 June 1921 and in September 1932 he submitted a Petition for Citizenship with witnesses confirming that he had been resident in the United States for at least the past five years. Finally on 16 January 1933 David swore the Oath of Allegiance.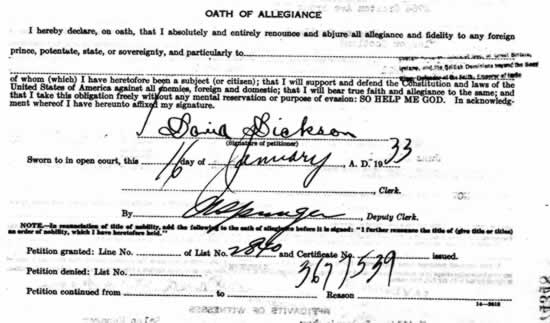 Amongst the information included on the various forms that he completed we have confirmation of his birth in Downpatrick on 28 December 1884; we learn that he had a fair complexion, gray (sic) eyes, and (now) brown hair: he was 5ft. 7 in. tall and weighed 175 pounds and that he was a "Dentist (mechanic)". It would be interesting to know what that means but could it explain why he sometimes described himself as a dentist and also as an electrician?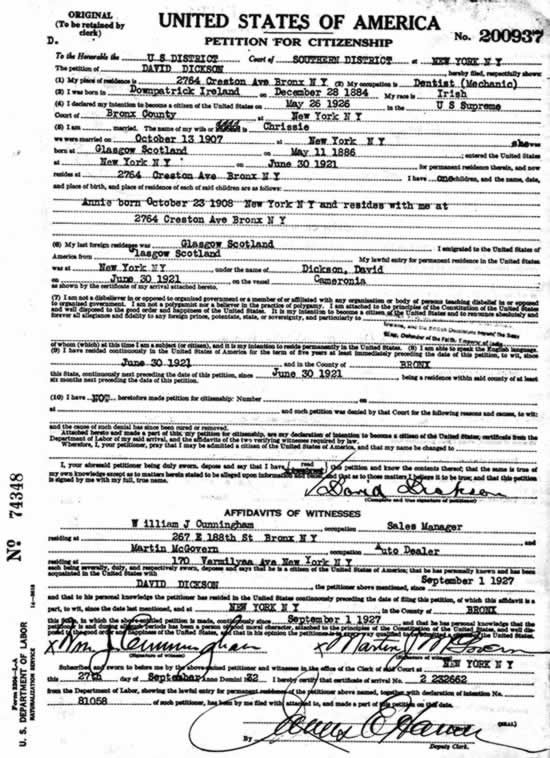 The Petition for Citizenship shown above also confirms the date of David's marriage to Chrissie in New York on 13 October 1907, but by stating that Chrissie's date of birth was 11 May 1886 he might have misled the Authorities as, even for their wedding she only claimed to have been born as recently as 1885, and according to the Scottish censuses of 1891 and 1901 the year should have been 1881.
In 1926 David's address was given as 40 East 169 St. New York City, but by 1932 the family were living at 2764 Creston Ave. Bronx, NY, including daughter Annie born 23 October 1908 in New York. So was she known as Annie within the family? Every other official document named her as Ruth until the 1930 census introduced the extra "A". Perhaps she was named after her Grandmother Annie Ross back in Scotland.
By the 1940 census David and Christina had moved in with Ruth and her new husband Allan Works. Ruth was employed as a buyer for a department and her husband was a clerk for an insurance company. Their surname is difficult to read, even though Ruth was selected for Supplementary Questions at the foot of the page and so her name is repeated, but a transcription of the marriage record clarifies matters. Conveniently, one of the additional questions for Ruth informs us that she was 23 at the time of her marriage which helps to identify it. Sadly, Ruth appears to have followed the tradition in her mother's family of slowing the ageing process: she claimed to be 22 at her wedding, conveniently just a little younger than her husband.
In Jim Taylor's account of the Dickson family he wrote that David Dickson "died from drinking prohibition whisky which wasn't what it should have been". Could this have happened after 1940 or was it all just a family legend? Did he only ever visit Chrissie's family in Scotland and never return to Ireland? How did he become a dentist having travelled to New York as an ironmonger? There are still questions to try to answer.