What do you do if you live in a small Dorset village such as Dewlish and you are one of four brothers who have all learned the trade of thatching from their father? The work that was sufficient to support one thatcher and his family isn't going to stretch to five adult thatchers. You might try a different line of work, or perhaps you could move away as William Payne did when he relocated to Wareham. Although his settlement there was subsequently challenged when his health suffered, the work dried up and he needed support from the parish.
Another solution presented itself to William's three younger brothers when the Militia Act of 1757 required each county to establish militia regiments of local men aged between 18 and 50 who would be available in case of need in Britain or Ireland. Although the exact qualifications varied over time, these regiments were formed by ballot from lists of eligible men who would have to be trained and in time of war or civil unrest might be serving anywhere in the country. Some of those selected chose to find and pay for a substitute rather than have their working and family life disrupted. For an under-employed young thatcher this must have been a tempting offer. Indeed, for William Payne's brothers it led to new careers, promotions and pensions.

"The following is the Names of Persons which have appeared before us this Day that have been chosen by Lott to serve as Private Militia Men in the Dorsetshire Regiment of Militia or consented to serve as Substitutes for Persons so chosen and have now taken the Oath and been Inrolled in the said Regiment for the Term of Three Years agreeable to the Act of Parliament in such Case made and provided."
The four brothers were all born in the 1740's with William followed by James, Joseph and Thomas. James was the first to join the militia when he signed up on 9 May 1763, at "the House known by the sign of the Swan in Sturminster Newton". He described himself as a woolsorter from Dewlish; it appears that he had already realised he couldn't rely on thatching for his livelihood. He was aged 19 and single, and he agreed to substitute for John Redman who wanted to avoid three years of inconvenience, attending training and possible active service with the Dorset Militia. James seems to have enjoyed the experience because, once his three years were up, he volunteered to substitute again, in April 1767, signing up, or rather making his mark, at the "sign of the Antelope" in Dorchester.
His next appearance in military records is rather different. In 1780 he was listed as a private in the marines aboard HMS Jersey. The record states that James Payne of Dewlish, Dorset was aged 35 when he joined the ship on 11 March 1778 and that he had signed up in Chatham in 1777. Alongside each name the ship's officers recorded payments received for certain essential items. At various times James paid out for "Slop cloaths supplied by Navy 10-19-4¾", "Tobacco 15/10", "dead mens cloaths 7/0", and "venereals 1-10-0". I'm not sure about these numbers. Do they indicate £ s d? If so £10 for "slop cloaths" seems expensive.
HMS Jersey was infamous for its role as a prison ship during the American War of Independence. It was moored off New York and housed prisoners of war in very poor conditions resulting in many deaths. The 1780 Muster-Table for the Jersey starts by stating that it is a Hospital Ship with a complement of 140 men. They "began wages and sea victualling at Chatham the 22nd of November 1775." There is a column showing how many prisoners were "victualled" each week during April and May of 1780 with numbers between 200 and 350. But later in the year the figure had risen to over 800. James was one of eleven marines on the ship, although two were listed as sick throughout the two months. It may have sailed from Chatham as a hospital ship but by the time James Payne joined it, the Jersey, or Hell as it was known, was a stripped-out hulk crammed with sometimes over a thousand prisoners.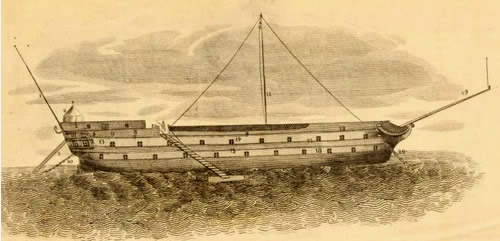 The prison ship HMS Jersey
A harrowing account of the conditions may be found in the reminiscences of former prisoners such as Thomas Dring. Of the Marines he wrote: "In addition to the regular officers and seamen of the Jersey, there were stationed on board about a dozen old invalid Marines; but our actual guard was composed of soldiers from the different regiments quartered on Long Island." This is confirmed by the ship's Muster-Table that always lists just a small number of Marines after the names of the seamen. James was not yet 40 but already described as an "old invalid Marine".
After describing the unpleasant nature of the guards Dring continued: "The only duty, to my knowledge, ever performed by the old Marines was to guard the water-butt, near which one of them was stationed with a drawn cutlass. They were ordered to allow no prisoner to carry away more than one pint of water at once, but we were allowed to drink at the butt as much as we pleased; for which purpose, two or three copper ladles were chained to the cask. Having been long on board, and regular in the performance of this duty, they had become familiar with the faces of the prisoners, and could thereby, in many instances, detect the frauds which we practised upon them, in order to obtain more fresh water for our cooking than was allowed us by the regulations of the ship. Over the water, the soldiers had no control." I'm not clear from this whether the Marines were more or less favourably regarded than the guards. When the War was over and the prisoners released, the Jersey was abandoned to the sea and disappeared where she lay.
James was still listed in the Muster-Table for the Jersey in 1782 but after that, so far, I have found no sign of him in military records. However, there is another paper trail in 1801 which could well refer to him. In April of that year the Quarter Sessions Order Books report that the parish of Dewlish won an appeal against the Borough of Bridport for the support of James Pain, his wife Sarah and their daughter Mary, aged about sixteen weeks. As a result, the Court overturned Bridport's removal order and required Bridport to pay Dewlish for supporting the family until they were returned to Bridport. In July, Bridport tried again to rid themselves of the need to support James Pain by issuing a removal order requiring the same family, with Mary now aged about seven months, to be removed to Cerne Abbas. This time they appear to have been successful because, in November, James Paine was named in the Dorchester Prison Admission and Discharge Registers. He was described as a woolsorter, aged 57, from Cerne Abbas, height 5ft 6in, gray hair, fair complexion, hazel eyes, several cuts on the forehead and much pockmarked, lusty, and he was serving one month hard labour for "refusing to maintain wife and family". Could this be another James Paine? Did the Bridport parish officers try Dewlish first because he was born there, only to discover that he had been living in Cerne Abbas at some stage? Also, are the cuts on his forehead evidence of active service or merely the result of taproom brawls?
Meanwhile, the two youngest brothers, Joseph and Thomas, had both followed James into the Dorset Militia and made a career of it, swearing allegiance to King George III with the Oath shown below.

"I H. B. do sincerely promise and Swear, That I will be faithfull and bear true Allegiance to His Majesty King George, His Heirs and Successors: And I do Swear that I am a Protestant and that I will faithfully serve in the Militia within the Kingdom of Great Britain, for the defence of the same, during the time for which I am Inrolled, unless I shall be sooner discharged."
Joseph was selected by ballot on 29 March 1765 and signed up on 13 April "at the sign of the Antelope in Dorchester". He was recorded as a thatcher from Dewlish, aged 19, height 5ft 4in, and single. Three years later, in April 1768, he signed up again, this time as a substitute for Samuel Cox, a victualler from Longcotts. Joseph was said to be 22 and described as a labourer from Dewlish. After two further appearances as a substitute in 1771 and 1774 it seems that he must have joined the militia in a more permanent role because he was eventually recommended for a pension. On 4 May 1793 he was discharged as unfit due to rheumatism having been recommended for the Chelsea Hospital on 27 March of the same year. By then Joseph was aged 55, a serjeant in the Dorset Militia with 29 years' service behind him, and still described as a labourer.

There is a later addition to this record: "Died 25/12/28". He was buried at Dewlish on 29 December 1828, aged 82. All of which raises a question. Did he lie about his age in 1793 or was it an administrative error? The other ages and dates, including the burial, are compatible with a birth just prior to Joseph's baptism on 14 September 1746. Could there possibly be another Joseph Payne from Dewlish, but born in 1738, who spent 29 years in the Dorset Militia before dying in the very same week as the 82-year-old Joseph? Unlikely.
The youngest brother, Thomas, was also initially selected by ballot for the militia; joining on 13 April 1769, he declared himself to be a thatcher. Following further periods of service commencing in 1772 and 1776 as a substitute, he also chose to volunteer for a longer term. Indeed, when he was listed in 1776 a note was added in the margin: "Made sergt. in June 1775". Thomas was finally discharged as unfit for service due to gout on 24 June 1789, after 18 years in the Dorset Militia. He too was recommended for Chelsea Hospital and his discharge was recorded on 18 September 1789 stating that Serjeant Thomas Payne was a 41-year-old thatcher from Dewlish who had served for 20 years in the Dorset Militia. Perhaps the Army was often generous about the details!
The Chelsea Hospital is perhaps best known for its resident pensioners in their distinctive uniform but it also used to administer the army pensions of out-pensioners who lived at home. Joseph appears to have been an out-pensioner since he was buried in Dewlish four days after the date of his death, as shown on his pension record. I haven't yet been able to confirm when Thomas died, although there is a possible burial for Thomas Pain in Dewlish on 12 January 1793. But there is no matching death notice with his pension record. Simply from the relative numbers he is very unlikely to have been an in-pensioner at Chelsea.