A few items from April 1927 editions of the Evening News and the Sunday Pictorial that were used as packing behind a watercolour painted by Harold Burgess, presumably in April 1927.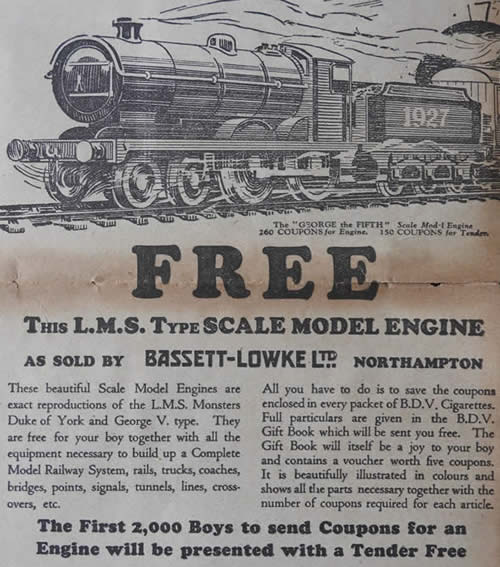 Free model engines in exchange for coupons in cigarette packets? Wow!
Examples of ladies fashion from 1927 and some prices too. Remember that 1/6 meant one shilling and six pence, with twelve pence to a shilling and twenty shillings to a pound.

And two-piece bathing suits for men.
The early days of radio: crystal sets and the latest thermionic valve technology. Presumably one had to manage ones valves carefully to make the most of their lives; I guess they were relatively expensive for the time if they were the latest wireless technology.

Also we have an exciting line-up of mostly rather short programmes on "2LO". This was the call sign used by the BBC when it was formed in 1922. Was there a technical reason for the brevity of so many programmes? Did they think attention spans couldn't cope with more than fifteen or twenty minutes?
I'm not sure what this advertisement says about rail travel or newspaper readership, but I suppose it is preferable to the idea of smoking more to earn your "boy" a free train set.

Radox is still around but would they advise sprinkling bath salts in your socks and boots nowadays?
This advertisement for a very comprehensive service offered for men at Austin Reed appears to cover every eventuality. I wonder if the Changing Rooms on the Lower Ground Floor were for a gentleman to change out of his business suit into something more appropriate for an evening at the theatre. You could be fitted for a "Gerrard" Bowler at the same time before ascending to the Fifth Floor for your Woolies and Rugs ready for the drive home in a second-hand Rolls Royce from Rootes Limited.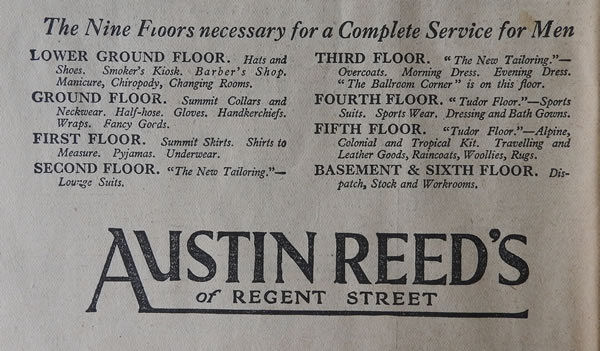 The argument against late night shopping, including references to the working classes, a sweetheart's sweets, and bloaters at ten o'clock.
Tennis style and the Davis Cup. Miss Heine would reach the Women's Doubles final at Wimbledon later that year but Great Britain (not "England") would have to wait until 1933 to win the Davis Cup with Fred Perry and "Bunny" Austin in the team. Austin was the first player to wear shorts at Wimbledon. "Bobbie" Heine emigrated to Australia, celebrated her 100th birthday there in 2009 and is still active in 2015.
The stockings, red dragon and mascot must have worked their magic to overcome the cheap zoo joke: Cardiff City beat the favourites with the only goal to take the FA Cup out of England for the first time.
A very young future Queen Elizabeth II looking somewhat suspiciously towards the press photographer.

For other Easter drivers the first requirement was a licence obtainable at the Post Office for five shillings, without the need to take a driving test: they were not introduced until 1934.

The paper's motoring correspondent clearly thought that it was necessary to offer some basic advice to new drivers and also to pedestrians who would be learning to cope with increased traffic over the Easter period.

I'm not sure that hooting at every walker on country roads would be well received nowadays. As for cars passing in groups of two or three at a time...

In 1921 there were only one million drivers in Britain and the first edition of the Highway Code, which didn't appear until 1931, did not mention mirrors and advised drivers to sound the horn when overtaking other vehicles.