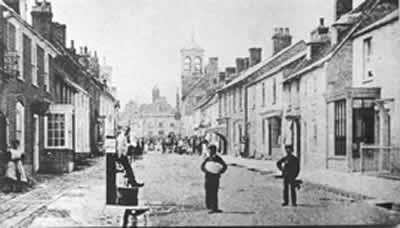 Jane Hordle was born in Wareham, Dorset in 1843 and was christened at St Mary's Church, Wareham on 26 November that year. In the 1861 census she was described as a "nurse domestic", aged 18, and was part of the household of a London silk mercer and draper, staying temporarily in Tunbridge Wells, Kent. Perhaps this explains how she came to meet Henry Burgess so far from Wareham and to marry him at St Martin in the Fields, Middlesex on 1 January 1865.
East Street, Wareham in the 1860's

According to the marriage certificate, Henry was a fishmonger, and living in Well Street, and Jane was resident at Edward Street at the time of their wedding. I can only find one Wells Street on contemporary maps anywhere near to the parish of St Martin in the Fields, and that is just to the north of Oxford Street. However there was an Edward Street in Soho, south of Oxford Street, and handy for the ceremony.
Henry must have changed his occupation soon after they were married because, when their son, George Henry Cornelius, was born on 5 May 1865 his father was recorded as a police constable and the family were living at 2 Richard Street, St George in the East. A year later they were caught in the last of four serious cholera outbreaks in London during the mid-19th century. This was just when the new London sewer system built by Joseph Bazalgette was being completed and the Thames cleaned up, so reducing the risk of disease. They would have been very vulnerable in Richard Street when the outbreak came in July 1866 since three-quarters of the deaths occurred in the parish of St George in the East.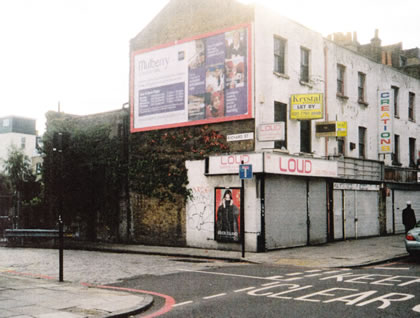 All that remains of Richard Street: now the entrance to a school car park.
In August 1866 Jane lost her son George and her husband Henry within a week. George died on the 9th when he was 15 months old, the cause of death being given as "Choleraic Diarrhoea 14 days". Henry, aged 29, followed on the 13th from "Diarrhoea Cholera 9 days, Collapse 13 hours". He was buried on Tuesday 14th August in the City of London and Tower Hamlets Cemetery. Jane, a widow at the age of 23, returned to her family in Wareham where she gave birth to her second son in February 1867, naming him Henry James.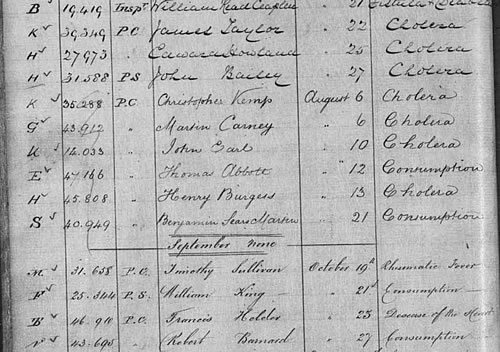 Return of Deaths in the Metropolitan Police Force 1866
The record above shows that Police Constable Henry Burgess was attached to H Division, his Warrant Number was 45808 and he died on 13 August 1866; one of seven policemen in G, H and K Divisions to die from cholera in July and August of that year. These three divisions were north and east of the Tower of London, with St George-in-the-East and Richard Street at the heart of the area.
Jane's mother, Eliza Hordle, described herself as a nurse in the censuses of 1871 and 1881. In the 1871 census Jane Burgess, widow, is recorded as a domestic servant for Freeland Filliter, the Town Clerk, living at St Martin's House, North Street, Wareham. Presumably her mother, also widowed by this time, was looking after the baby across town in Trinity Lane. There is a rather puzzling reference to George H Burgess, nephew, aged 4 living with Eliza Hordle in 1871. Surely this was actually Henry James Burgess staying with his grandmother. The age and surname are correct and the only Burgess connection I have found is through Jane. The other resident of the house was George Payne, described as a boarder, but in the following census in 1881, he was described correctly as Eliza's brother. A further confusion arises because in the 1861 census Eliza was looking after a grandson called George H Shortt, aged 3. Did she make some mistakes in 1871, possibly confusing George H, George Henry Cornelius and Henry James?
In 1873 Jane remarried, and her two marriage certificates make strange reading. First, Jane Hordle married a Burgess to become Jane Burgess; then Jane Burgess married Thomas Hordle to become Jane Hordle once again. Thomas was a shoemaker, born in Westbury, Wiltshire, and by the time of the 1881 census they had three sons and two daughters as well as stepson Henry James Burgess living in the house in Mill Lane, Wareham.
Two other daughters were born before the next census in 1891, by which time they were living in Poole and Henry James had moved to London. By 1901 Jane was a widow for the second time, still in Poole with four of her children, and son George was running the family's shoe repair business from home at 90 Perry Gardens. In 1911 Jane had three grown-up children still living with her at that address and George was by then a labourer in the coal yard.
Jane must have maintained contact with her son Henry James Burgess because one of his sons, my Uncle Reg, stayed with her in Poole when he was a youngster, according to my cousin Nigel.