Grace Parmiter, who married William Payne in Wareham, in 1802, introduced a new and relatively unusual surname to our family history. Parmenter is an occupational name for a maker of facings and trimmings, according to the Oxford Names Companion, and in its various forms seems to have occurred more frequently in the south and east of England, particularly the counties of Hampshire and Dorset, than elsewhere.
Tracing Grace's family in Dorset reveals several spelling variations included in the parish registers: Parmiter, Parmeter, Parmentor, Pamiter and Pameter. Here is the story so far, beginning with the evidence for her birth and parentage.
In the 1841 census Grace, living in South Street, Wareham, claimed to be 64, independent and born in Dorset. In 1851, and living in Mill Lane, Wareham, she was recorded as head of the household, born in Holy Trinity, Wareham and aged 70 plus; the exact figure is obscure. When she was buried in Wareham on 5 February 1855 her age was given as 77. All this points to a birth in the late 1770's somewhere in Dorset.
Just two occurrences have come to light in Dorset for a Grace Parmiter, with any of the various spellings, during the second half of the 18th century: Grace Parmiter married Samuel Lambert at St Martin, Wareham on 24 September 1754 when she was over 21, and Grace, daughter of John and Mary Parmentor, was baptised at Lytchett Minster on 29 November 1778.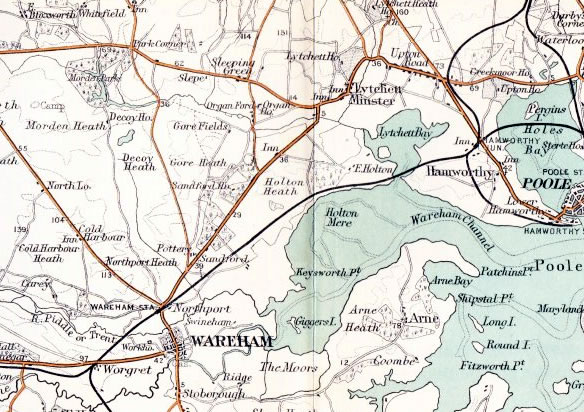 Wareham and Lytchett Minster on a pre-1914 map
The second of these is clearly the more likely: the year is very promising and the village of Lytchett Minster is only six miles north-east of Wareham. Pursuing this possibility, there is a marriage also recorded at Lytchett Minster between John Parmiter and Mary Hannam on 10 June 1756 and a sequence of baptisms for eleven children, including Grace, at the same church between 1757 and 1781, all with variations of the name Parmiter. The first eight only record the father, John, but the last three include the mother's name as Mary.
All this seems to point to Grace's parents being John Parmiter and Mary Hannam, or Hanham as it is more often spelt.
There are a number of documents concerning the Parmiter and the Hannam/Hanham families but, until her marriage to William Payne in 1802, only one mentions Grace Parmiter, when she was a witness at the marriage of Josiah Parmiter and Elizabeth Allen at Lady St Mary, Wareham in 1799. However, Josiah was the name of one of the eleven children of John and Mary, baptised on 28 March 1773, and variously recorded as Josiah Parmentor and Josiah Pamiter in the Parish Registers. So Grace was his sister.
Josiah was described as a bricklayer in the censuses of 1841 and 1851; the same occupation as his father John. This is confirmed in an indenture dated 6 November 1756, when "John Parmiter of Litchett Minster in the same County Bricklayer" took over the tenure of property in Lytchett Minster "now in the Tenure of the Widow Hanham". This property was "… All that cottage and parcel of ground containing by Estimation about half an acre lying in Lilly Lane in Lytchett Minster aforesaid and parcell of the Manor of Sleep cum Corkmore… " and it came with common rights.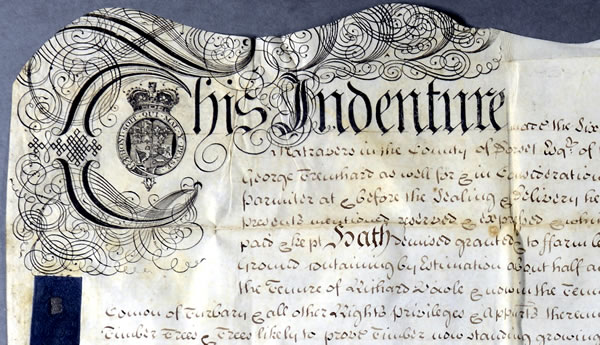 Extract from agreement for John Parmiter to lease property in Lytchett Minster in 1756
The lease was taken up five months after John's marriage to Mary Hannam. Was Widow Hanham her mother perhaps? Very likely, since the same indenture helpfully states that "… or either of them should happen so long to live which term is now determinable on the Death of Elizabeth the widow of the said George Hanham for by and during and unto the full End and term of ninety nine years thence next ensuing and fully to be compleat and ended If he the said John Parmiter and Mary his wife …". There was a marriage between George Hannam and Elizabeth Sherrard (or Sheward?), both of the parish of Lytchett Minster, at Corfe-Mullen on 6 February 1732/3. At that time Corfe Mullen and neighbouring Lytchett Minster to the south, were both chapelries in the Parish of Sturminster Marshall, where the marriage was recorded. Subsequently, they had three children baptised at Lytchett Minster: James and George Hanham on 14 November 1733 and Mary Hannam/Hanham, depending on the register, on 12 September 1736. However "George ye son of George and Elizabeth Hanham was buried" on 11 May 1735.
Elizabeth Hanham, of Lytchett Minster, was named in an administration document, dated 2 June 1749, as the widow of "… George Hanham late of Lytchett Minster aforesd Mariner…", giving an approximate date for George's death and also his occupation, mariner. John Parmiter was buried at Lady St Mary, Wareham on 20 Jan 1805 and it appears that the lease was transferred to a David Bird on 7 Feb 1805. John (deceased) and Mary Parmiter were listed as previous holders of the lease, which states that Lilly Lane was also known as Hill Lane. Mary was also buried at Wareham, on 8 November 1810, following a period of illness. She had been receiving financial assistance from the parish of Lady St Mary since 9 May 1805, just after her husband died, and the final payment concerning her was for 3 shillings for "Mary Parmiter's Attendants 3 weeks" on 26 October 1810.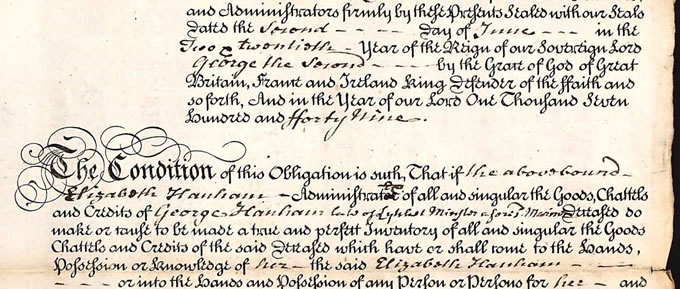 Extract from 1749 administration document for the estate of George Hanham

Perhaps John and Mary had already moved to Wareham, where both Grace and Josiah were living, well before 1805 because there is no sign of a challenge to Mary's right to settlement in Wareham and no evidence that payments were reclaimed from Lytchett Minster. There was certainly an incentive to move there as, being a bricklayer, John would have had ample work after the fire at Wareham in 1762 destroyed much of the town. Indeed, as early as 1758 he was paid the sum of £3 1s 3d for "work a don about ye Church" by the churchwardens of Holy Trinity, Wareham. Then much later, in November 1789, they "Paid Jno Parmiter as ye Bill 6/6". It paid to keep on good terms with the authorities.

After her marriage, Grace received occasional assistance from the parish of Holy Trinity, Wareham including not just sums of money but also loaves and fuel in the winter of 1811-1812. The details up until 1818 may be found listed under her married name of Grace Payne on the page The Payne family and the Parish. After her husband, William, died in 1836, Grace appeared in the parish accounts as the rate payer, but there is one further, rather intriguing payment to her of two shillings and six pence on 2 February 1821:

"Paid Grace Payne for the care of Thos Barratts Legg 1/6. Ointment 1/-"

. Return to Burgess page