This is a transcription of the final part of Cyril's letter started on 20 February 1982 and eventually finished on 12 April. He had spent several weeks in China and wrote a lengthy account of his impressions of the country and included in the envelope the postcard shown below.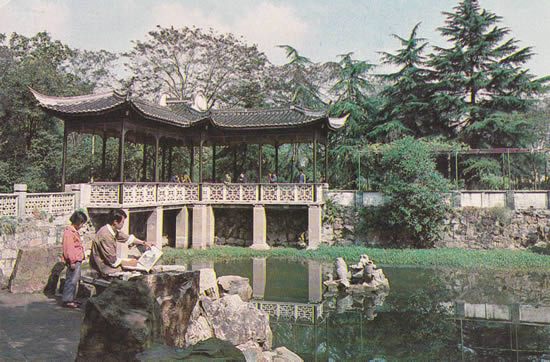 The Imperial Pavilion
I really am the limit. Since starting page 12 I have had nearly a month in China. Went with an Australian Group of 20 people from the Australia/China Friendship Society. Flew from Sydney (8 hour flight) then on to Canton, Nanking, Shanghai and a few smaller cities before reaching Peking. A very wonderful trip on a cultural basis. The idea being to foster friendship between the 2 countries.
We had Chinese guides in each city and one who came with us throughout the whole tour. We visited workers' communes and homes, farm communes, schools, factories, hospitals, a language school, children's further education centres. All vastly interesting and informative. Every scrap of land is cultivated, mostly by hand and bullock cart, although there are a few tractors appearing on the farm communes. People everywhere and there's no shortage of labour with a population of 1000 million. But generally although the people are friendly, good looking and well fed, and very interested in us foreigners, there is an air of drabness throughout the country. One feels like having a good clean up and polish up in the houses and shops and stores – in fact everywhere. The dress of both men and women is dark blue or khaki button up jackets and peak caps and dark trousers and it cries out for a bit of colour.
We had first class attention and priority throughout the trip passing straight through barriers at railway stations, airfields, cinemas, restaurants and the best of hotels. I felt self-conscious at times especially when it came to meal times. We had far too much served to us and so much went back to the kitchens. All Chinese food of course, with as many as 18 dishes served at a meal – excellent meals – and one has to get used to chopsticks.
Still very poor conditions for most of the population, but so much better than it used to be. Everyone works, no unemployed, but you cannot change your job without permission and consequently you cannot move home without permission. Six-day week with one day off. No holidays, and no-one goes abroad. No private cars, any such vehicles are either official cars or taxis. Workers travel by bike or bus. Something like 200 million cycles in the country so that will give you an idea of what the cities are like in the rush hours.
We saw dozens of pagodas and temples, toured the Forbidden City in Peking, Mao's Mausoleum, Ming Tombs and The Great Wall of China. These are all wonderful monuments to Chinese history and mostly they have been restored to foster the tourist trade which is increasing rapidly. There is so much to see it is difficult to absorb it all in the time available and the skills displayed by artisans over the centuries of the Chinese civilisation is quite astonishing. The Great Wall runs for a thousand or so miles and the Grand Canal, dug out by hand stretches for over a thousand miles. These give some idea of the achievements of the Chinese over the centuries and it's puzzling that they appear to have stood still for so long compared with Western society. To cross the border from Canton to Hong Kong is entering a different world. Hundreds upon hundreds of Bond Street display shops and more being built. How do they all make a living? If one wishes to spend money Hong Kong is the place to do it – the selection is incredible, but am not too sure that everything on offer is all that cheap.
Now back to Sydney life for next few weeks before returning home. Am wondering whether C. Halliday will want me back, I've been away so long. Doesn't really matter – it will give me more time for travelling (providing the cash holds out).
Do hope you are coping. Will see you when I get back. Am looking forward to a ride with Jan at the wheel, now that she has taken her driving test.
Best wishes
Love Cyril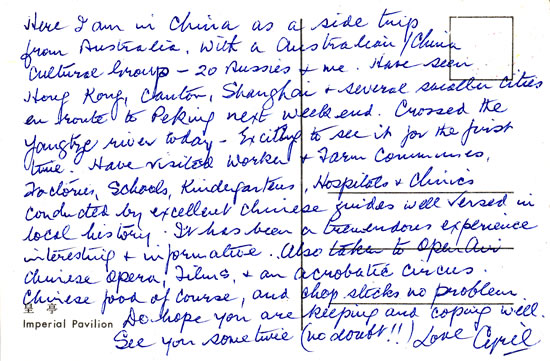 The postcard mostly repeats what was already in the letter but there are some additions. Cyril was always one to seize any opportunity that came his way but how he managed this trip is a mystery. Perhaps one of his contacts in Australia slipped him into the group, or maybe someone had to drop out. Anyway, the Chinese didn't seem to mind that one member of an Australian party had a British passport and he doesn't mention being accused of espionage.
Return to Cyril's timeline for his travels page