Why would a woman change her name for the baptism of two of her children?
Why would she choose to be known by the name of her own sister who had died, aged 3, many years before?
Here are the facts:
Sarah Martha Burgess, one of my grandfather's sisters, was born in 1874 to Mark Burgess, ostler, and Emma Burgess, formerly Finmore.
Another sister, Annie Emma Burgess, was born in 1881 but died in 1884.
Sarah Martha Burgess married Henry Arthur Walker on 25 December 1892. They had six children between 1893 and 1903, with the whole family recorded together on the 1911 census return, which even mistakenly included the name of one daughter who had died. The couple stated that they had been married for 18 years which was correct for the date of the census.
| | |
| --- | --- |
| Walker Family in the 1911 Census (2 April) | Age in 1911 |
| Henry Arthur Walker | 42 |
| Sarah Martha Walker | 37 |
| Henry Mark Walker | 17 |
| James Edward Walker | 15 |
| Eleneor Elizabeth Walker | Dead |
| George Robert Walker | 13 |
| John Thomas Walker | 10 |
| Winniefred Emma Walker | 7 |
The first clue that something was amiss appeared with the previous census in 1901.
| | |
| --- | --- |
| Walker Family in the 1901 Census (31 March) | Age in 1901 |
| Henry Walker | 33 |
| Annie Walker | 26 |
| Henry Walker | 7 |
| Edward Walker | 6 |
| George Walker | 2 |
| Jack Walker | Under one month |
Along with Henry Walker and his children's names and ages being recognisably consistent between the two censuses, his occupation is the same in both – coal porter. We also have a clue to when Eleanor Elizabeth might have been born and died. But who is Annie Walker?
In 1901 the Walkers were sharing accommodation at 19 Bream Street with the Tushaw family and James Tushaw, whose name tops the list for the address, may well have given the enumerator information for the whole house. That would explain why the place of birth was marked NK (not known) for all the Walkers except little Jack (John Thomas) who was born the day before the census was held. His birthplace was hardly in doubt!
On its own the change of name from Sarah Martha to Annie for a while between her marriage and the census in 1911 doesn't seem to be very significant. James Tushaw might just have made a mistake. Perhaps Sarah preferred to be known as Annie at that time. But there is more.
The five Walker children alive in 1911 were all baptised at St Michael's, Camden Town where, very conveniently, the policy of the parish was to include every child's date of birth as well as the date for their baptism. This has proved useful, but confusing too.
| | | | |
| --- | --- | --- | --- |
| Child's Name | Date of Birth | Date of Baptism | Mother's Name |
| Henry Mark | 13 Aug 1893 | 18 Sept 1903 | Sarah Martha |
| James Edward | 14 Feb 1895 | 6 Dec 1897 | Sarah Martha |
| George Robert | 30 Sept 1898 | 3 May 1905 | Annie Emma |
| John Thomas | 30 Mar 1901 | 30 Sept 1901 | Sarah Martha |
| Winifred Emma | 17 Sept 1903 | 3 May 1905 | Annie Emma |
The records for three of the boys (Henry, James and John) are just what one would expect, with births and baptisms in the same order and their mother named as Sarah Martha. It is worth noting that John was baptised on the same day as two of his cousins: Frederick Thomas Burgess and Mark Rice. So Sarah Martha was almost certainly in church with her two siblings: Joseph Mark Burgess and Winifred Rice, née Burgess. (Making it somewhat embarrassing if she announced that she had changed her name.)
George's parents seem to have forgotten to have him baptised until Winifred arrived in 1903, when both were eventually taken to St Michael's on the same day in 1905. This might be due to nothing more than a lapse of memory, but why was the mother's name given as Annie Emma? Not just Annie, as in the 1901 census, but Annie Emma – the exact name of Sarah's sister, who died on 27 Sept 1884. That doesn't seem like a simple preference to be known as Annie, and it certainly had nothing to do with a possible error by James Tushaw.
A few days after George and Winifred were baptised, on 7 May 1905, another of their cousins was baptised in St Michael's: Rose Winifred Burgess, daughter of Sarah's brother Mark Burgess and his wife Jane Newbury. Did Sarah avoid this date for George and Winifred so that she could safely use her new, preferred name?
George Robert's birth certificate doesn't help to clarify matters. In fact, it makes things worse. It states that he was born on 30 Oct 1898 and that his mother, the informant, was Sarah Martha Walker, formerly Burgess.
The change of month from October to September might be a simple error; or could it be that he was indeed born in September, as recorded at his baptism, but because his birth wasn't registered until 5 December his mother wanted to avoid censure (and a fine?) for visiting the registrar long after the 42 days allowed for registration following a birth?
But now we come to the question of the mother's name: Sarah Martha when George's birth was registered on 5 Dec 1898, but Annie Emma when he was baptised on 3 May 1905. What was going on?
There is another mention of Sarah's name in 1920. Her eldest son, Henry Mark Walker, enlisted in the 19th London Regiment on 8 April 1914 but was discharged as unfit on 10 December 1915 "to pension". However he re-signed on 20 July 1920. On the first service record he named his father, Henry Arthur Walker, as next of kin, and on the second he named his mother, Sarah Ann Walker, which I suppose unites both versions of her name.
But was Henry Mark a reliable source? In 1914 he stated that he was 19 years old implying he was born about 1895. In 1920 he declared his date of birth to be 13 August 1896 but it should have been 13 August 1893, according to his baptism record in 1893! And then when he was discharged in 1915 his character was described as "Bad". Oh dear.
The release of the 1921 census has taken the story a little further. Henry Arthur Walker died in 1914 and a year later Annie S Walker married Alfred A J J Payne. The census records Alfred and Annie Payne, together with their daughter 4-year-old Emily, living at 67 Stibbington Street, St Pancras. Also with them were stepchildren Henry, John Thomas, Winifred Emma and George Robert Walker. The census schedule was signed by "A Payne" but the reverse side, showing the address, named the person who completed the form as Ann Walker.
During the First World War Alfred was no more enthusiastic about army life than "Annie's" son Henry. He had lost pay several times in 1916 for being absent without leave from the Oxford & Bucks Light Infantry and in 1917 was listed as a deserter before being tranferred to the Labour Corps. He then spent the last year of the war attached to the R.F.C., later the R.A.F. His service record named his wife, Annie Sarah Payne, and two dependent children, John Thomas Walker and Winifred Emma Walker. It also gave his full name: Alfred Albert Joseph James Payne. That unmistakeable set of initials makes tracing him through the records very straightforward and reveals some interesting variations in his date of birth. It was registered in 1887 and confirmed on the 1939 Register where he gave his D.O.B. as 28 September 1887, but for the Army and the 1921 census it was 1879. Possibly the couple wanted to even up the age difference because when they were married he was 28 and she was 41 with an eldest son aged 22. By 1921 they were both 42, apparently!
So now Sarah Martha Burgess had left Annie Emma Walker behind her and was either wishing to be known as Sarah Ann Walker or Annie Sarah Payne.
Any plausible explanations for Sarah's name changes, first to that of her deceased sister, and then to a mix of their names would be most welcome.
____________________
Here is a timeline of all the relevant events concerning the Walker family:
Death of Annie Emma Burgess on 27 September 1884: age 3, parents are Mark and E. Burgess;
Marriage of Henry Arthur Walker on 25 December 1892: the bride is Sarah Martha Burgess;
Two sons born in 1893 and 1895: mother is Sarah Martha when they are baptised in 1893 and 1897;
George Robert born 30 October 1898: mother is Sarah Martha on birth certificate dated 5 December 1898;
John Thomas born 30 March 1901: mother is Sarah Martha, according to his baptism in September 1901;
So far, all is consistent.
Census on 31 March 1901: wife of Henry Walker is Annie Walker;
John Thomas baptised 30 September 1901: mother is Sarah Martha, two siblings of Sarah also present for the baptisms of their children;
Winifred Emma born 17 September 1903: mother is Annie Emma when Winifred is baptised with George on 3 May 1905;
George Robert also baptised 3 May 1905: mother is Annie Emma, George's birthday is now 30 September, not October;
Census on 2 April 1911: wife of Henry Walker is Sarah Martha Walker, married 18 years, 6 children with 5 living;
Death of Henry Arthur Walker in 1914;
Marriage of Alfred A J J Payne and Annie S Walker on 4 January 1915;
Alfred Arthur Joseph James Payne's Service Record starting 15 June 1916: wife is Annie Sarah Payne, children John Thomas Walker and Winifred Emma Walker are listed;
Henry Mark Walker's Attestation papers on 20 July 1920: next of kin is his mother Sarah Ann Walker;
Census on 19 June 1921: Alfred and Annie Payne, both aged 42 years 9 months. Also one daughter and four Walker step-children. Annie signs the two documents, once as A Payne and once as Ann Walker.
____________________
The Sources:
Death certificate for Annie Emma Burgess

Marriage certificate for Henry Arthur Walker and Sarah Martha Burgess

Baptism of Henry Mark Walker

Baptism of James Edward Walker

Birth certificate for George Robert Walker

Census for 1901: 19 Bream Street, Poplar

Baptism of John Thomas Walker and two cousins on the same day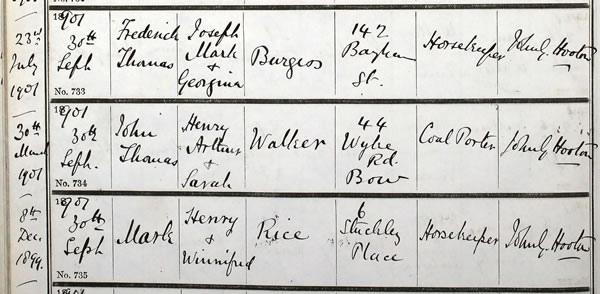 Baptism of Winifred Emma Walker

Baptism of George Robert Walker, with Rose Burgess four days later
Census for 1911: 20 James Street, Camden Town

Alfred A J J Payne's service record with name and birth year

Alfred A J J Payne's service record with wife and children's names and marriage date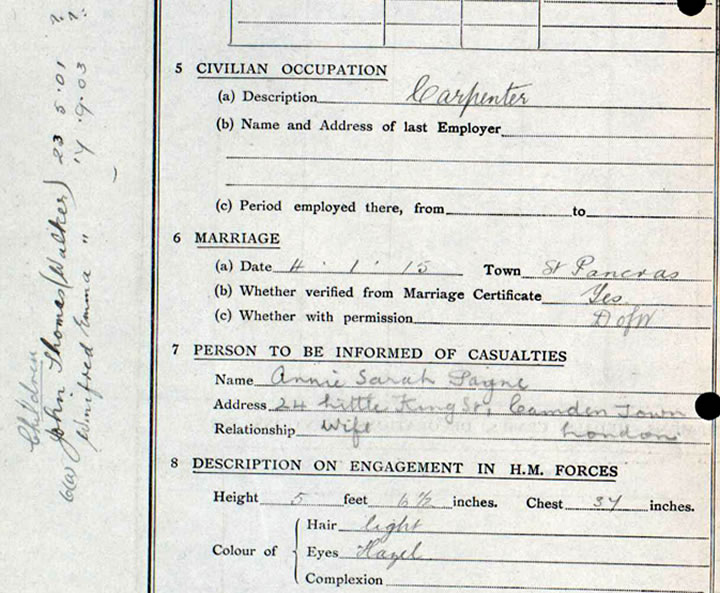 1920 Attestation papers for Henry Mark Walker and next of kin

Census for 1921: 67 Stibbington Street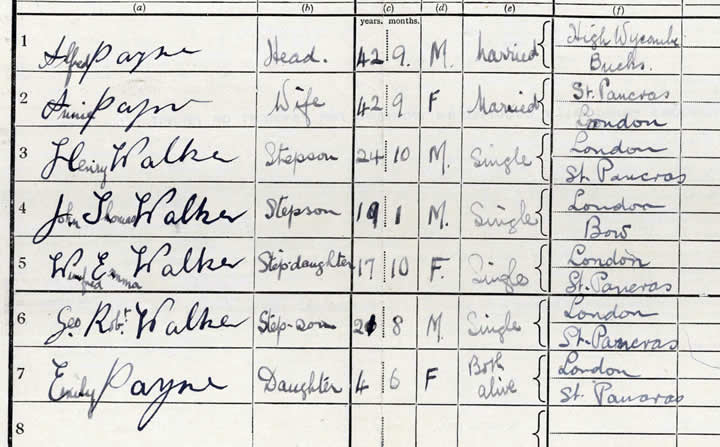 Census for 1921: the two signatures
Return to Cambridgeshire Burgesses page