The few facts so far known about Mary Fish suggest that she would not have had an easy life and towards the end she found it too much to bear.
From the 1841 census we can tell that she was born outside Berkshire during the 1780s. Her maiden name is unknown but at some point she married William Fish, a waterman, and they settled in the parish of Clewer, to the west of Windsor Castle. A waterman would have used a wherry to ply his trade: ferrying customers across and along the Thames. William was probably working beyond the influence of The Company of Watermen which controlled Thames watermen from Windsor through London to Gravesend, but this also meant there would be no support for his widow.
William and Mary had six children, but only four survived to adulthood, James born in 1809, William in 1813, Emma in 1816 and Ellen in 1822. Sarah only lived for three months from April to July 1819 and John, born in 1820, drowned in 1824.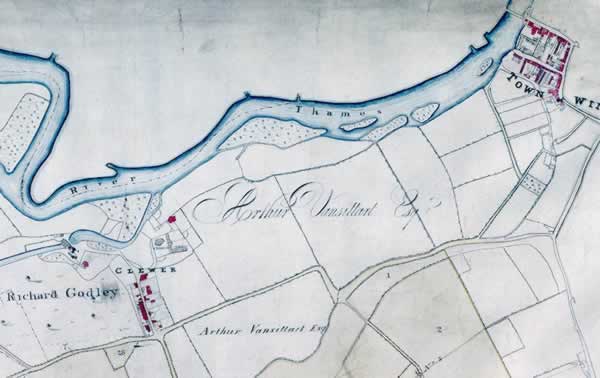 | | | |
| --- | --- | --- |
| | The 1817 Enclosure Map above shows New Windsor by the bridge and Clewer village further upstream. Bier Lane in New Windsor, now called River Street, runs down to the Thames, parallel to the road to the bridge. Was it used to convey a bier from the river to the church - or was it just a misspelling of the word beer? | |
1841 proved to be a momentous year for the Fish family.
On 8 February Ellen married Henry White, a cordwainer, and they settled into a house in Church Street, New Windsor. On 16 April William senior died at home in Red Lion Row, just off Bier Lane, Clewer. The cause of death was given as diseased lungs and the informant was Henry White of 6 Church Street. William was 51 years old.
The census on 6 June shows Mary was living in Red Lion Row and working as a laundress. Also there were her two sons James, a waterman, and William, a boat builder, together with daughter Emma. Mary died on 24 August and the coroner gave the cause of death as hanging in a fit of temporary insanity. In earlier centuries suicide was viewed differently but by this time society was much more sympathetic. The death certificate gave her age as 60. It appears she was overcome by her circumstances. The Reading Mercury of Saturday 28 August 1841 contained an account of the coroner's inquest, held at the Red Lion, Thames Street. It describes her as "… widow of the well-known William Fish, waterman", and goes on to explain: "It appeared that since the death of her husband, the deceased had been very unsettled in her mind, principally occasioned by his loss, and a dread (her eye sight having failed) that she should come to the workhouse... The deceased was known to be a very honest and industrious person,..."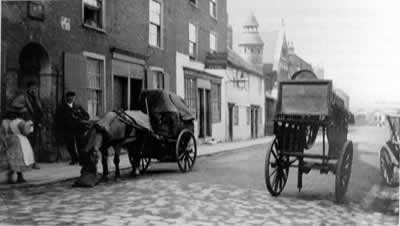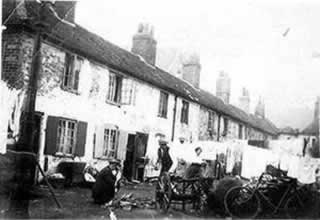 The photographs show Bier Lane on the left and Red Lion Row on the right.
A few weeks later, on 12 September, Emma Fish married George Finmore, a baker, and the following year their first child, Emma Maryon Finmore, was born on 15 April in Red Lion Row, possibly at the family home.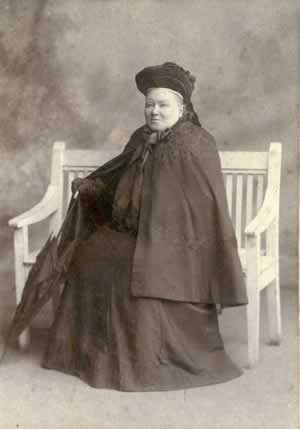 Emma Maryon Finmore
On 16 February 1874 Emma Maryon Finmore married Mark Burgess, an ostler from Swaffham, Cambridgeshire, at the Holy Trinity Church, Haverstock Hill, Middlesex. They are my great grandparents.
I haven't been able to find what happened to James after 1841 but William can be traced and his life took a turn for the worse. On 20 August 1842 the following report appeared in the Windsor & Eton Express.
| | | |
| --- | --- | --- |
| | Wm. Fish was charged with stealing from his master, Mr. Roger Tolladay, boat builder, at Eton, 500 leaves of gold and a pair of sculls, on the 3rd of August. The prisoner was apprehended by Clarke one of the Windsor police, to whom he said he had seen his master, and had promised to work out the value of the articles. He was fully committed for trial. | |
A further report appeared on 22 October
Bucks Michaelmas Sessions
Wm. Fish, 27, for having, on the 3rd of August, at Eton, stolen 500 leaves of gold leaf and a pair of sculls, the property of Roger Tolladay, was sentenced to two months hard labour.
By the standards of the day he seems to have got off lightly. One Thomas Perry was listed on the same page as William in the Buckinghamshire Register for Persons charged with Indictable Offences and he was sentenced to ten years transportation for sheep stealing. Perhaps Roger Tolladay spoke up for William, or maybe the death of his mother the previous August was taken into consideration.
In 1851 William was lodging with a family called Allen in nearby Bray, still working as a boat builder, but probably not for Tolladay across the river at Eton. His name next appears in the 1881 census, when he was shown living in the Windsor District Union Workhouse. He died in 1883 at Windsor, aged 69.
Return to Cambridgeshire Burgesses page