It has taken a while to track down Joseph's origins with any confidence. Unlike his wife's family he had no obvious network of relatives around him and he died in 1838, before the first useable census which might have confirmed some relationships.
Joseph Burgess was born 27 December 1795 and baptised at Melbourn in Cambridgeshire the following tenth of July. His parents were William and Sarah Burgess. Joseph married Winifred Theobalds by licence in the Parish of St Pancras, Middlesex on 13 May 1825. The marriage record suggests neither had been married previously, however the licence states that, although Winifred was "a Spinster of the age of twenty-one years", Joseph was "a Widower". There is indeed a previous marriage record for Joseph, dated 12 August 1821, to Martha Day at Melbourn. They had a son George, born in 1821 and baptised at Melbourn on 4 August 1822 just a month before Martha died and was buried on 19 September in Melbourn aged 24.
Perhaps Joseph was sensitive to the feelings of Martha's family and that is why he chose to remarry in St Pancras. Neither he nor Winifred seem to have had any connection with London parishes either before or after their wedding – apart from the requisite "usual Place of Abode within the said Parish of Saint Pancras for the Space of Fifteen Days last past."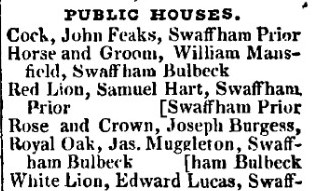 On the marriage licence Joseph was described as a labourer but after his marriage his occupation changed.
In Pigot's Directory of Cambridgeshire for 1830-31 he is listed as the landlord of the Rose & Crown in Swaffham Prior, a village about five miles west of Newmarket.

The Rose & Crown still appears at the junction of Cage Hill and High Street on the 1926 Ordnance Survey map of Swaffham Prior shown below, but it has since been converted to residential use.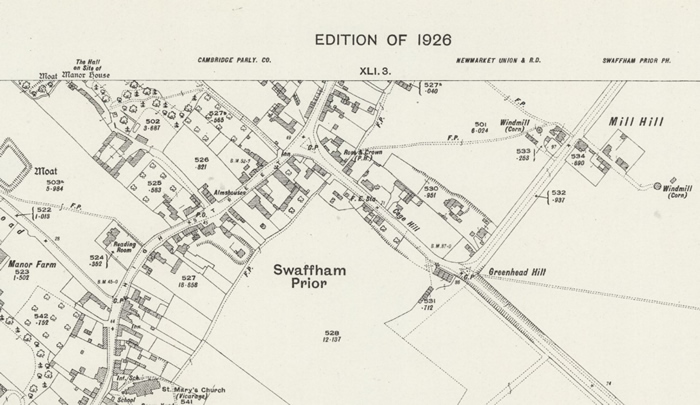 Joseph died on 1 June 1838 at "Great Swaffham" (an earlier name for the village), aged 44, and was once again described as a labourer. The cause of death was given as "decline". He was buried in Swaffham Prior five days later. Winifred seems to have continued to run the inn however, as she was listed as a publican in the 1841 census for Swaffham Prior. The entry appears part way through a long list of residents of Town Street (now High Street?) with the address "Horse Green" for just that one property. Was this the name for the triangular patch of land at the junction?
Also recorded in the 1841 census were six children and a "Nurse", Hannah Theobalds, who was Winifred's mother. The children were Clara, Frederick, Mark, Sarah, Martha and Ann. Ten years later Winifred was no longer a publican but described herself on the census as a nurse, and was still living in Swaffham Prior with two of her children: Frederick, now 19, an Ag Lab, and Ann, implausibly aged 9. Winifred died in 1855, four years before her mother, Hannah.
Joseph's parents, William Burgess and Sarah Chapman, were married in Melbourn in 1794, and according to William's burial record in 1799 he was a labourer. Sarah married again in 1813, to Henry Negus, "with parents' consent" because Henry was born in 1793. Sarah was by that time about 40 years old, as indicated by her burial register entry which states that she was 70 in May 1842.
When Sarah was baptised at Melbourn in July 1778 it was noted that she was 5 years old and that month she was one of six "children" whose ages were given at baptism. They ranged from one year to twenty, and included Sarah's younger sister, Mary. One wonders if the vicar launched a bit of a campaign to catch up with all those who had missed out on baptism for some reason.
Sarah and Mary's parents were Thomas Chapman and Ann Islip who had married in 1766 in Melbourn. How Ann came to be living in Melbourn is not known but both she and her older sister, another Mary, apparently travelled from South Luffenham in Rutland to Cambridgeshire and found husbands in Melbourn. Or was it the opposite? Maybe Thomas Chapman and Mary's husband Jonathan Ellis had ventured over to Rutland and met the girls there. The former seems more likely since both weddings were held in Melbourn. Perhaps the girls were drawn by work opportunities or family or local links to Cambridgeshire and really were 'of this parish' by the time they married.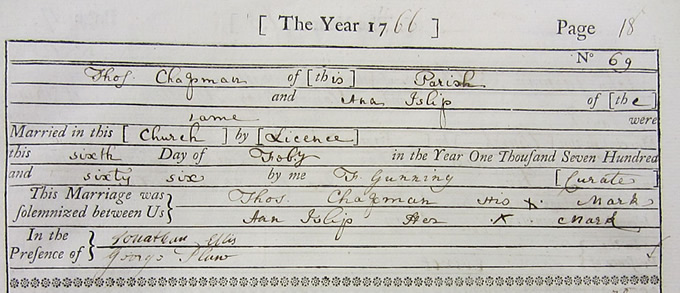 Jonathan Ellis was one of the witnesses at Thomas and Ann's wedding. Perhaps he gave away the bride too, as Ann was so far from her original home village.
There is little doubt that Ann and Mary were born in Rutland. Islip was and still is a rare surname and in the eighteenth century occurrences were overwhelmingly concentrated in Rutland. Moreover, both their burial records, in 1801 and 1797 respectively, include their ages (67 and 72) and there are baptisms for both in South Luffenham that match these ages exactly.
The Rutland connection continues back for several more generations into the seventeenth century and includes wheelwrights and carpenters among the family trades. The Islip links largely occur in four villages: North and South Luffenham, Morcott and Edith Weston, a few miles to the south-east of Oakham and shown lying near the left side of the map below.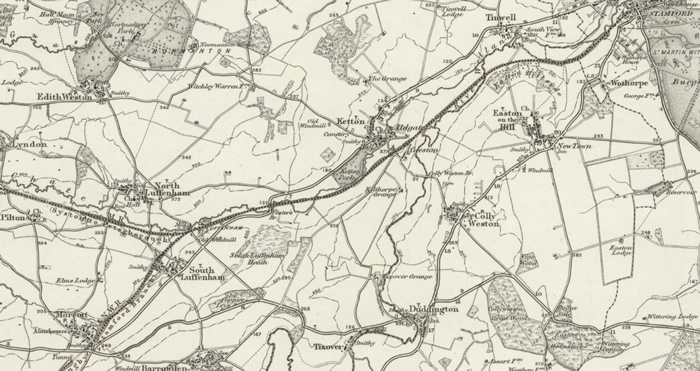 On the map, from Stamford (top right corner) to Morcott (bottom left) is approximately 8 miles.
Ignore the local railway, which didn't appear until the 1840s, and it is easy to see how the four villages were linked by a convenient road system, but one can also appreciate the magnitude of the journey from Rutland across country to Cambridgeshire. From South Luffenham to Melbourn is some 60 miles using a modern road network but at the time Mary and Ann made the journey it would have involved several stages between suitable towns: perhaps Stamford, Peterborough, Huntingdon and Cambridge, with local carriers visiting the outlying villages at either end of the route. Not a trip to be taken lightly or without a good reason and the certainty of work at the other end.
Mary Islip was the eldest of nine siblings all baptised at South Luffenham between 1725 and 1738. Their parents, John Islip and Sarah Morris, were married in North Luffenham on 3 December 1724. A record of the duty paid for an apprenticeship in 1723 lists Jno (John) Islip as a master carpenter of South Luffenham.

The date ought to be written as 6 February 1723/24 since it pre-dates the change from Julian to Gregorian Calendar.
It is not clear which John Islip this refers to; it could be John, baptised in South Luffenham on 26 February 1692/93, who was about to be married, or his father John who had married Frances Rudkin in South Luffenham on 31 October 1689. Frances died in 1730 and John senior in 1737 and both were buried at South Luffenham. Then John junior died and was buried in 1756 also in South Luffenham. He was described as a carpenter as was his son Thomas Islip when his name appeared in a similar list of masters taking on apprentices in 1757. Carpentry was clearly very much the family business and it re-emerged when Mark Burgess, Joseph's grandson, took it up in the twentieth-century and started making pianos.
Return to Cambridgeshire Burgesses page