This letter was sent on 29 May 1940 by my grandmother, Jane Burgess, from 335 Green Lanes, Harringay, N4 to Rose and Harold Burgess, my parents. That address was directly opposite Harringay Dog Track which explains the first line of the letter.
Dear Rose and Harold
Arrived home after a very nice day. Dad had gone over the dogs, while the cats away...
Dais (Daisy) I am pleased to say had received a long letter from Bert and was answering it. He is in the best of health at least when he wrote it a week ago, and remarkably cheerful and saucy. Don't murmur, he wants Dais to send girl complexion soap and toilet roll. I wouldn't half like to send him a big roll like Harry got me one Xmas. I did not see Win or Harry last night expect they will call in tonight. Was pleased to find you all so well.
Now I'm going to tell you a little secret. Your clever Father has been puzzling his brains about the German tanks, wondering how they can be mastered, and wrote to Mr Bevin and Mr Churchill making suggestions on the 27th of May. Last night in the paper the ministers were holding a conference concerning tanks.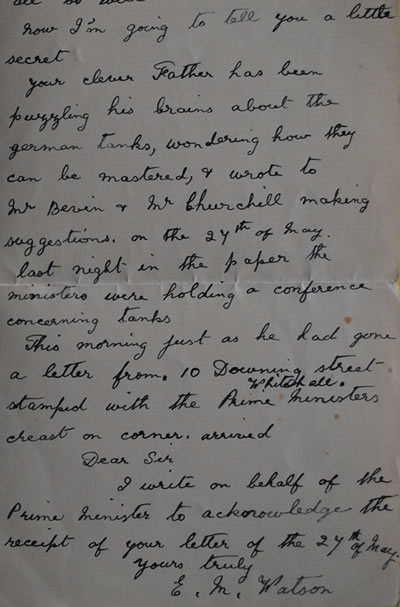 This morning just as he had gone a letter from 10 Downing Street, Whitehall, stamped with the Prime Minister's crest on corner arrived.
"Dear Sir

I write on behalf of the Prime Minister to acknowledge the receipt of your letter of the 27th of May.

Yours truly E. M. Watson"
So it looks as if they think there might be something in it.
The envelope stamped with the Prime Minister, 10 Downing Street, Whitehall. I reckon Mrs Hampson wonders what it's all about but I mustn't tell anyone. It's Hush Hush. Hitler might be listening. I do hope it will be a good successful idea. Touch wood I might even yet have my little cottage with Roses and Honeysuckle round the porch who knows. Ah, what castles in the air. Never mind if anything can help to put an end to this terrible murder it is worth puzzling ones brains for.
Dais will be writing you about her and Peggy. Bert has heard from his sister and feels more easy now. Love to all for the present.
XX for kiddies
from Mum and Dad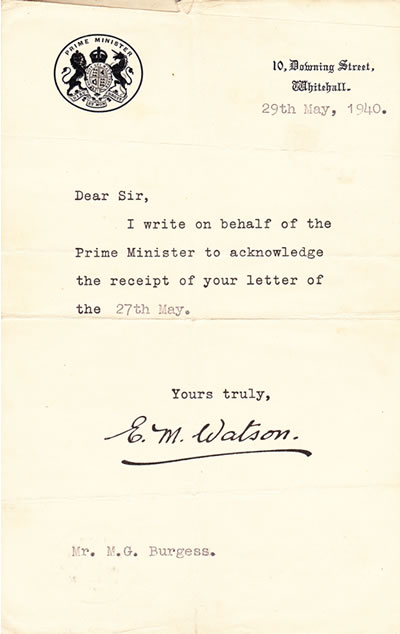 So what were these suggestions I wonder?

If only I could find a draft copy of the original letter. Is it too much to hope that the original letter to Mr Churchill still exists waiting to be discovered in the future?

The original reply from 10 Downing Street was quickly followed by several others from various government offices. Mark must have been very busy for a week or so in May and June 1940.

There were two further letters from Downing Street acknowledging Mark's letters of 4 and 6 June. Also two postcards from the Ministry of Supply referring to his letters of 1 and 6 June. Finally two letters from the Deputy Director of Scientific Research thanking him for his suggestions.

The final letter concludes:

Your letter will receive the fullest consideration by our technical experts and, should it be found that we can make use of your suggestions, we will notify you.

Sadly there is no indication that he received any such notification.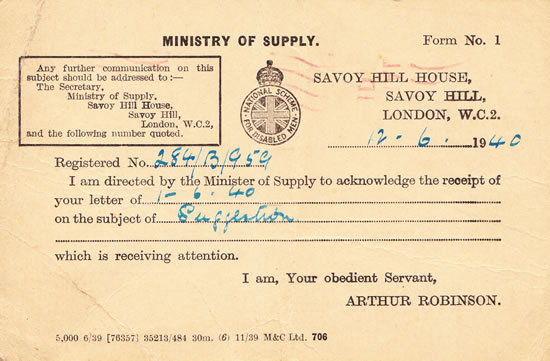 One of the postcards from the Ministry of Supply.